News
6.10.2019 Litter "R" is here!
In October 6, 2019 was born our "R" litter - the last litter of our Franciss. Father of this litter is sohn of our Boss - Jefrry od Zlatého Roxe. He is very nice, strong and very lively male and his first mating was really perfect. We had 8 puppies from this litter - 4 females a 4 males Unfortunatelly one puppy boy left us in his age of 2 weeks but rest 7 puppies are growing very good and make us very happy.
More information you can find here.
| | |
| --- | --- |
| | |
| females | males |

14. 9. 2019 Special club show Jedovnice
Results of our dogs:
| | | |
| --- | --- | --- |
| young class - females | Algrand Berni Yadvina (Jessie) | Excellent 1 CAJC, BOJ |
| middle class - females | Polly Polly Carallsa | Very Good |

25. 5. 2019 Club show Zárybničná Lhota
Results of our dogs:
| | | |
| --- | --- | --- |
| class of puppies - males | Princas Kalnu Suo | Very promissing 1 The best puppy of the show |
| class of puppies - females | Queen Quendolina Carallsa | Very promissing 1 The best BMD female puppy |
| young class - females | Polly Polly Carallsa | Excellent |
| middleclass - females | Keysi od Zlatého Roxe | Excellent 1 CAC |

6.12.2018 "Q" litter is here!
In December 6. 2018 our "Q" litter was born. Franciss and Boss Rojaus Bernas are parents again. They have wonderful 9 puppies - 6 females and 3 males. Mating was natural, borning was natural too and without any complications and Franciss is really perfect mother. We are very happy!!! More details you can find here.
Here are all females: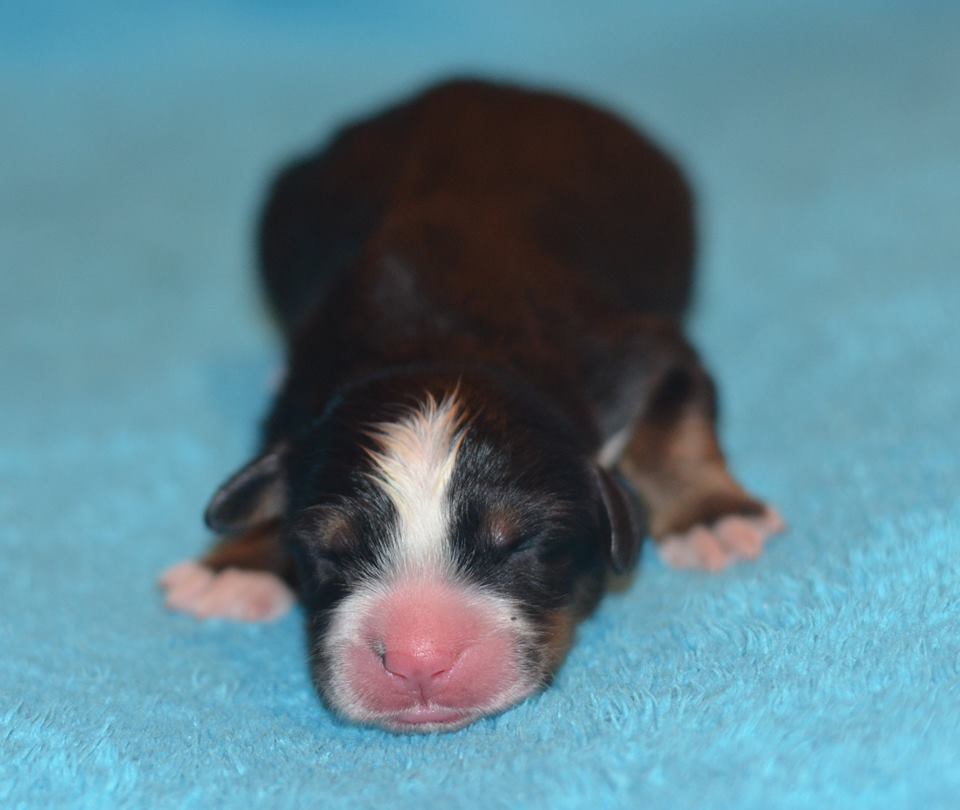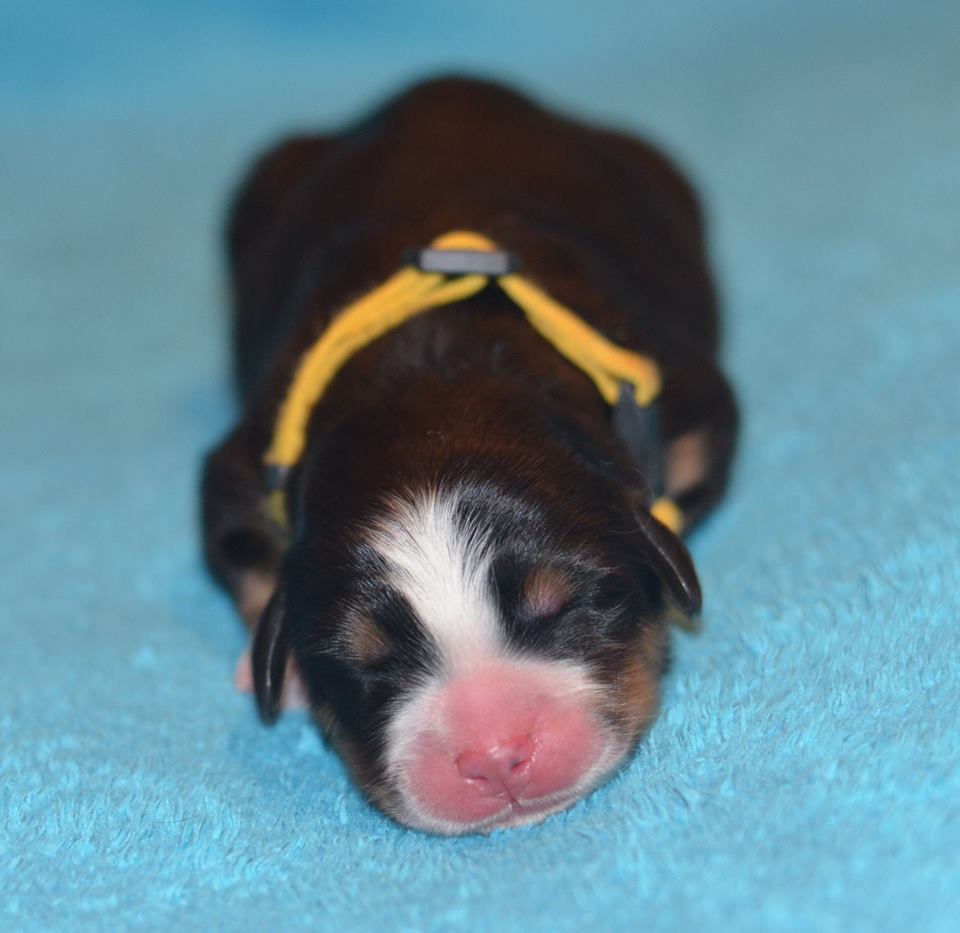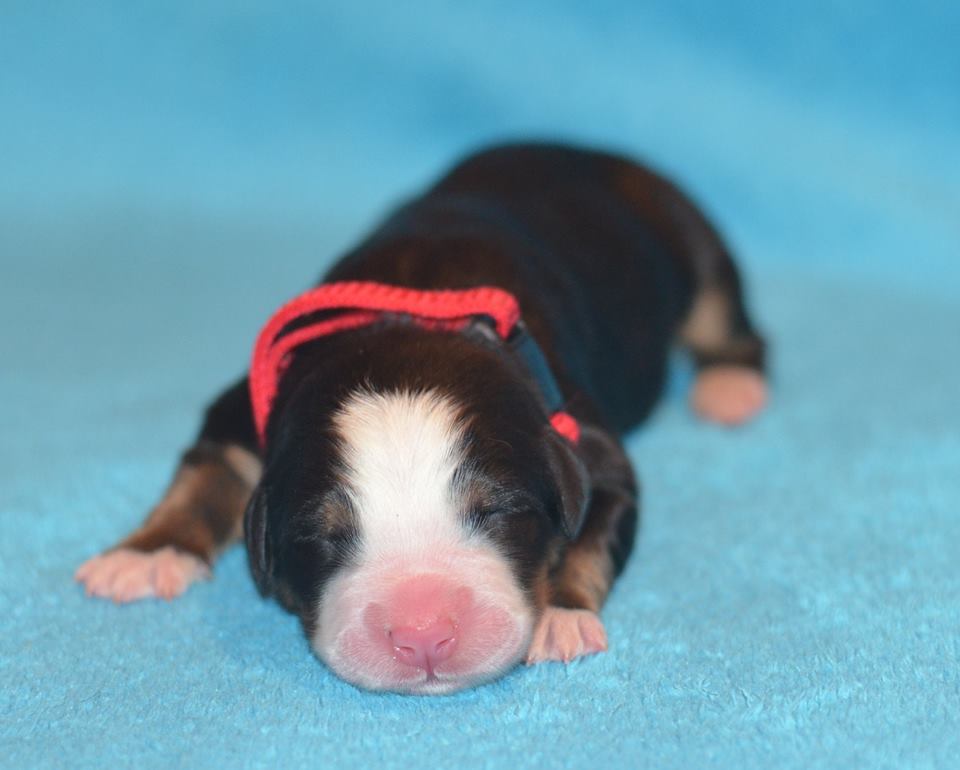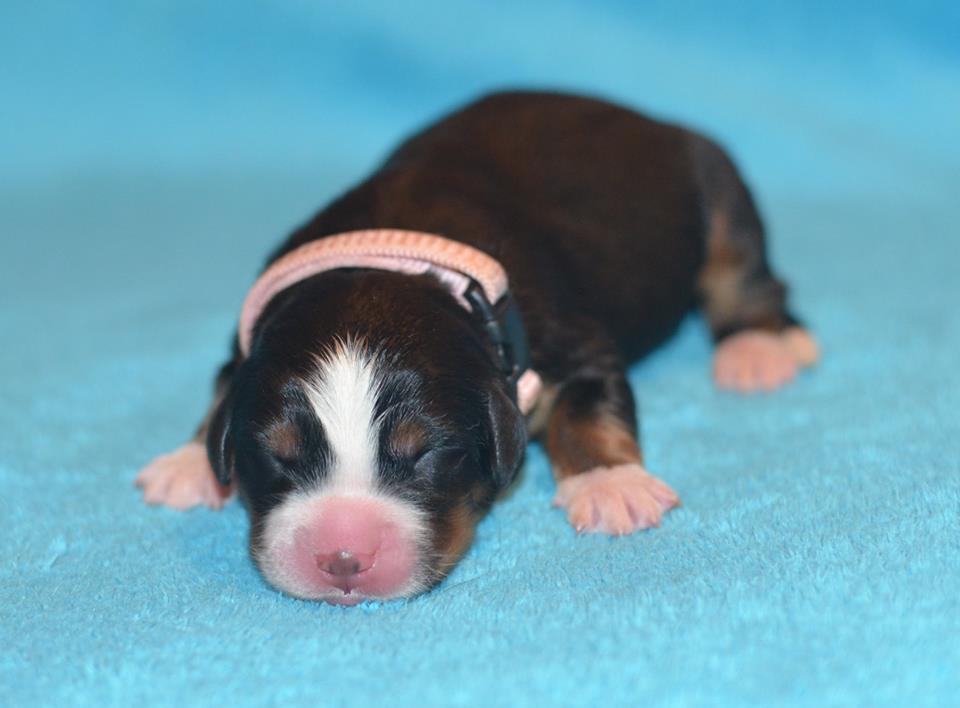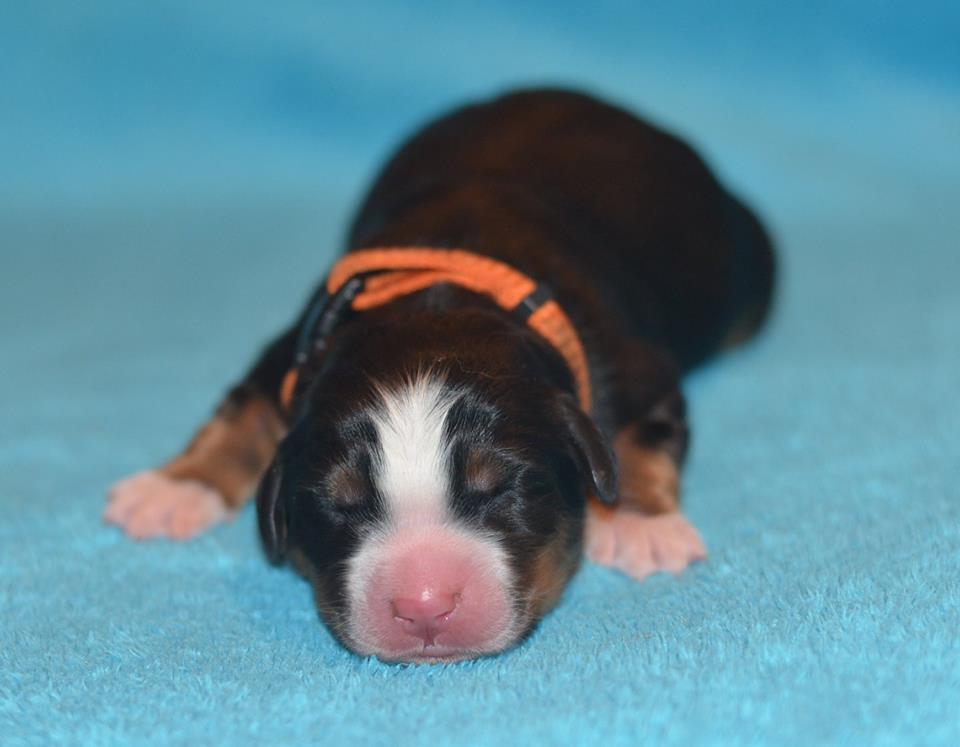 And here males: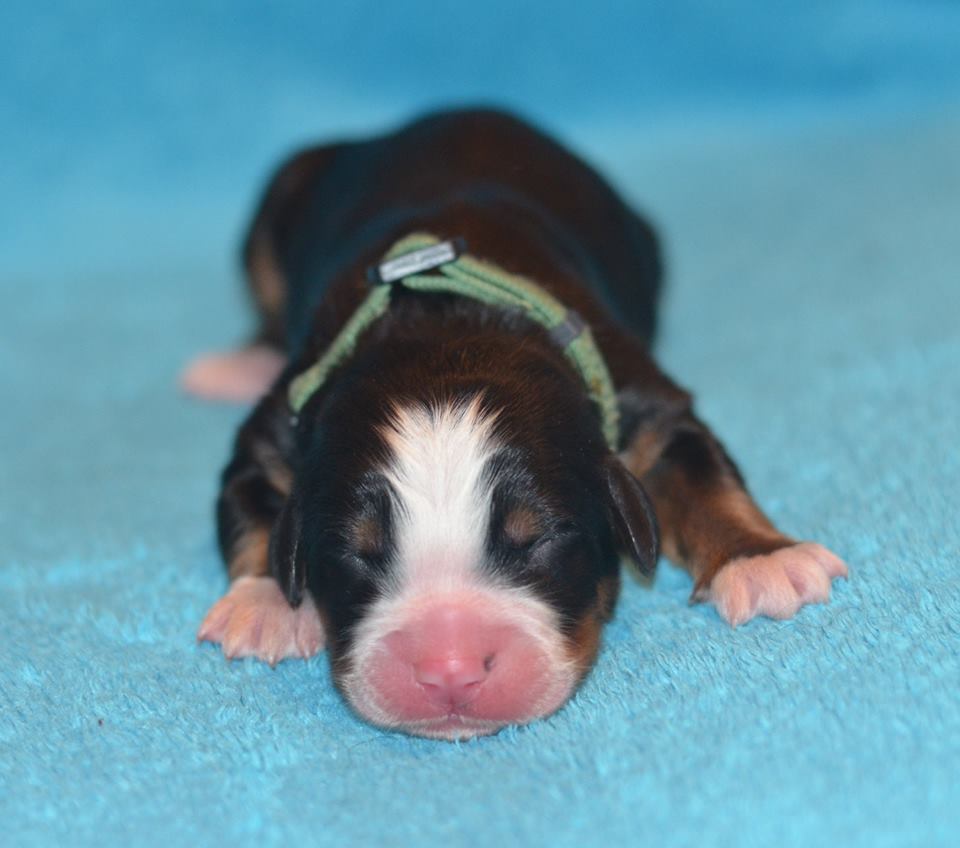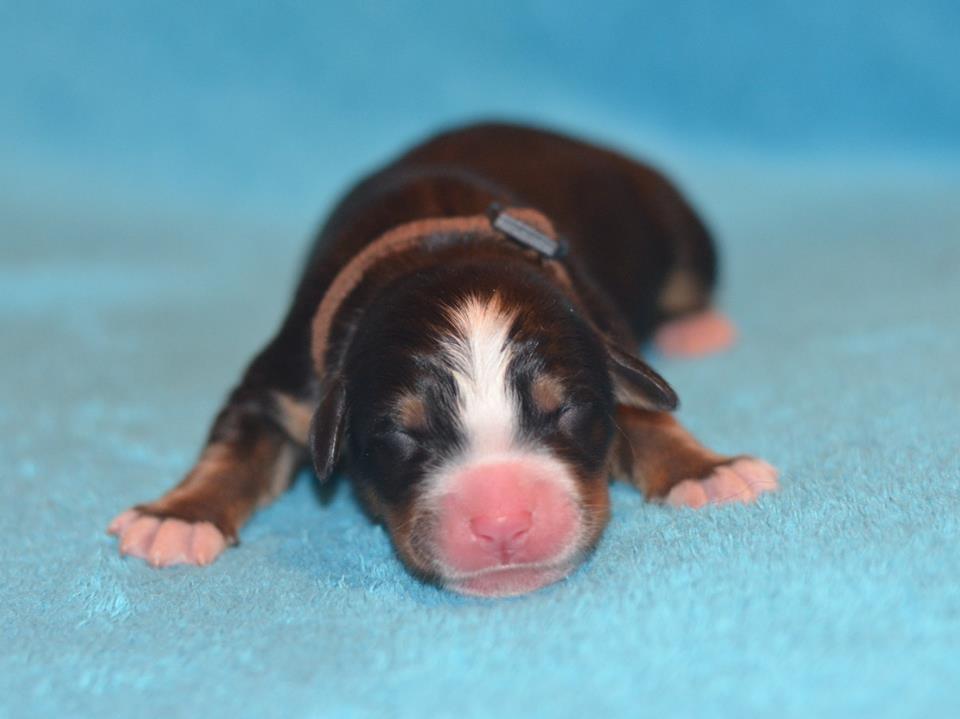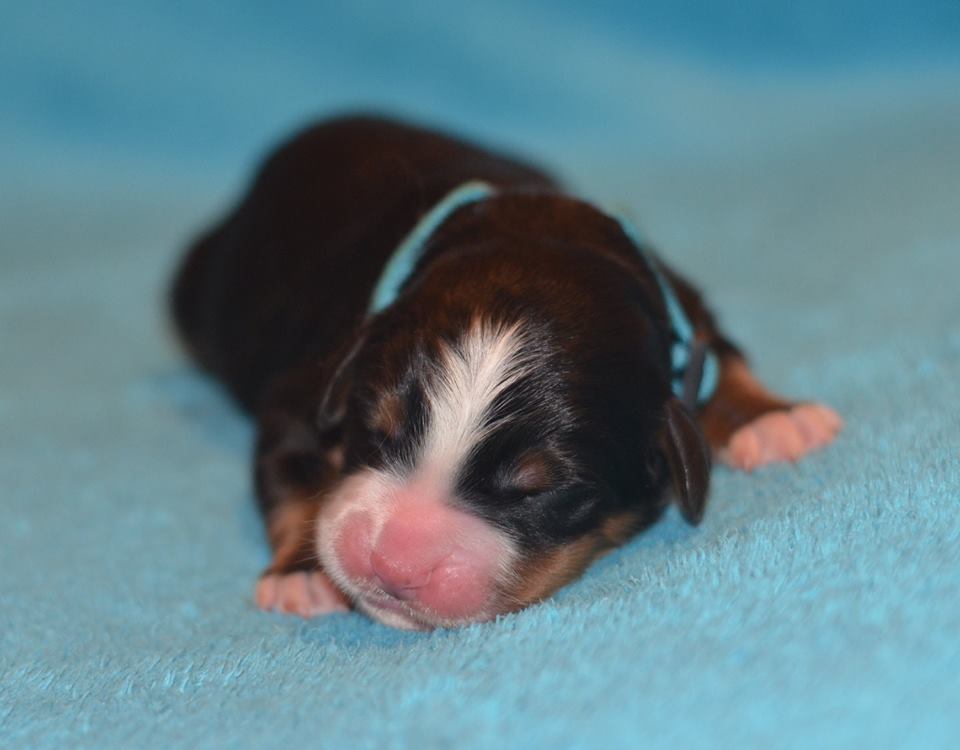 20.3.2018 "P" litter is here!
In March 20, 2018 our "P" litter arrived. Faith and Boss have 4 nice puppy girls and 2 nice puppy males. Mother and puppies are doing well and we are very proud and happy. More informations you can find here. Photos: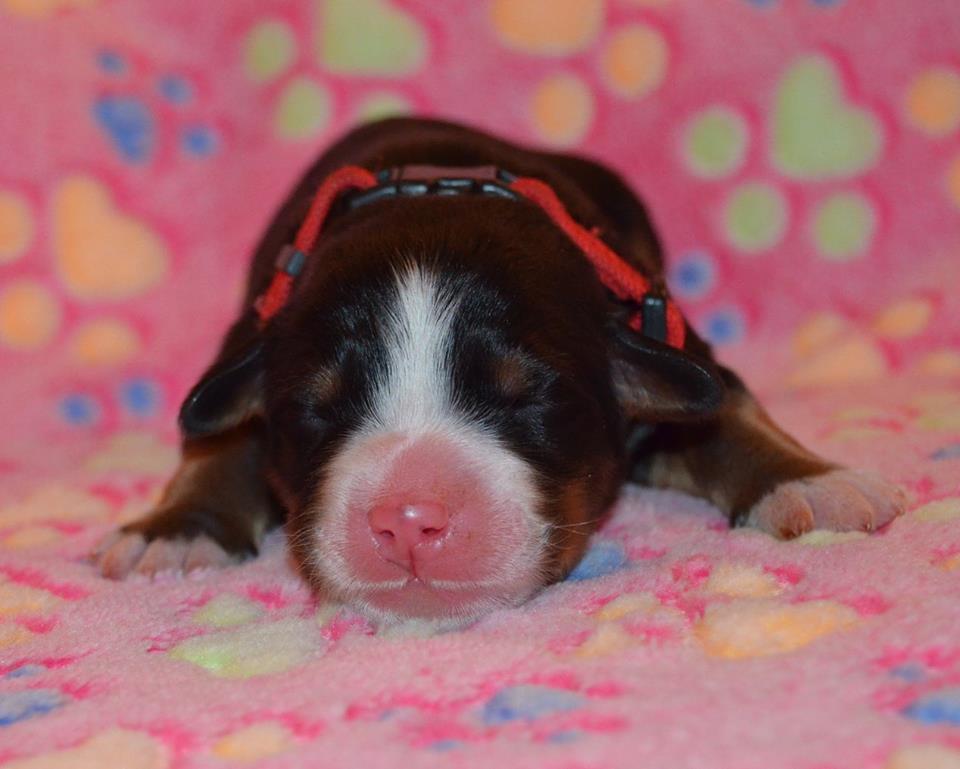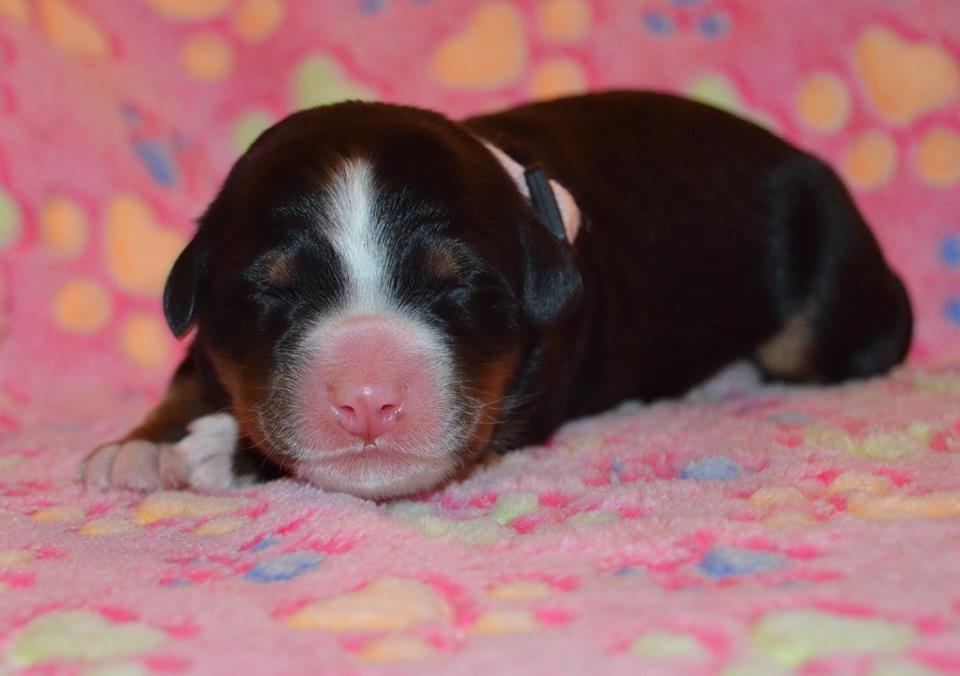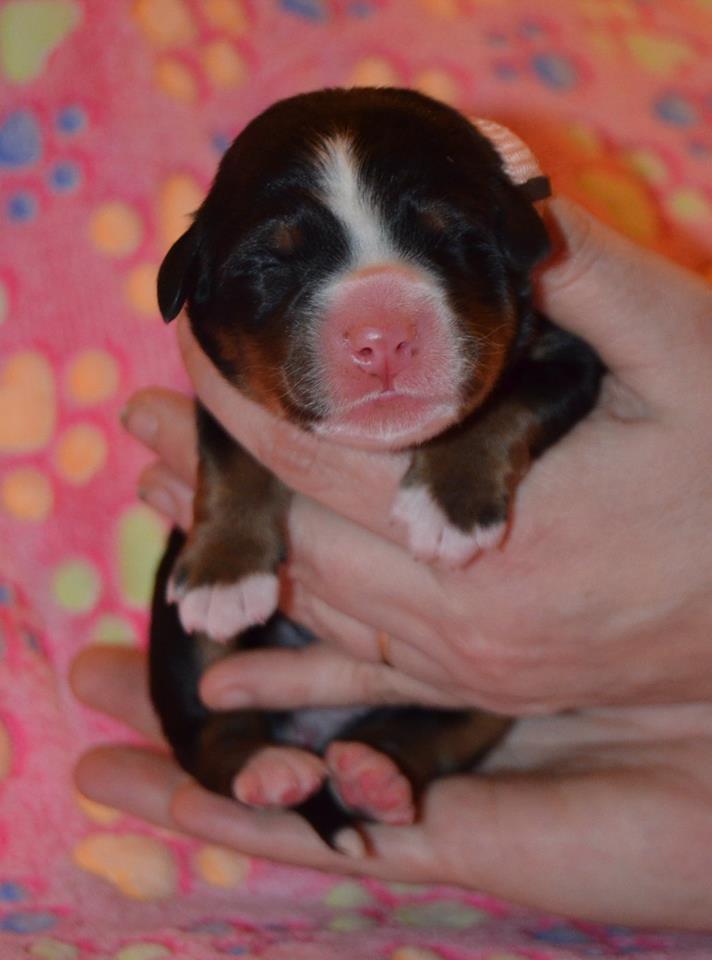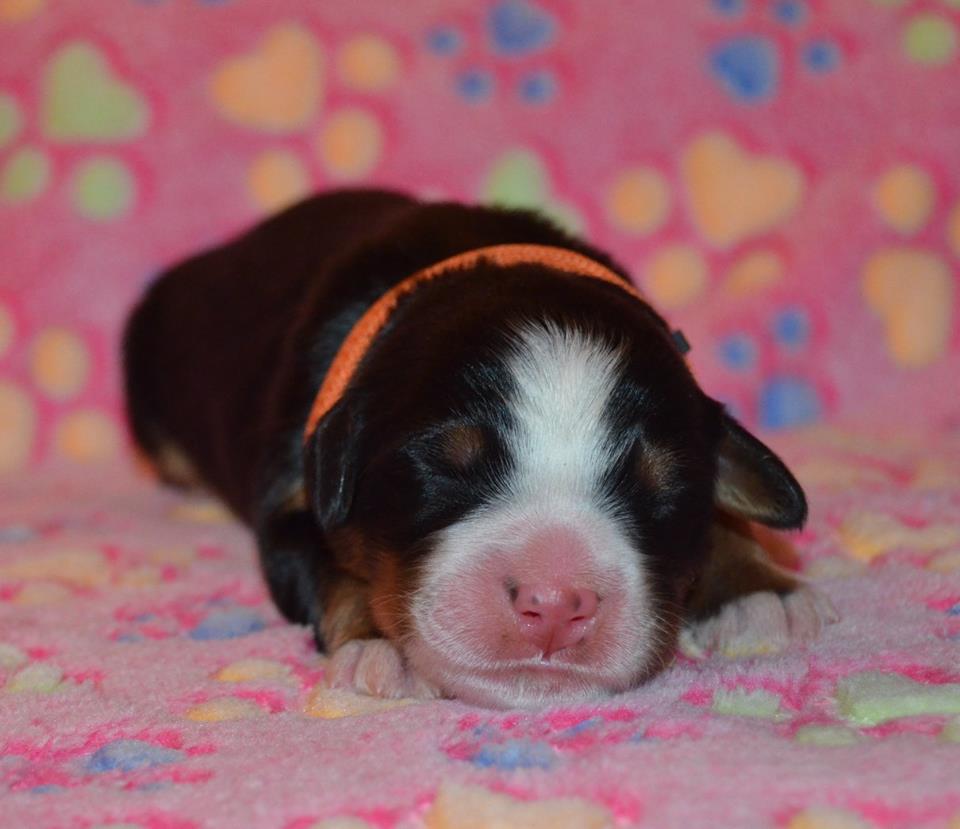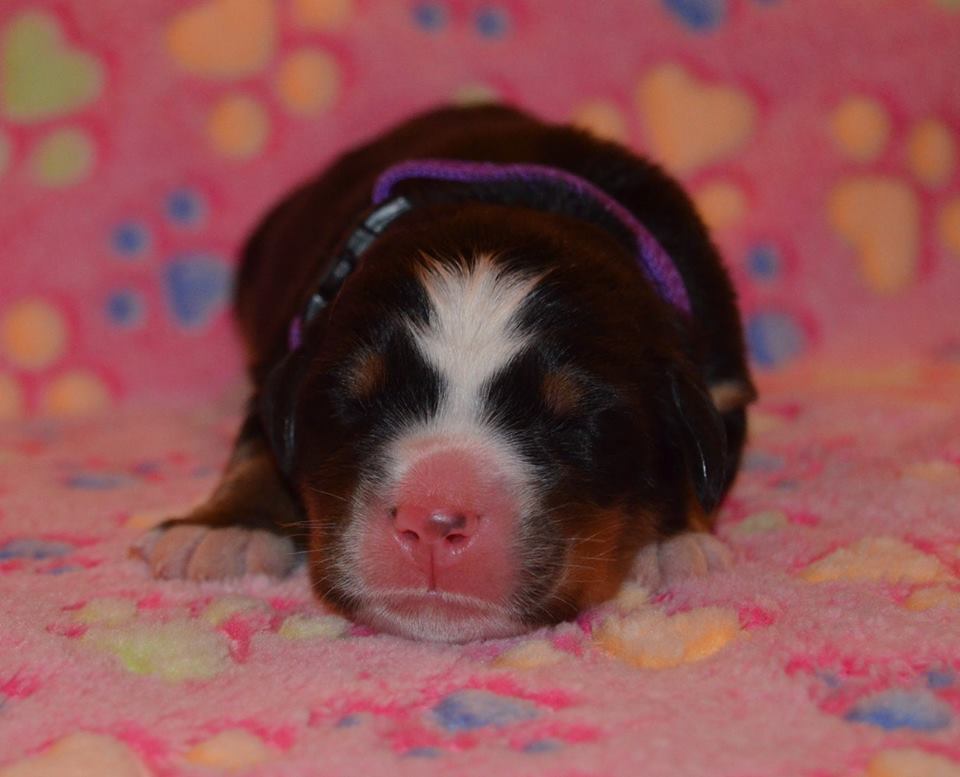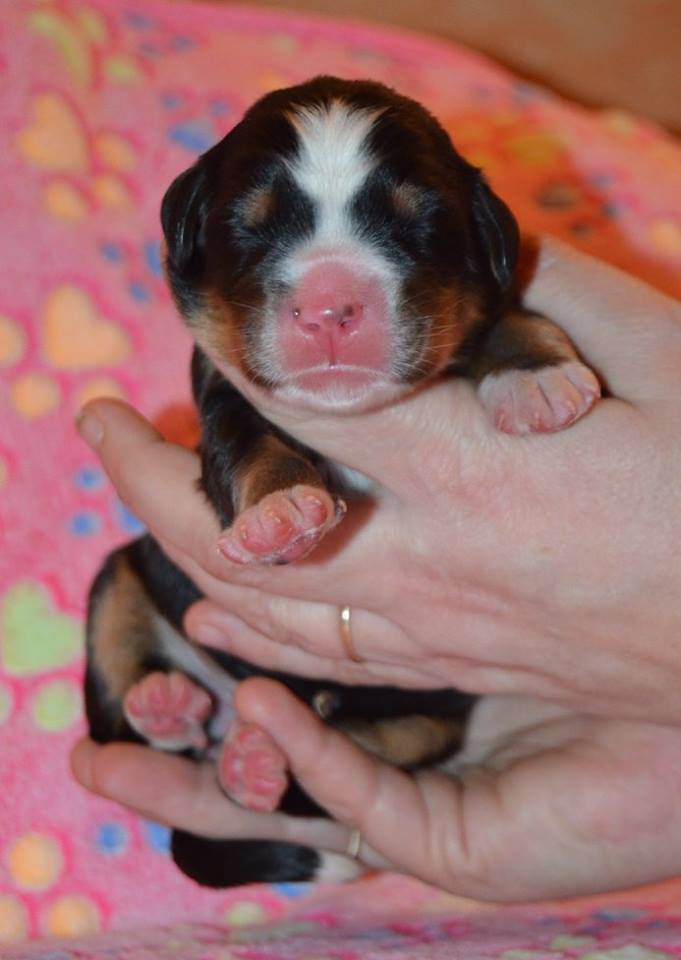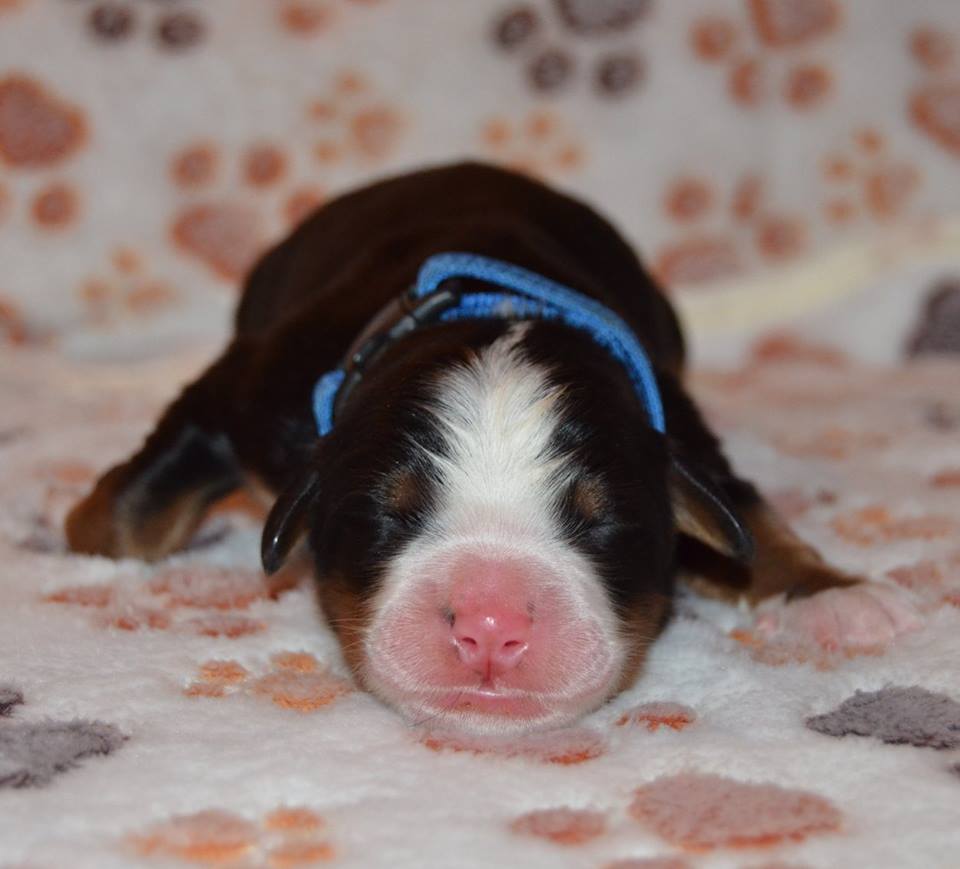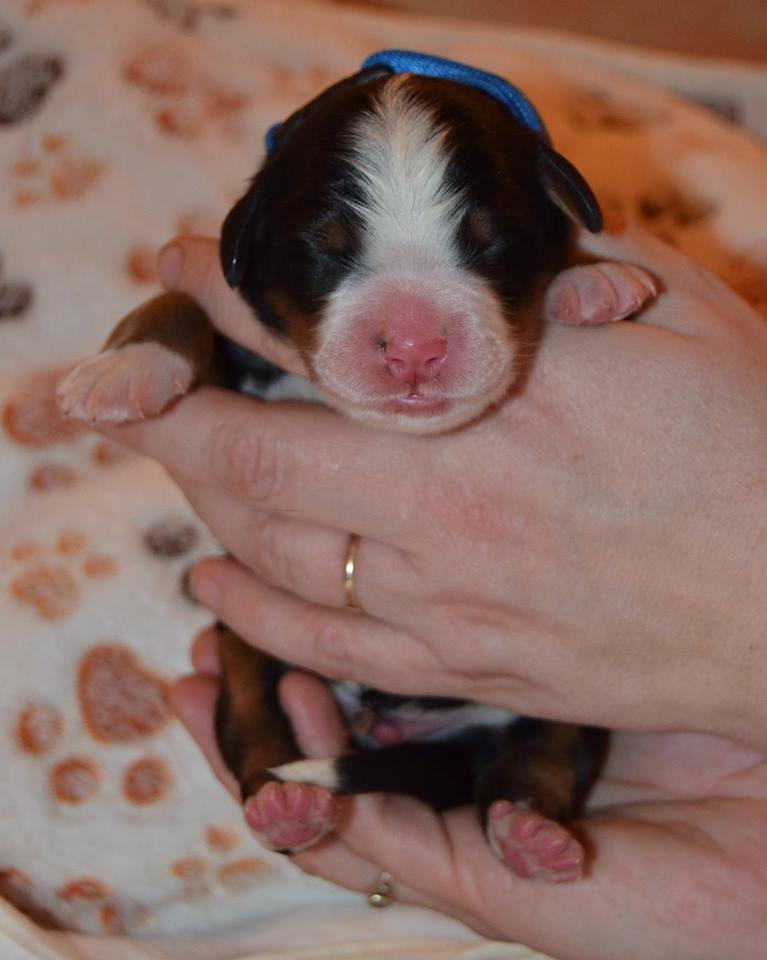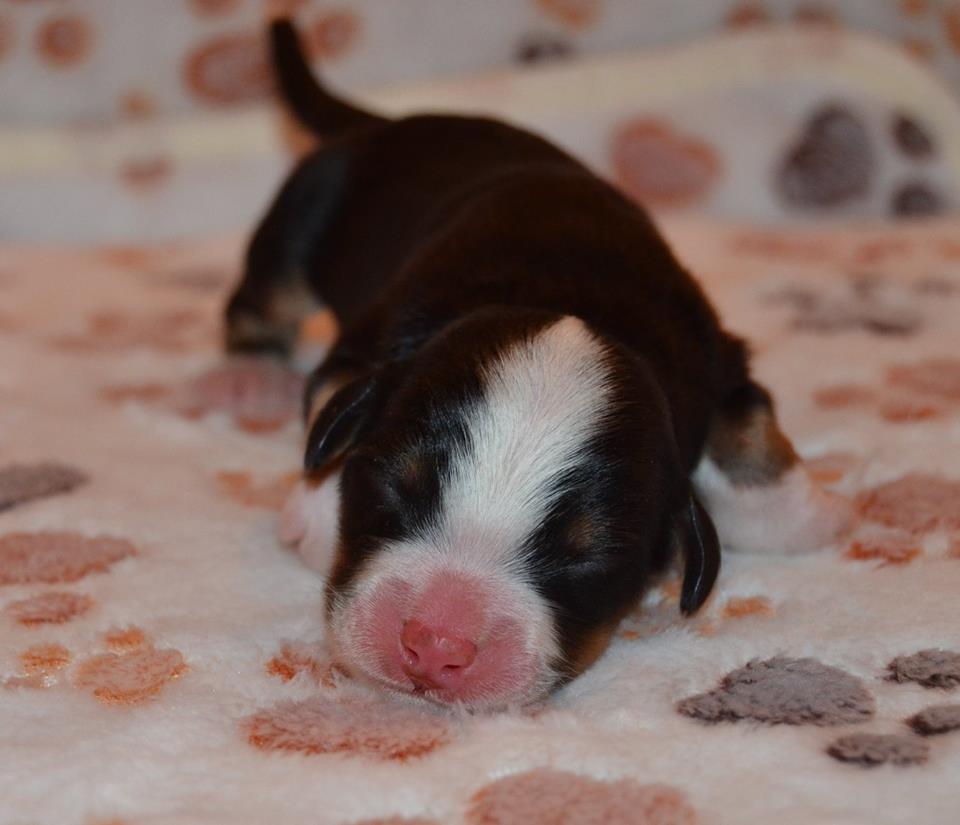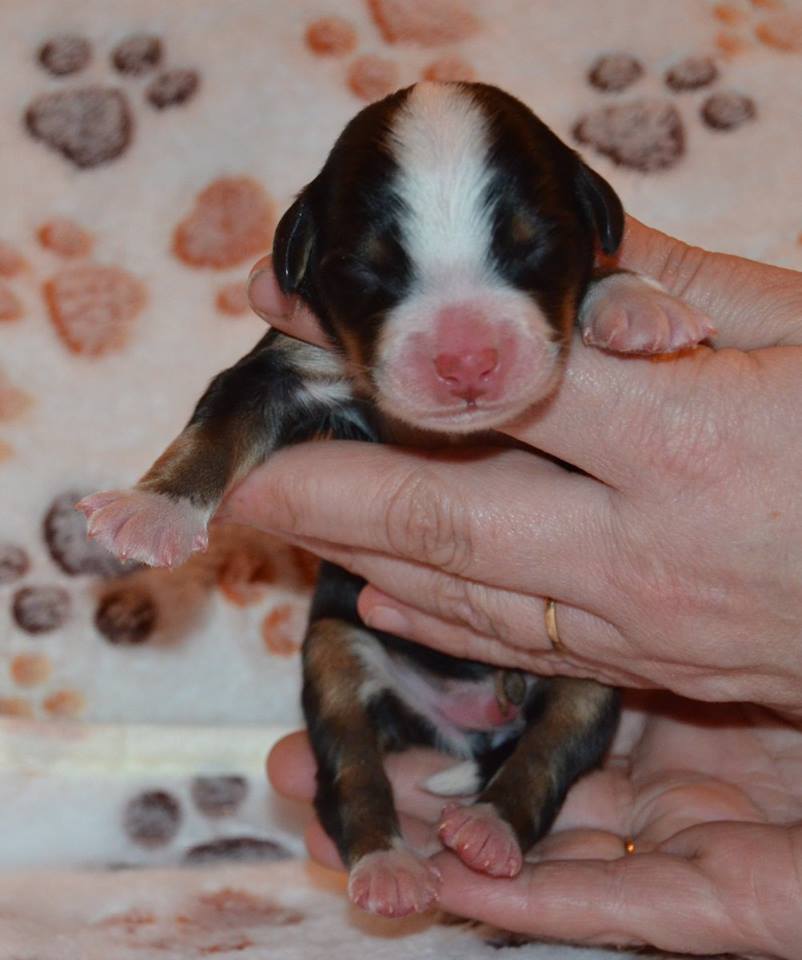 23.2.2018 And it will be happy again!
Othello Athos Carallsa has found his new family in Scotland already and we know now that it will be happy in our kennel again. Pregnancy of our Faith is confirmed!!! Faith and our Boss will be parents!!!!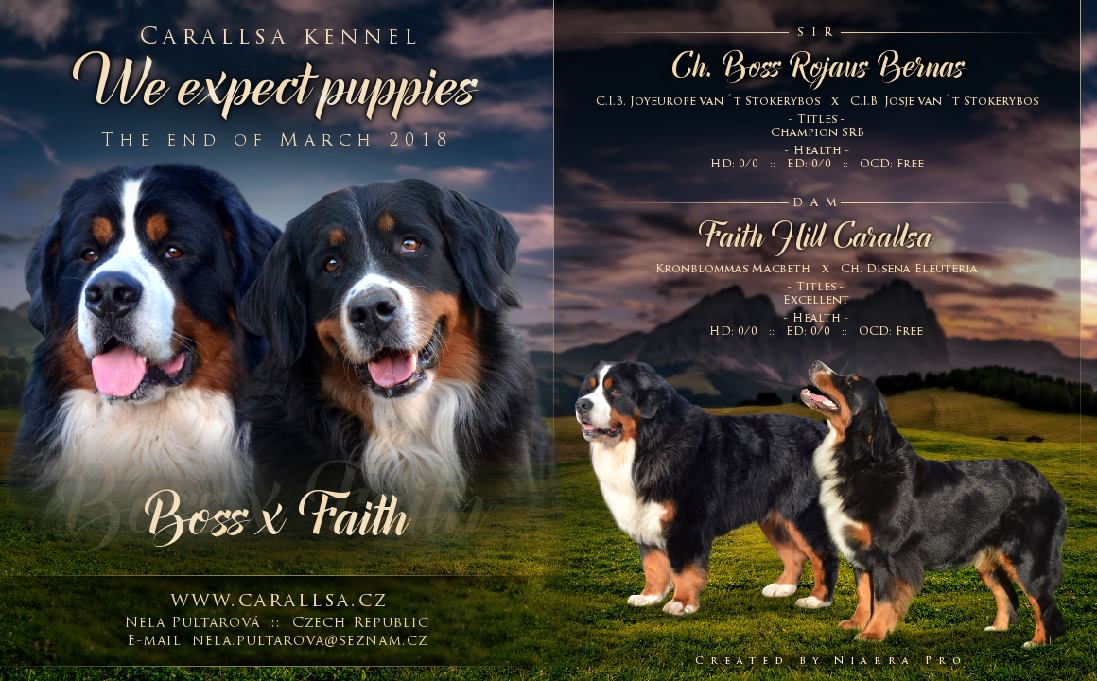 28.1.2018 Available puppy male!
Othelo Athos Carallsa, 4 months old puppy male, is looking for his new family. He is chiped, full vaccinated, regulary dewormed, vaccinated against rabies, has FCI pedigree and international PetPassport. He is tested for DM (EXON 2) and he is negative. He is very happy puppy and is already looking forward to his new family!
If you are interested in him, more informations you can find here.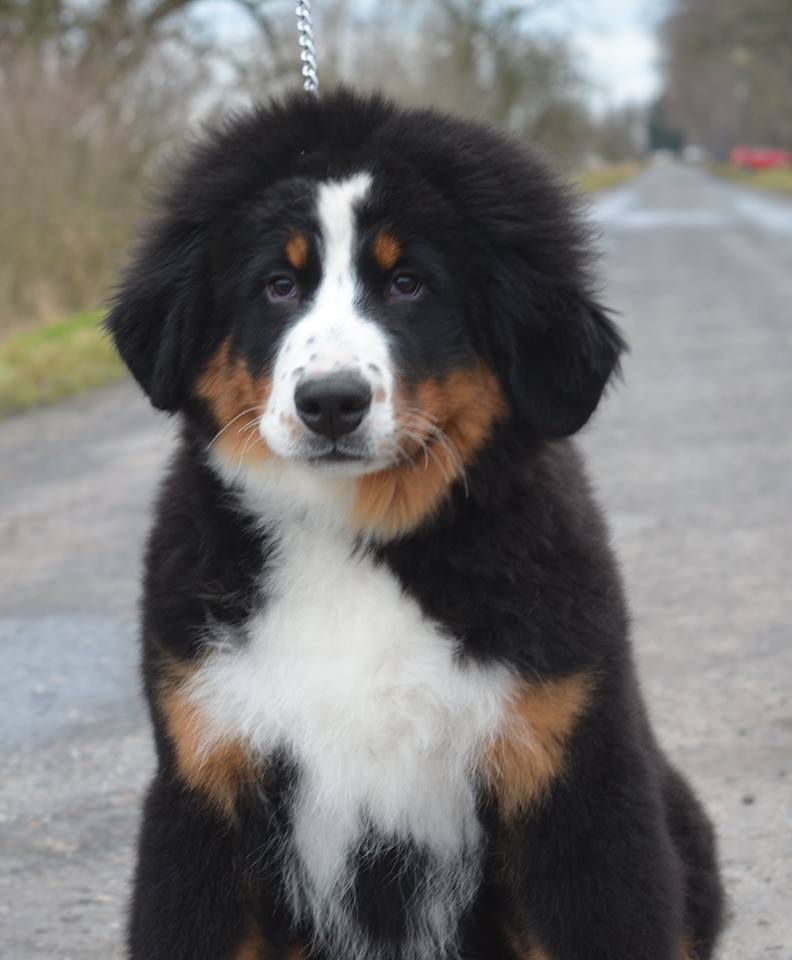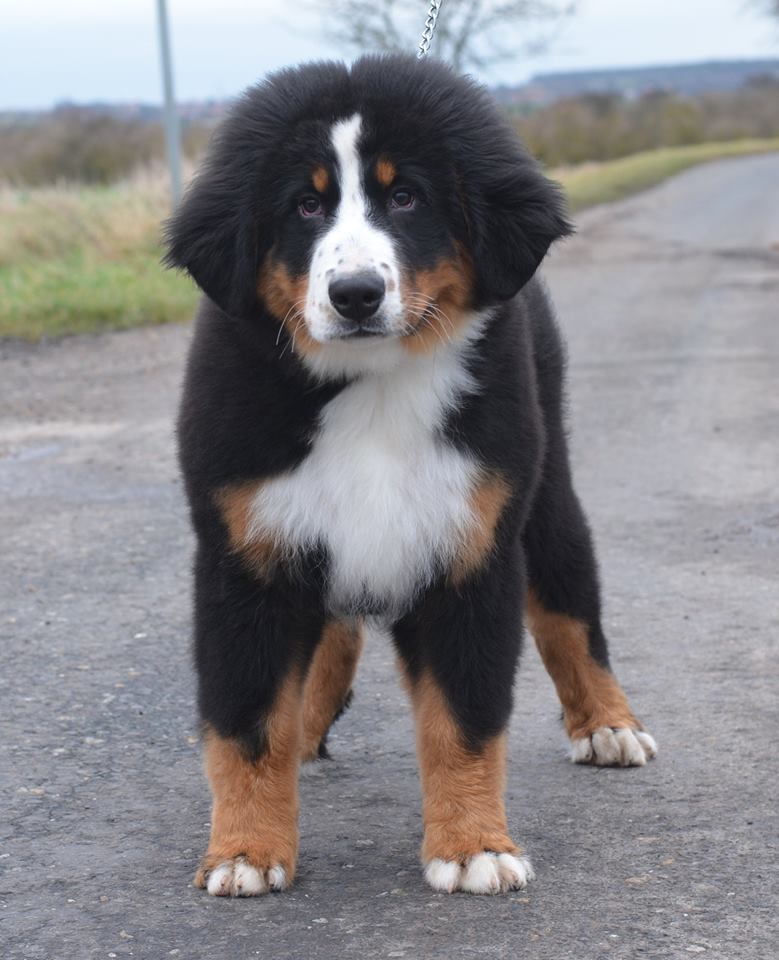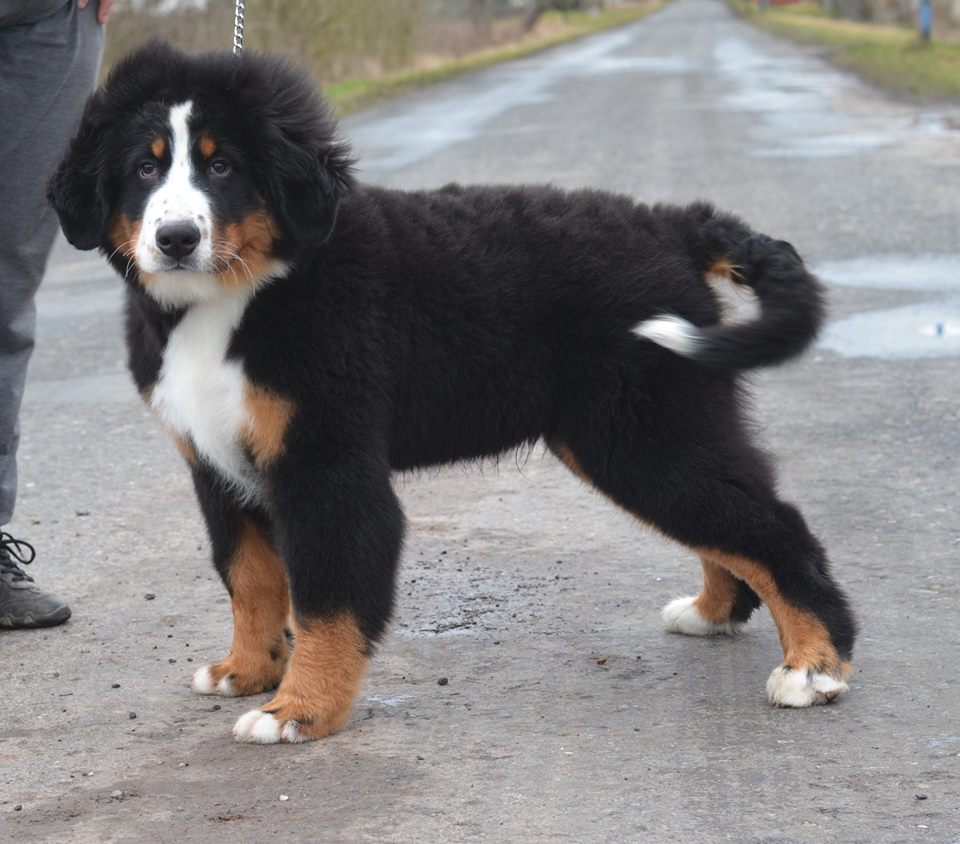 3.1.2018 Available puppy male!
Othelo Athos, 3 months old puppy male is looking for some loving new owners. He is standard with happy behaviour. More information you can find here.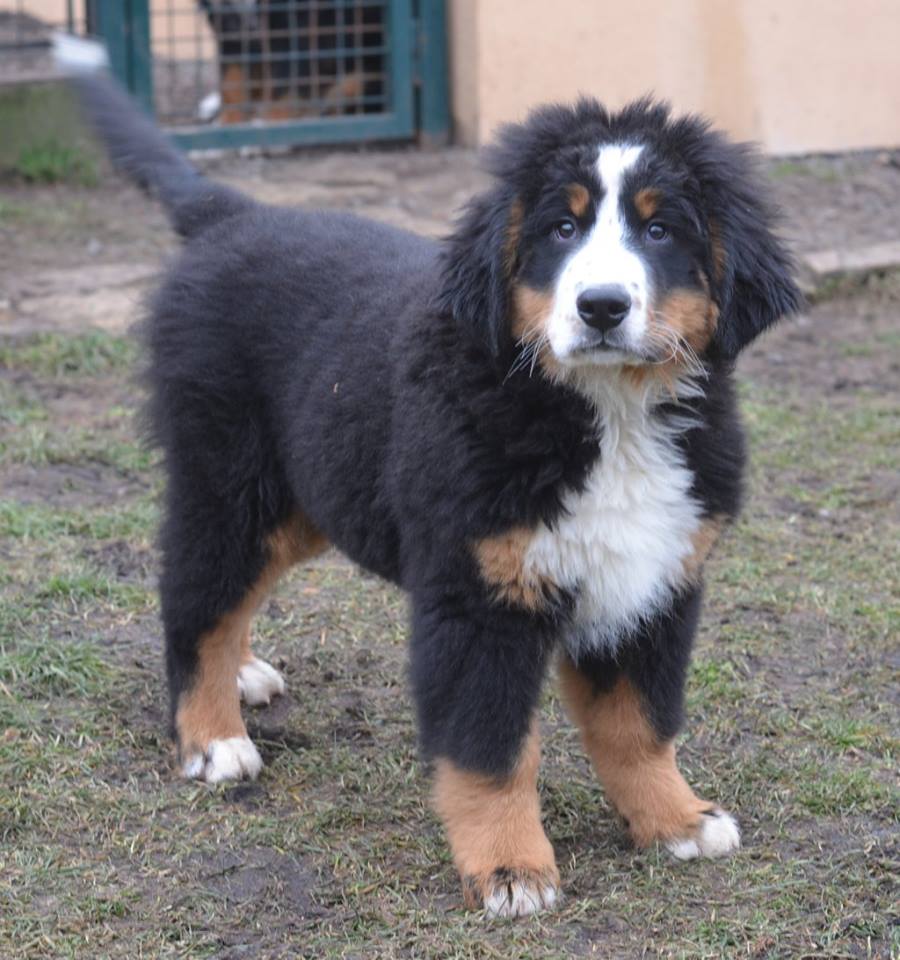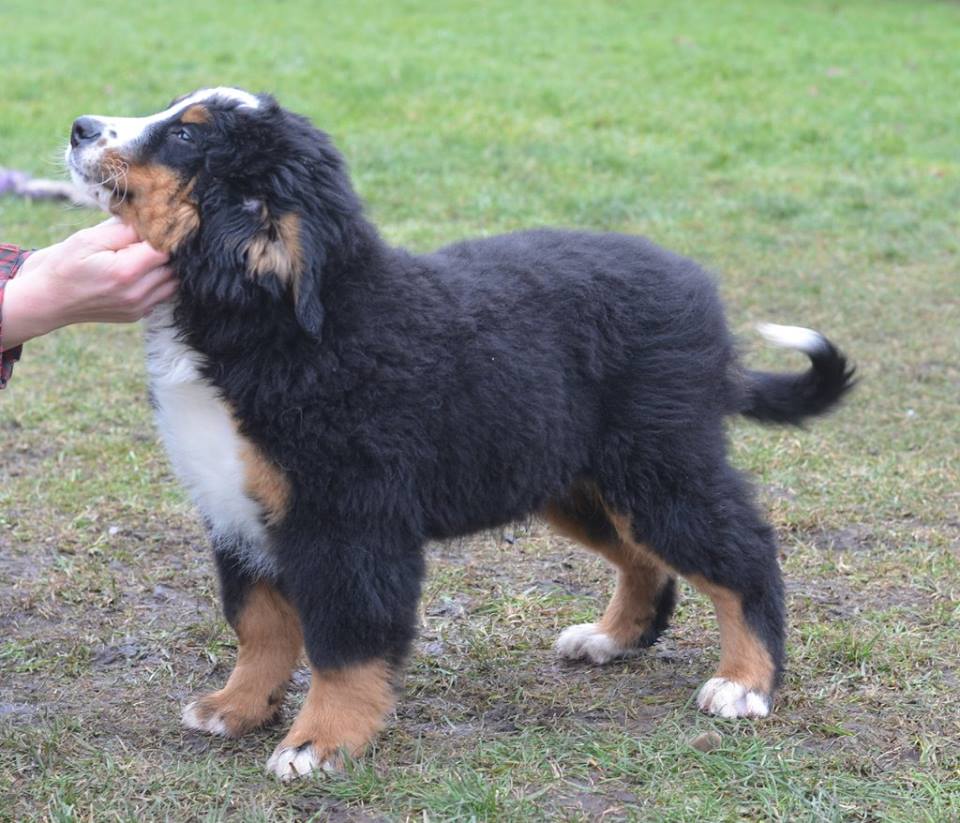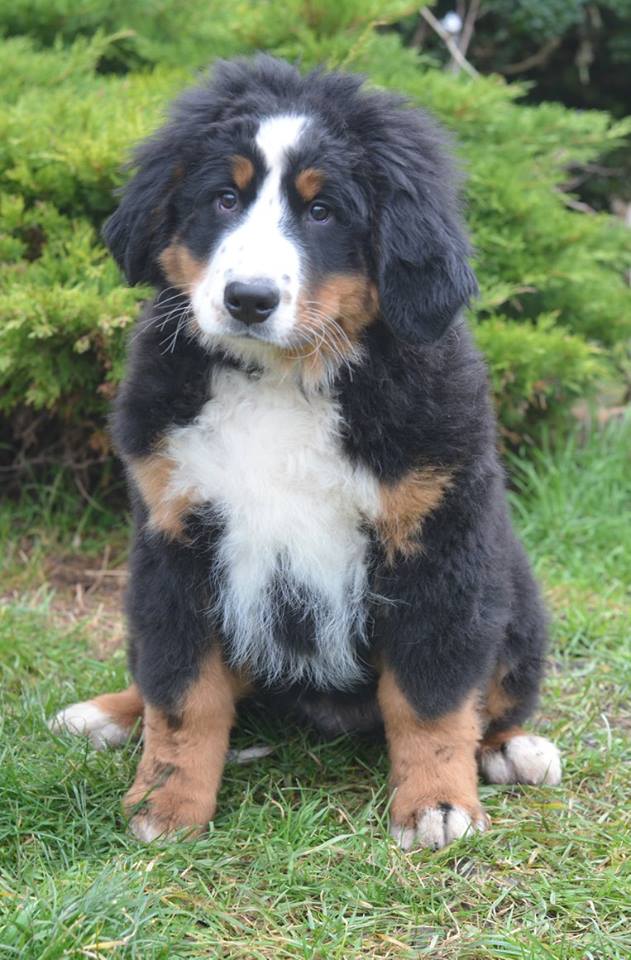 26.9.2017 And they are here!
Four sweet puppy males were born in September 26, 2017 in our kennel. Princess gave birth to her last litter. She did it naturally and she was really great! Thank you very much dear Princess!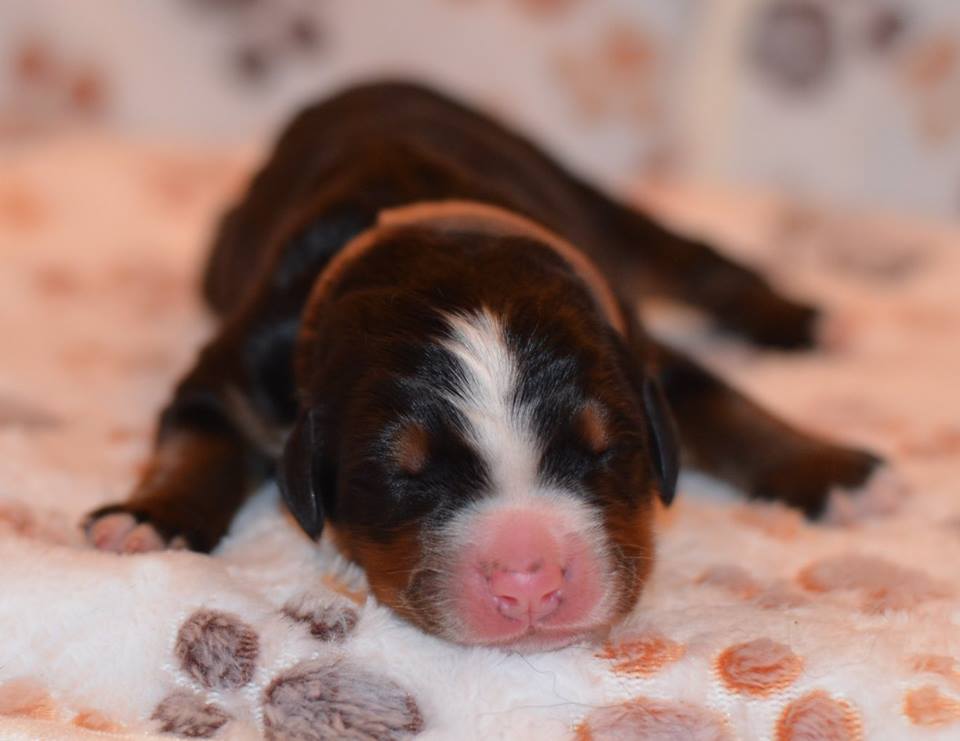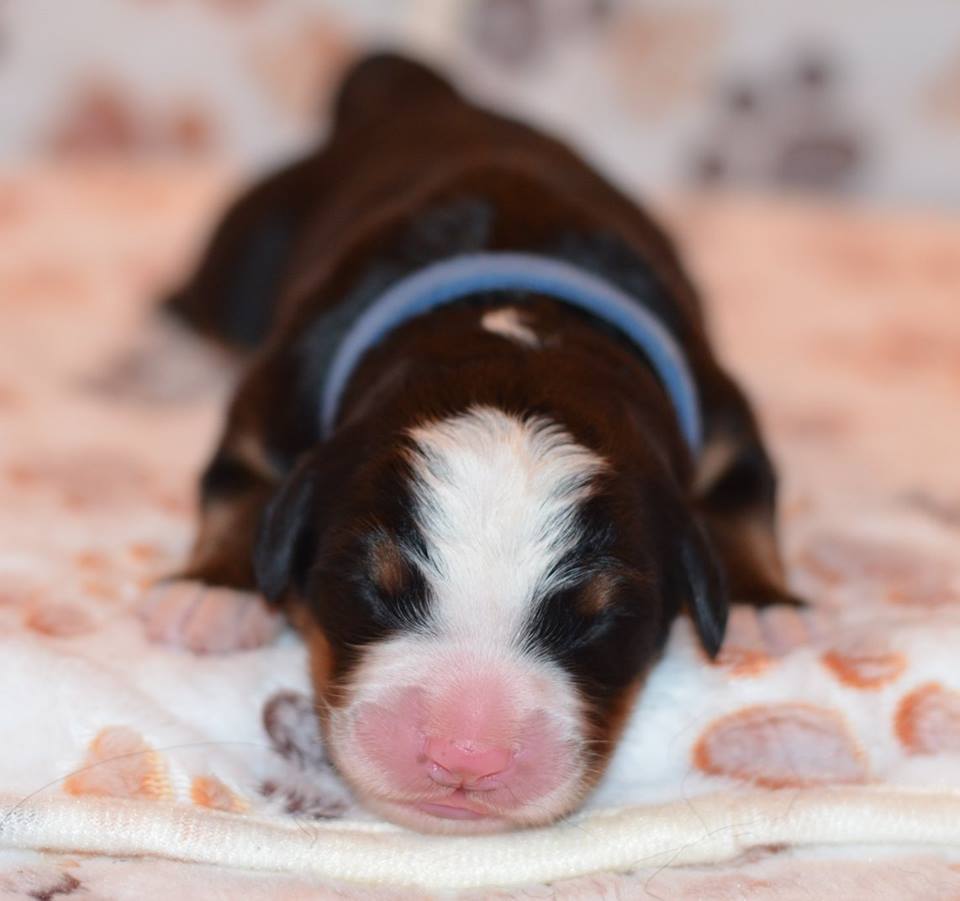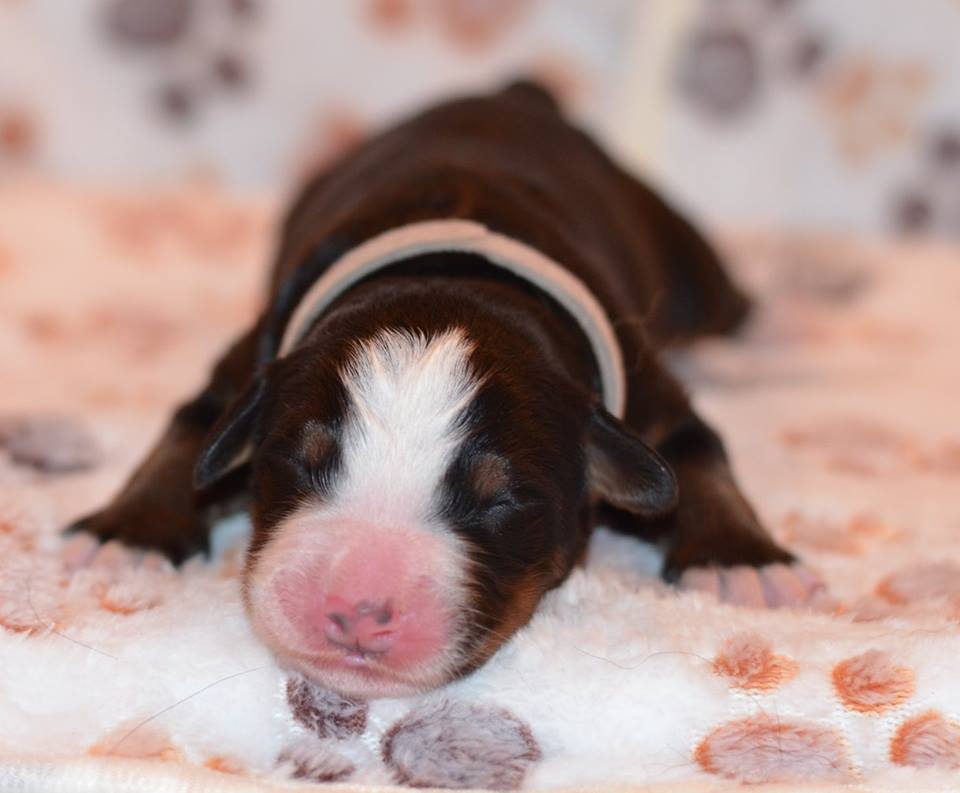 10.9.2017 New puppy in our kennel!
"Man is thinking and destiny is changing...." From today a puppy female named Keysi is a new member of our kennel. Keysi od Zlatého Roxe is her whole name and she is daughter of our Ch. Robin Ridon Hennet and ICh. Haidy Bell od Zlatého Roxe. It was love from the first sight... We believe that Keysi will love us and our dogs and we wish her healthy and happy life with us.

9.9.2017 Club dogshow in Jedovnice
Club dogshow in Jedovnice was very successfull for our kennel. Champion class attended our breeding male Robinson Ridon Hennet and in very big competetion of 6 beautiful males he received second place with "Excellent 2, Res. CAC".
Sohn of our Robinson and Faith - Nashville Norton attended this show too. He is perfect team with his owner and in the class of youth as the youngest attender received second place with "Very promissing 2".
This show with her owners attended our very nice Irish Indiana Carallsa and in the middle class received "Very good". Unfortunately we have no photos of her from this show. We ave very gratefull to her owners that they came and showed Irish to us and to a judge too.

1.9.2017 WE WILL HAVE PUPPIES!!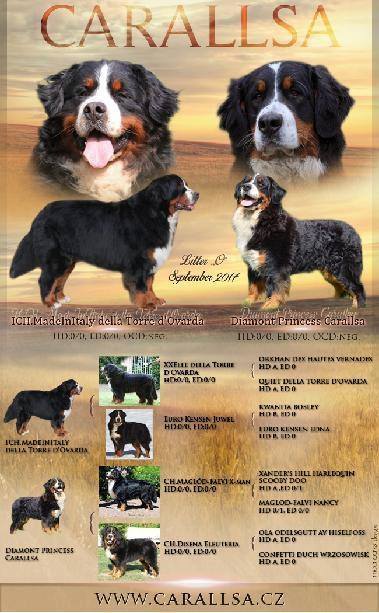 We have great new confiremed by our vet. Last litter of our beloved Princess will be born in the end of September. Father of her future litter will be lovely Mady, very vital male in his 8,5 years mated her naturally. We are very looking forward to have next babies.
Pedigree of future puppies HERE.

1.7.2017
Puppies Nemesis and Nanook have already their looving familes.

1.6.2017 Available puppies
Puppies from "N" litter are already in new homes. Nice puppy boy Nanook and after canceled booking puppy female Nemesis too are still looking for some loving new owners. Both are standard happy puppies, suitable for shows and breeding, but the most important is they will be super friends in the family.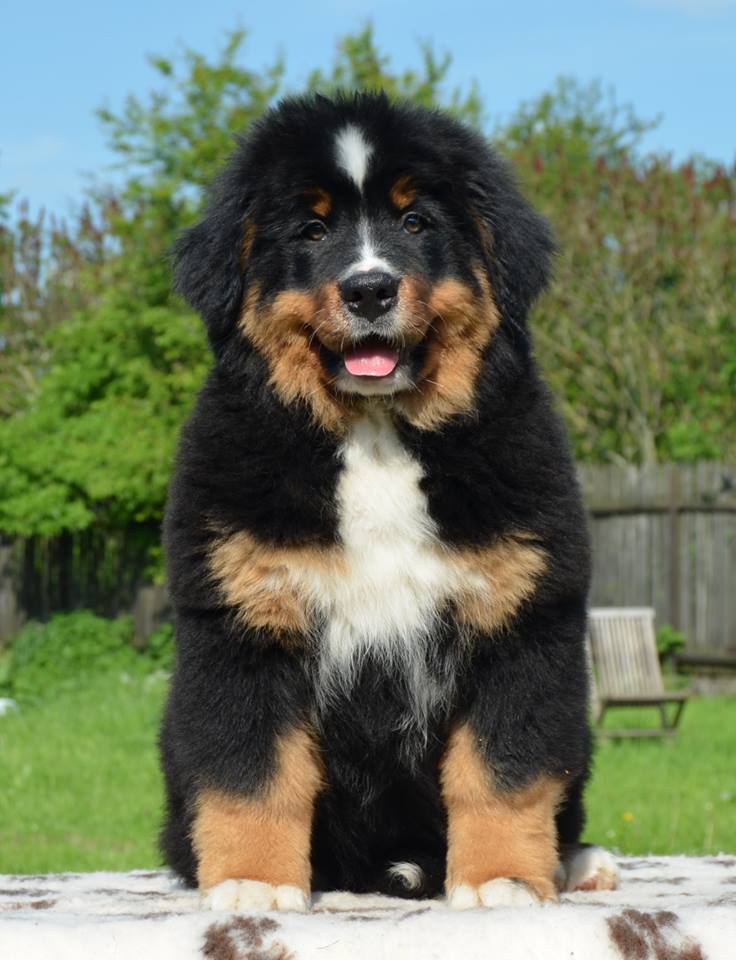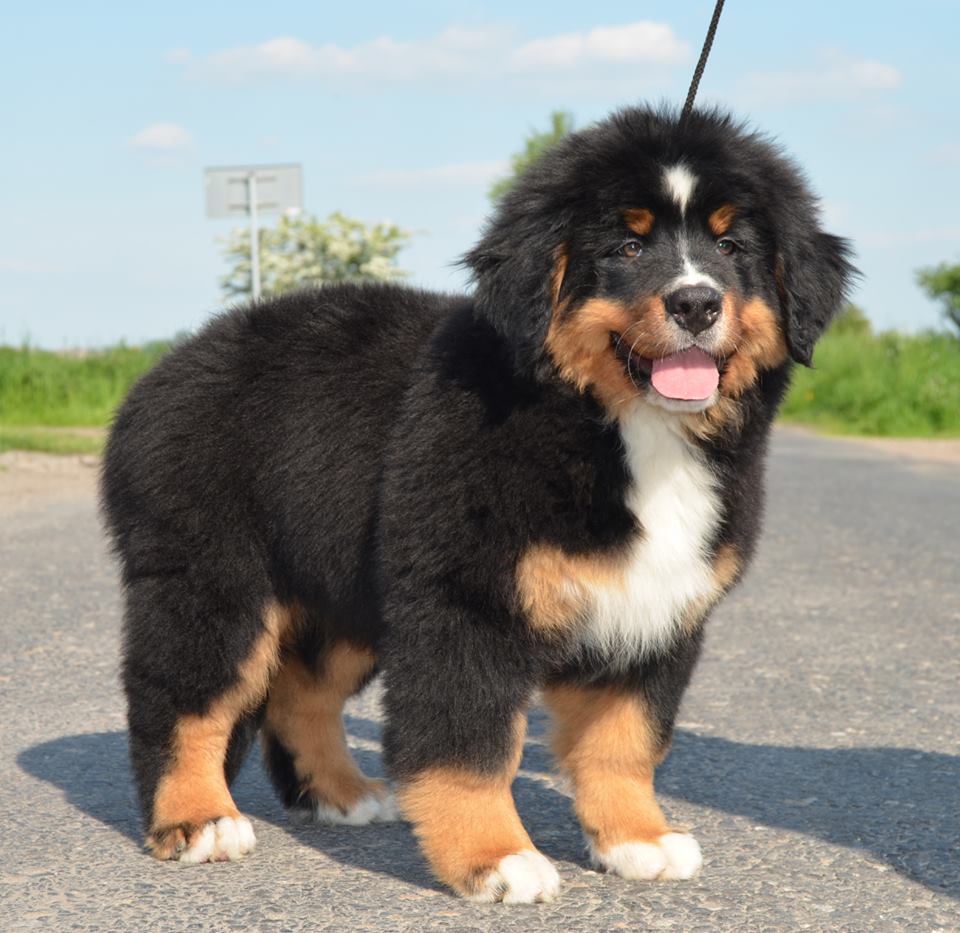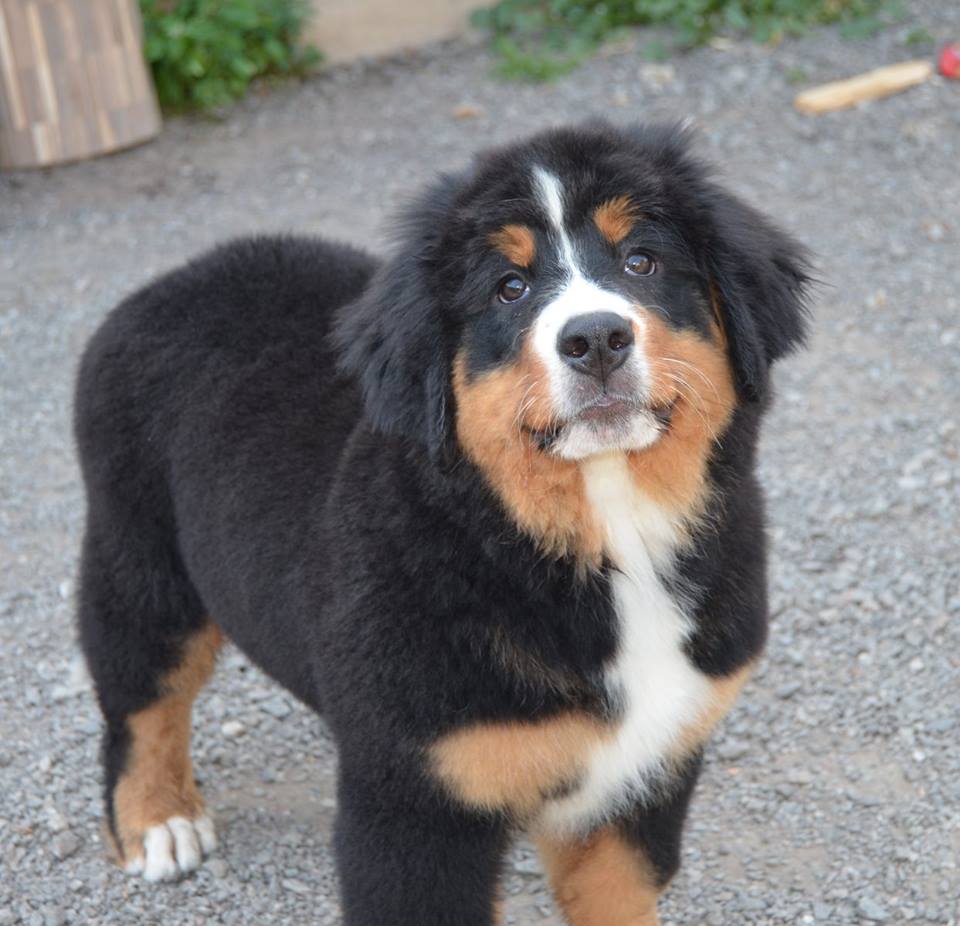 Nanook Nemesis

25-26.02.2017 We have puppies!!!
In Saturday 25 of February in the evening our Faith started to give birth to her second litter. We recognized 8 puppies by ultrasound of her uterus, than we expected bigger litter. Faith gave birth to 11 puppies - 7 males and 4 females. Unfortunatelly two puppies were born dead. Rest 9 puppies and mother are doing great. We are very happy and very grateful to Faith and Robin for their wonderful puppies they have us.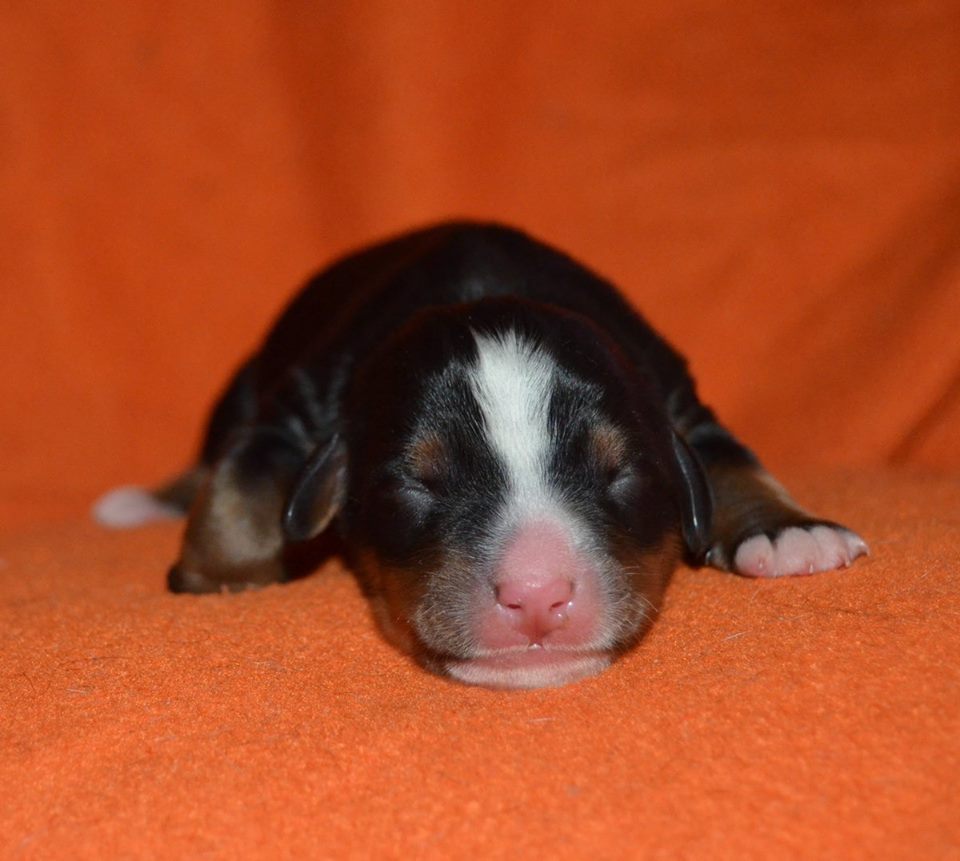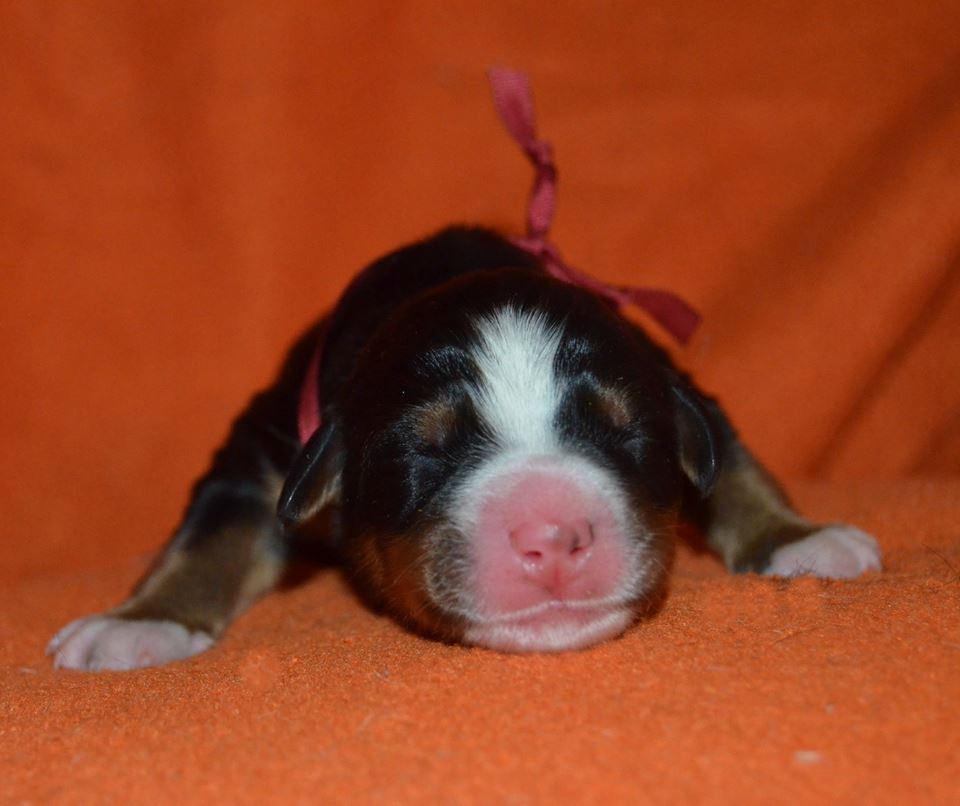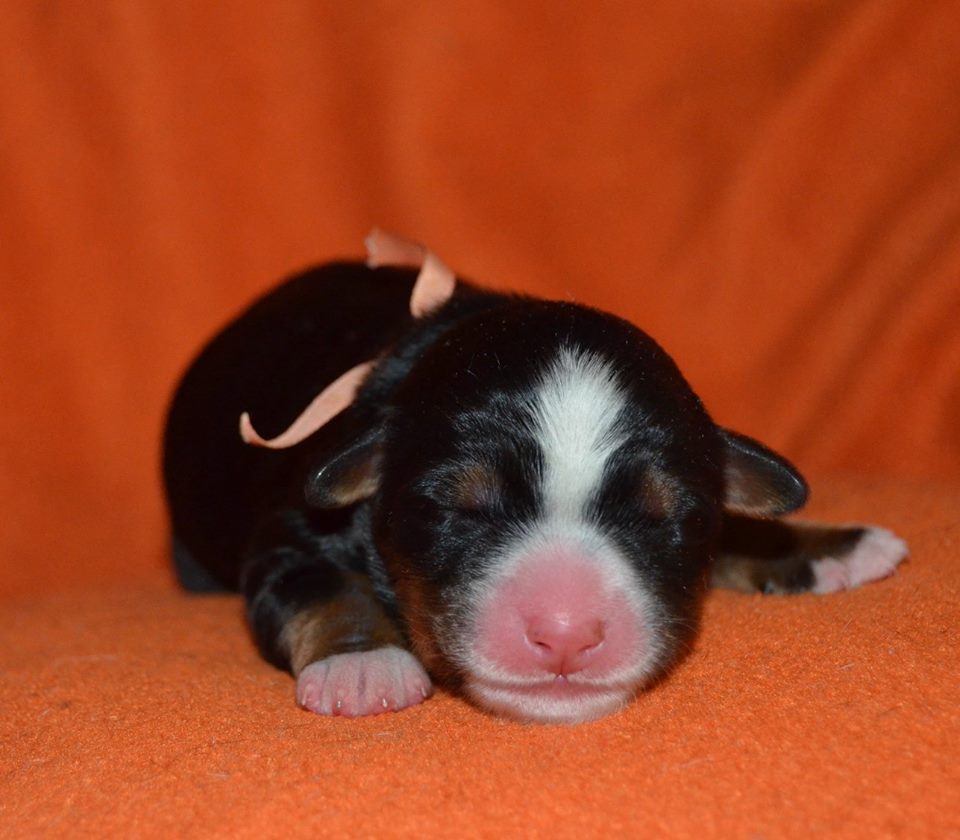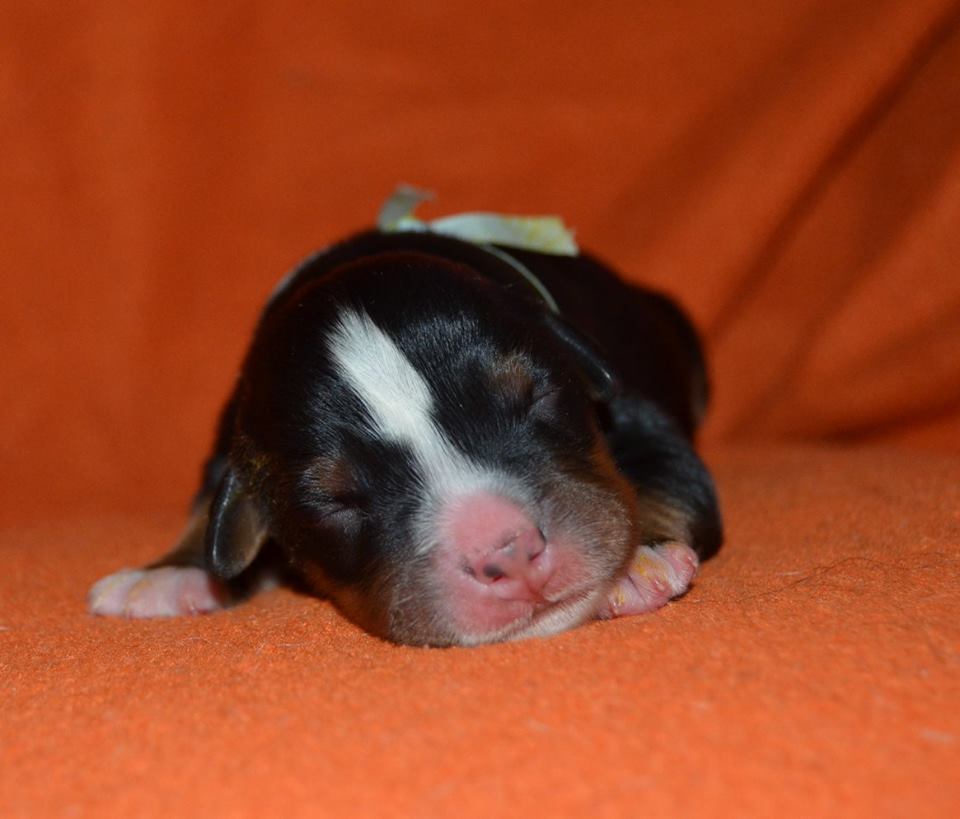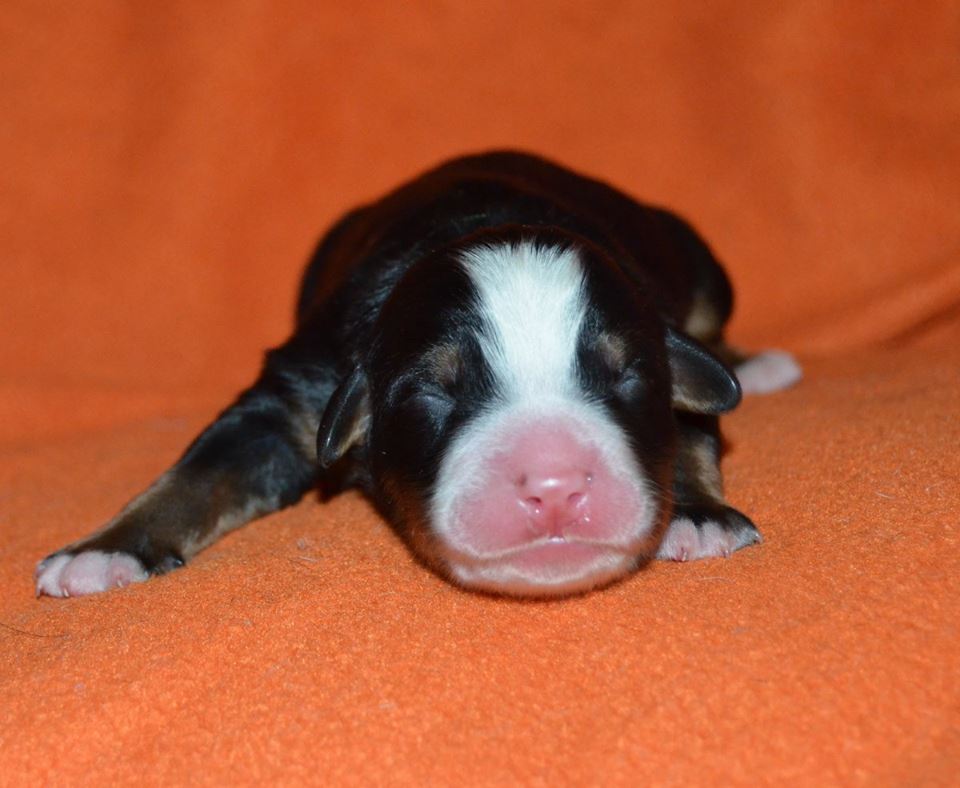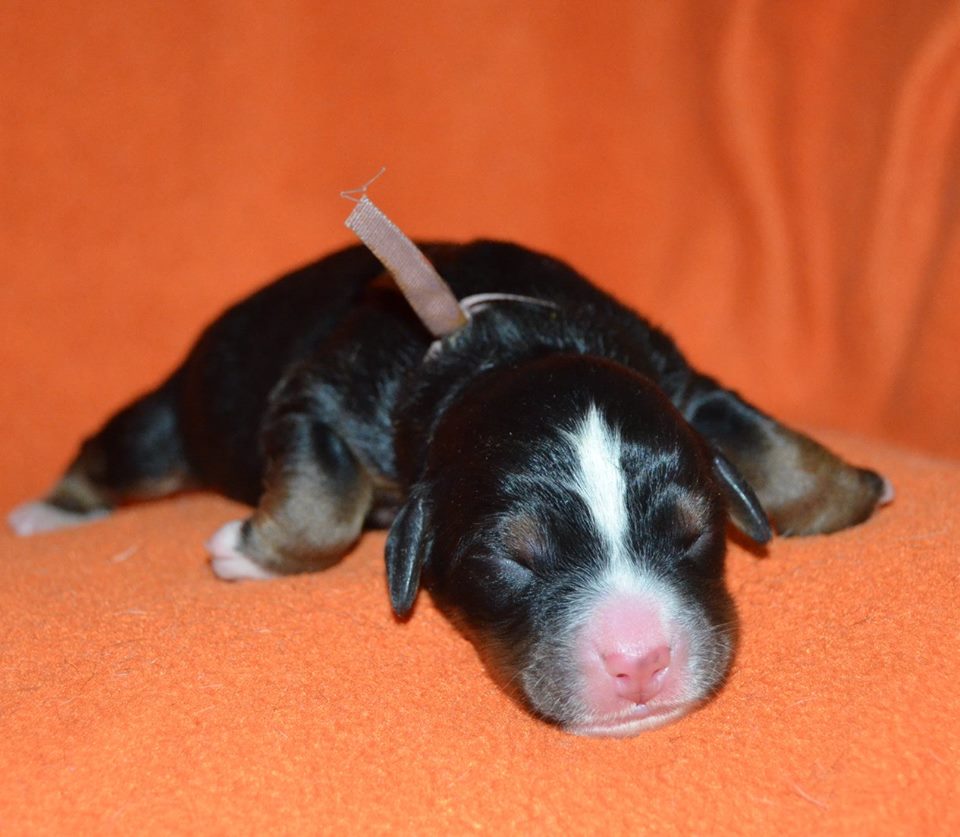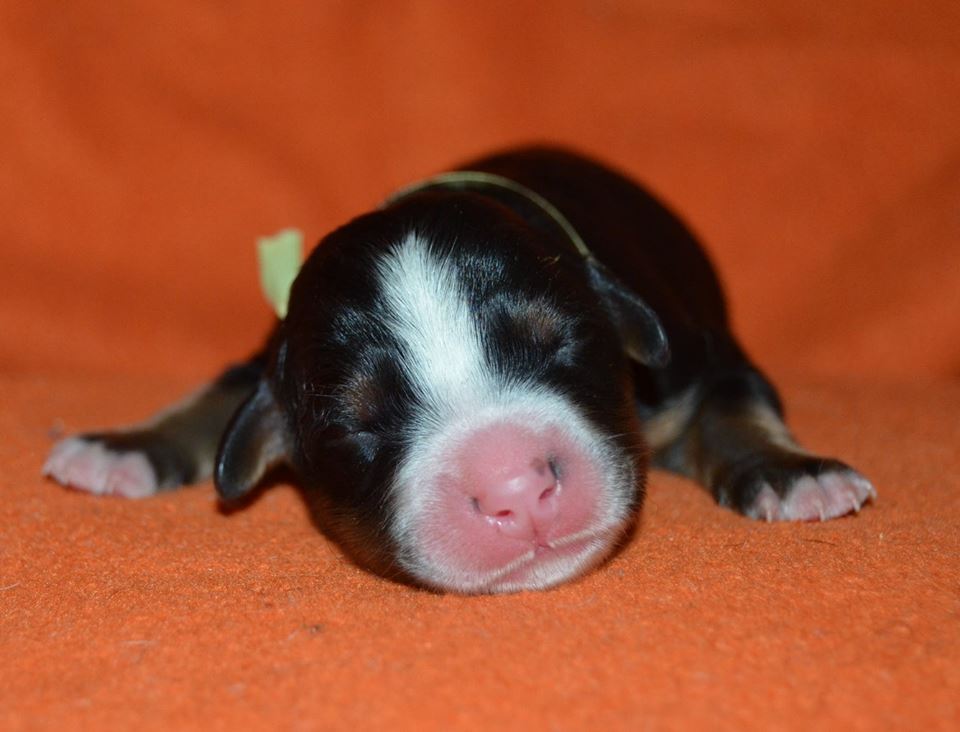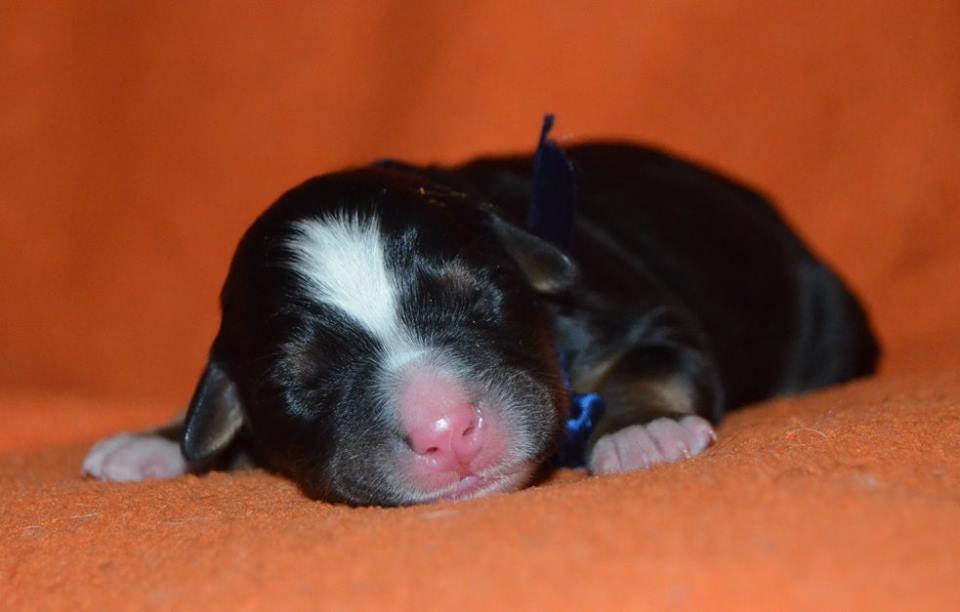 18.01.2017 "N" litter is on the road
Mating of our female Faith Hill after Christmas event was very successful. It was natural mating and we have pregnancy confirmation!!! Than we are expecting puppies around February 23, 2017. So looking forward!!!

15.01.2017 Results of x-rays of our puppies
King Lerry Carallsa HD A/A ED 0/0
Imperio Ice Cube Carallsa HD A/A ED 0/0
Ishara Immotal Carralsa HD A/A ED 0/0
We are very happy!!! Thanks to owners of their care!!!

News - year 2016
We have puppies!!! Than the second litter is here too :) Princess gave birth to 9 puppies. We have 5 females and 4 males. This birth was natural too. Some of them are available for loving family or breeding and shows.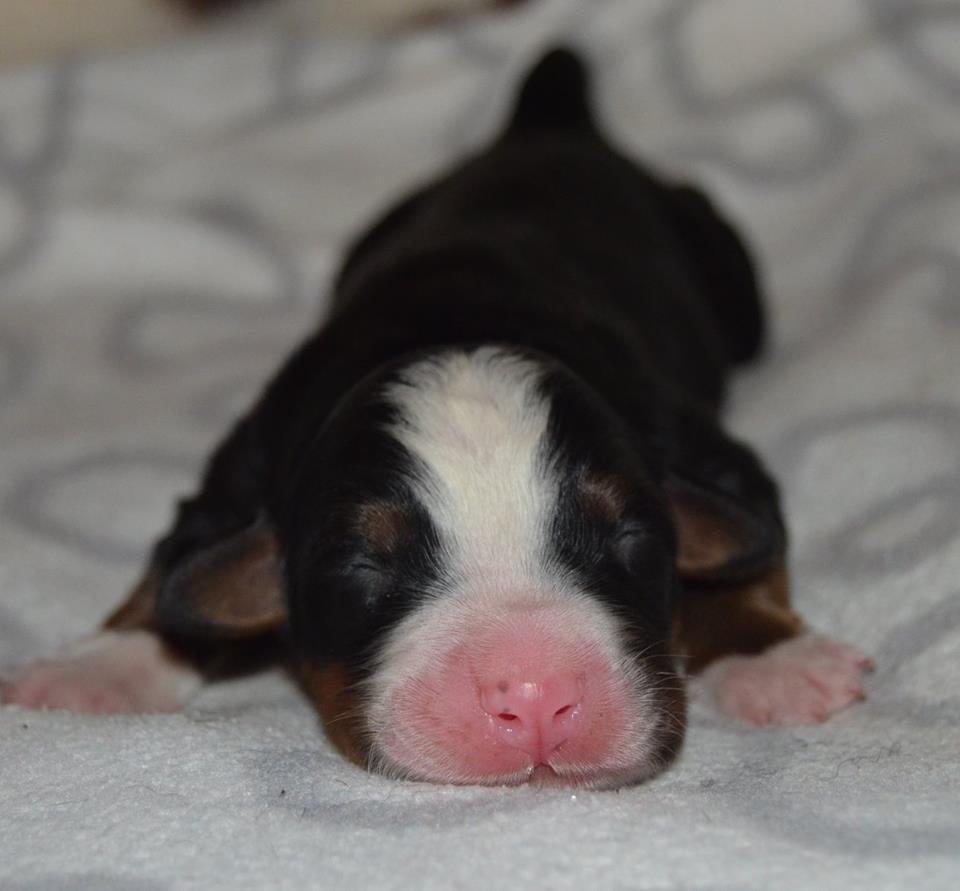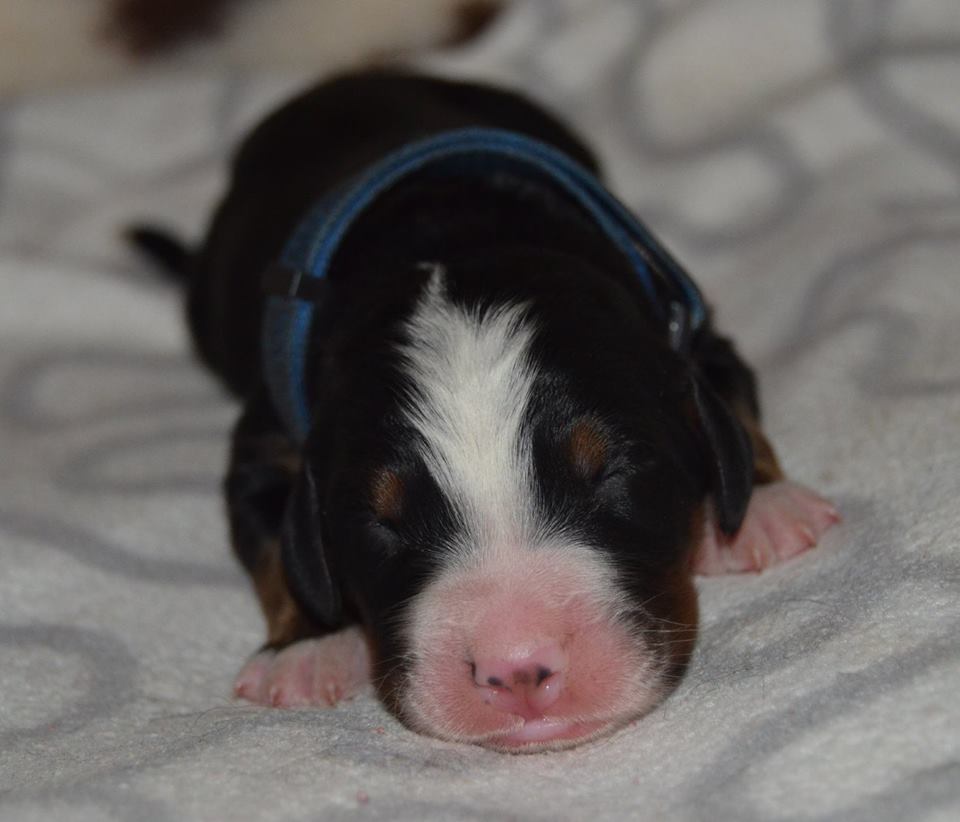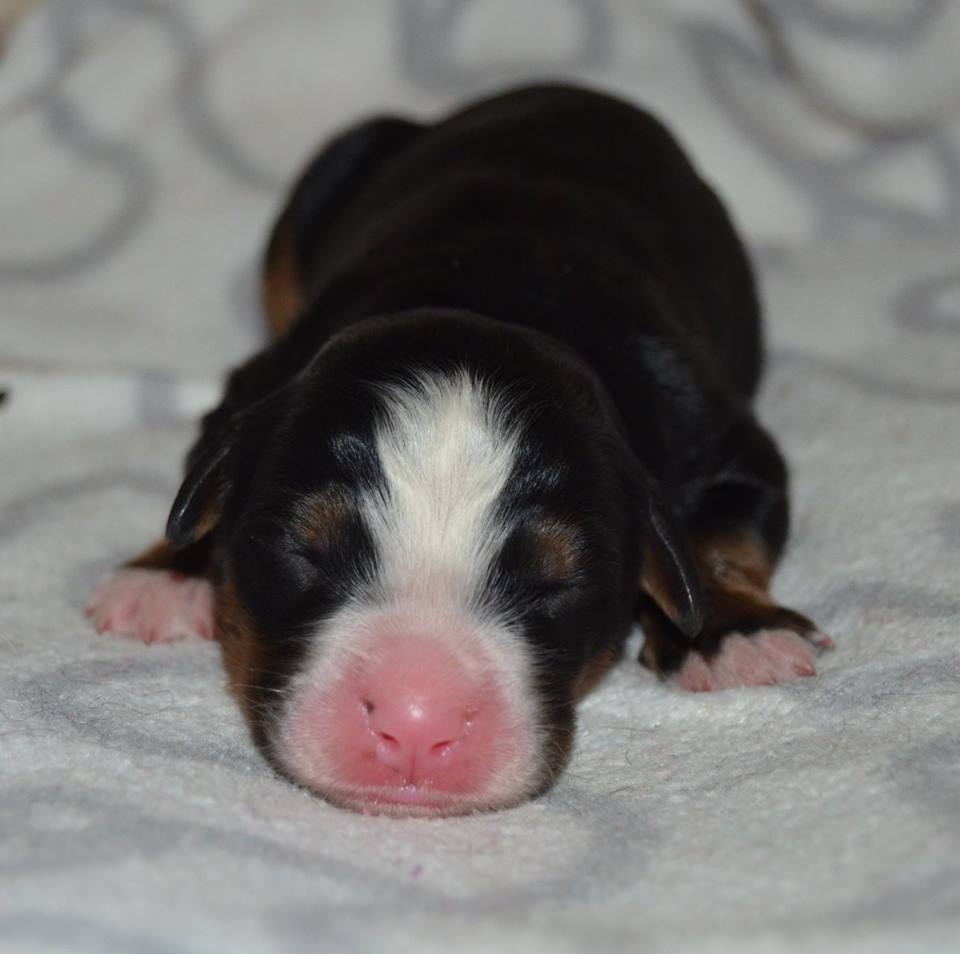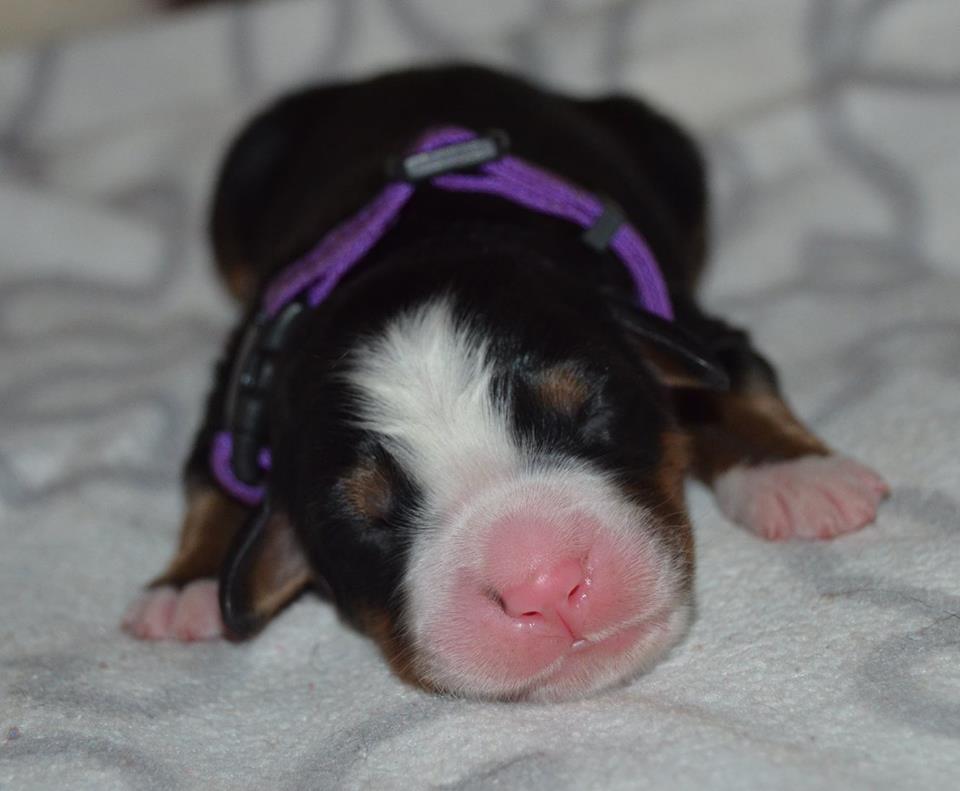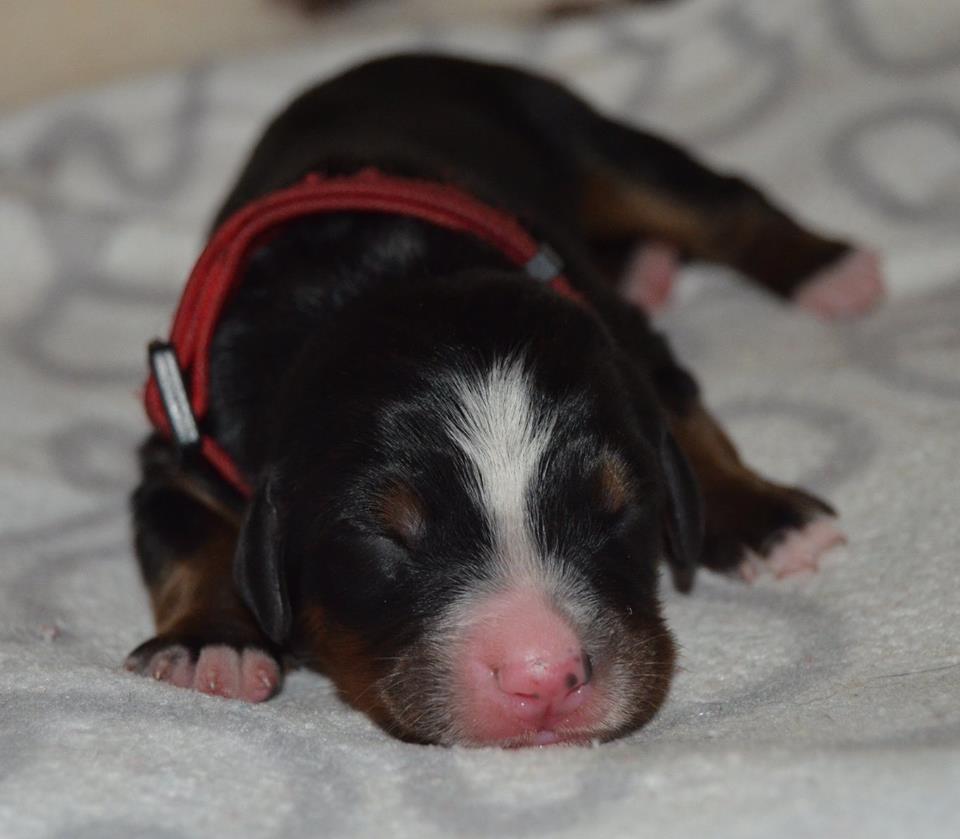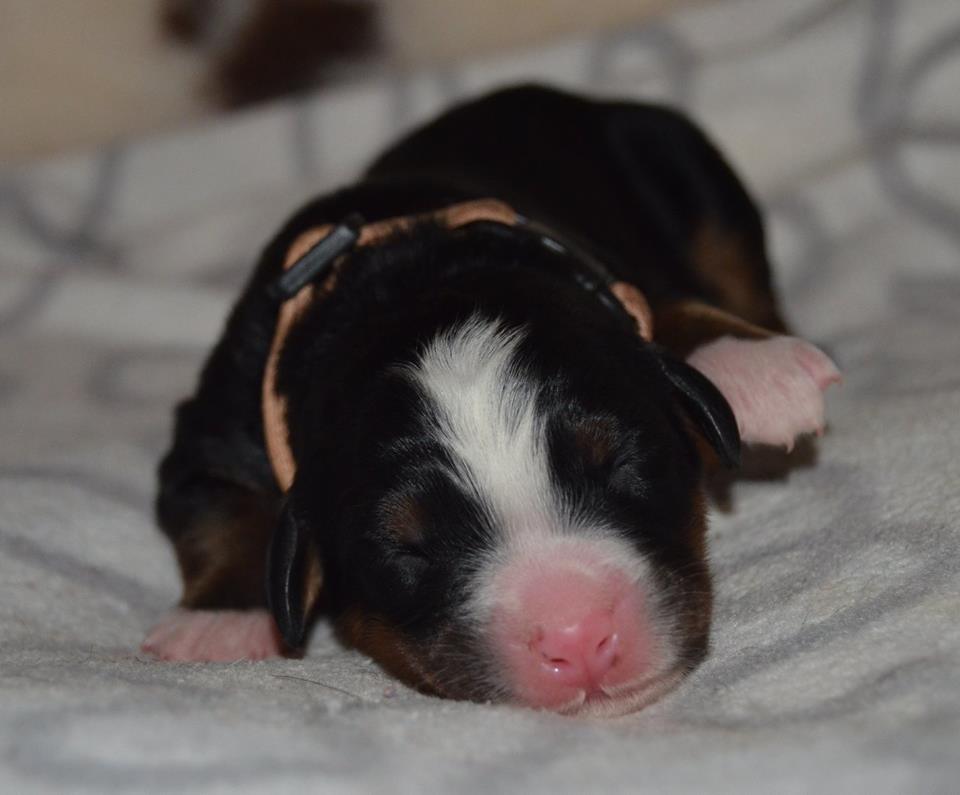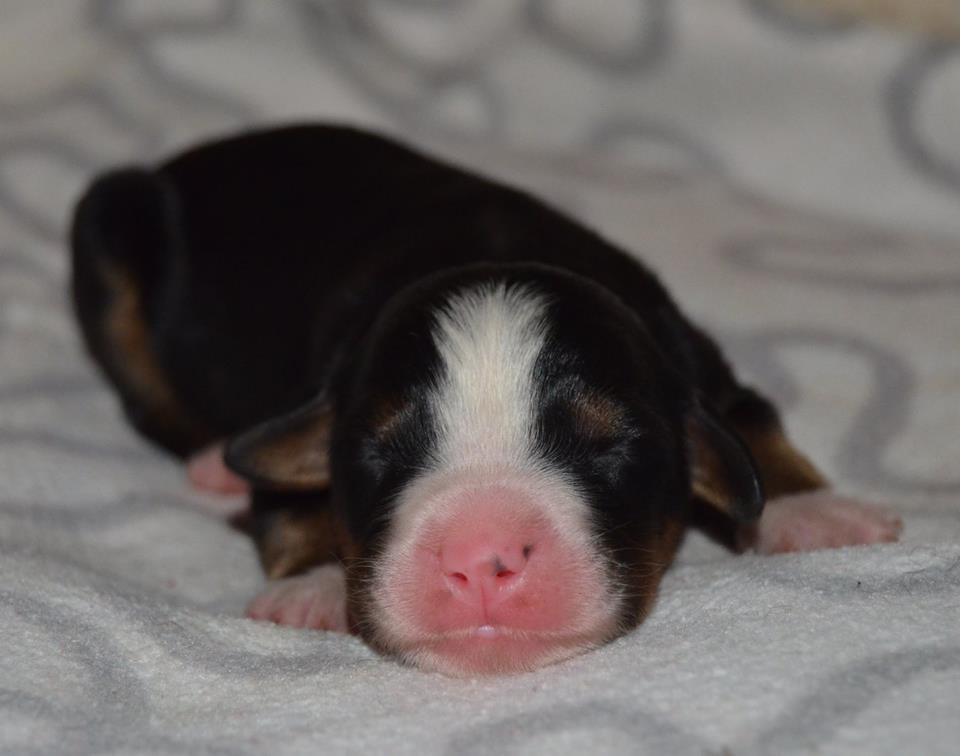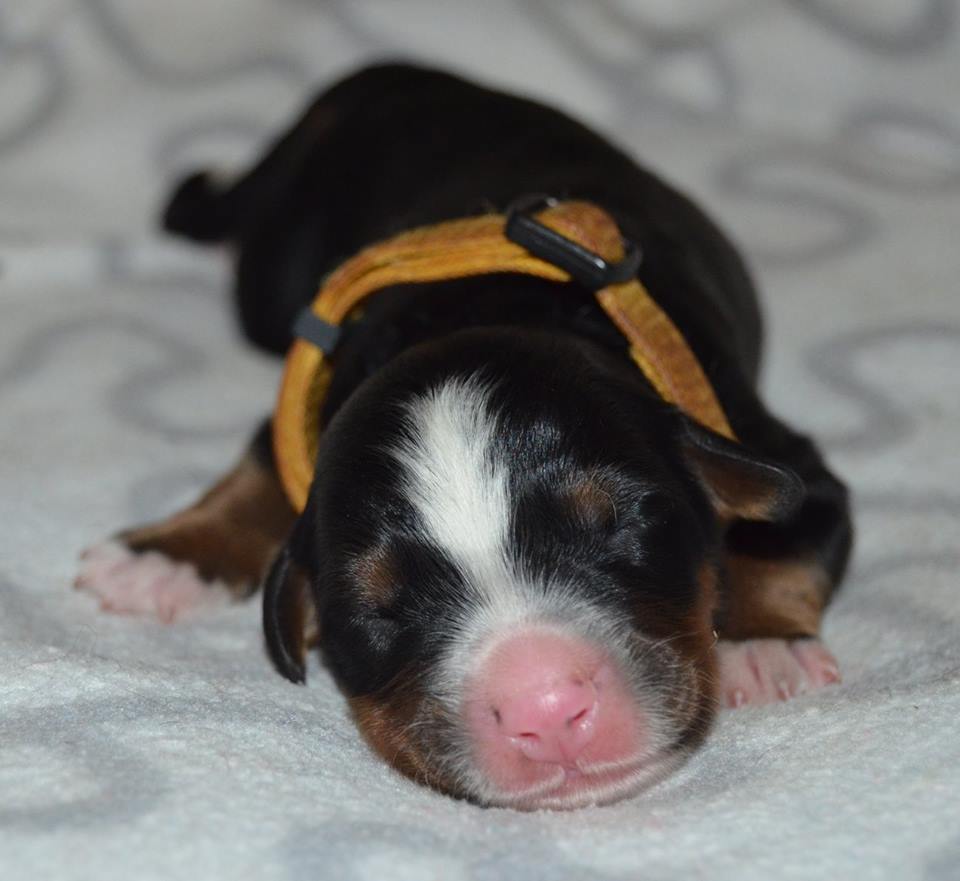 14. 9. 2016 "L" litter
We have puppies!!! Our Franciss and Bosse have 6 sweet puppies - we have 5 females and 1 male. Birth was natural.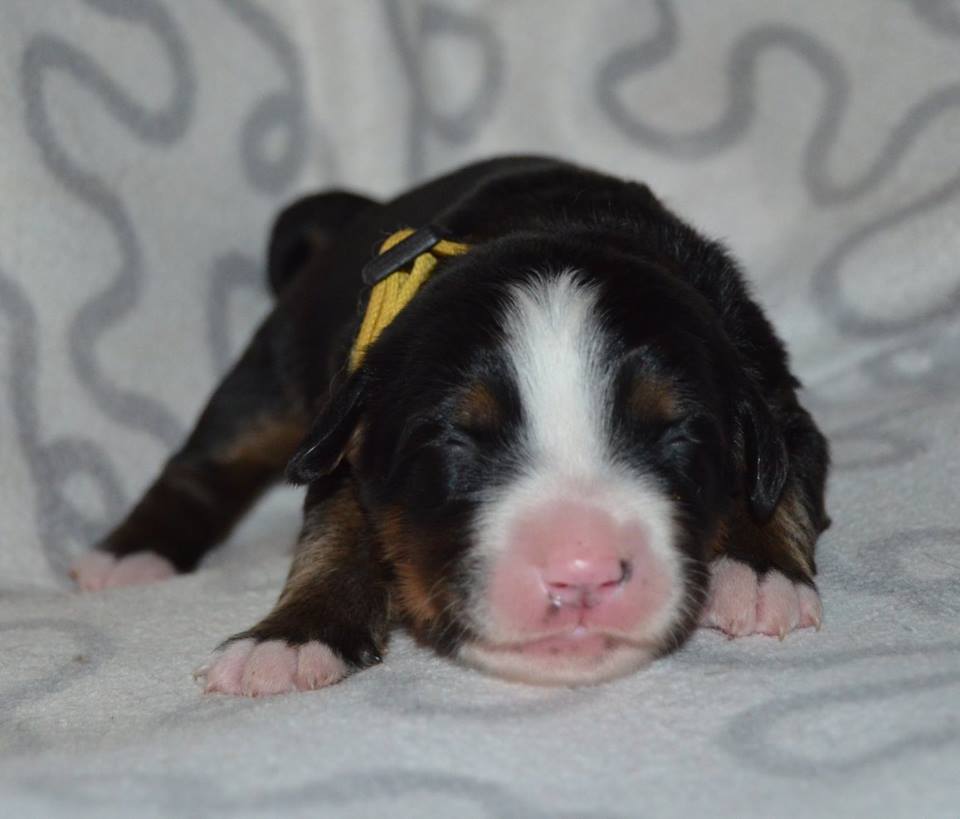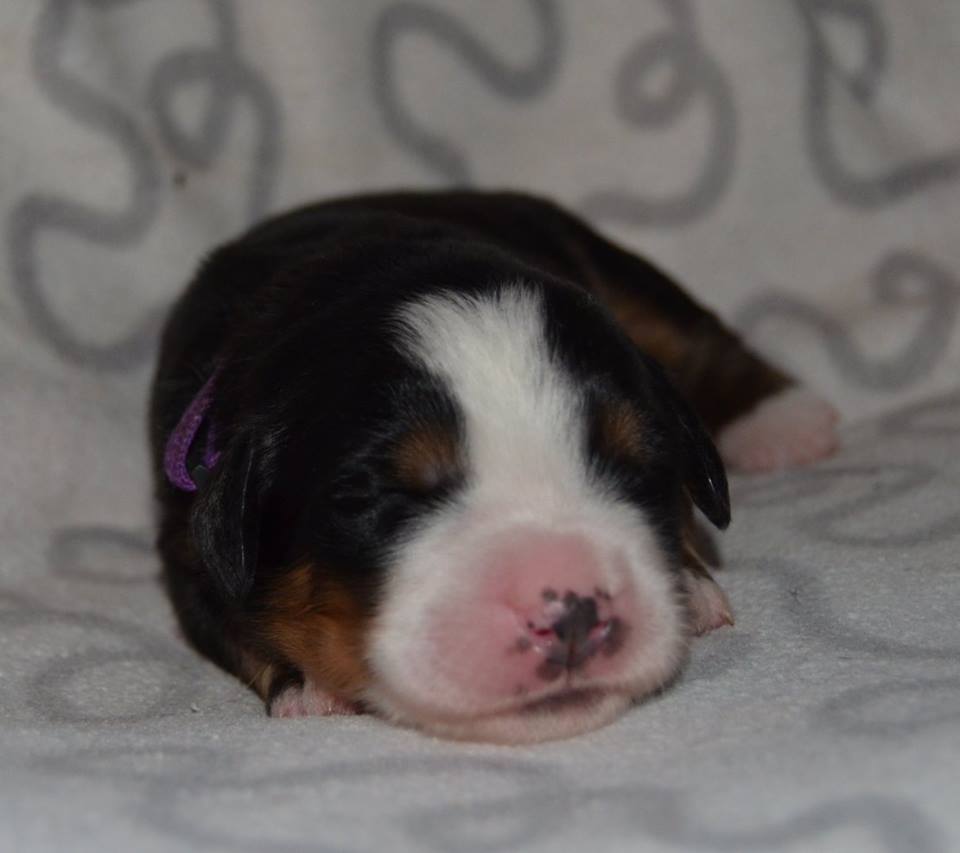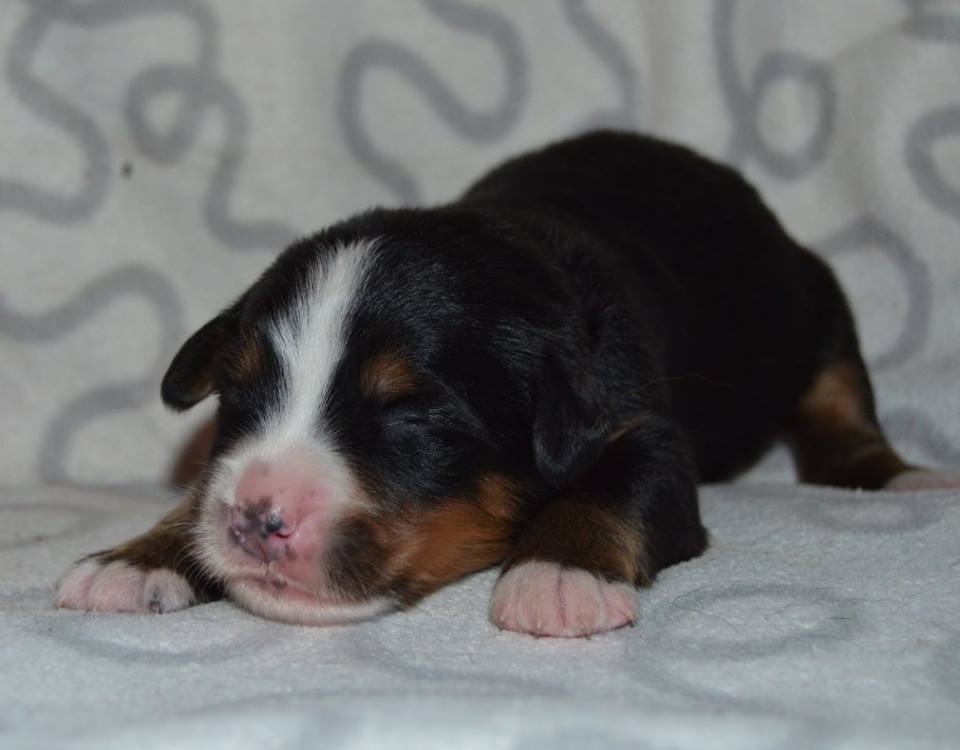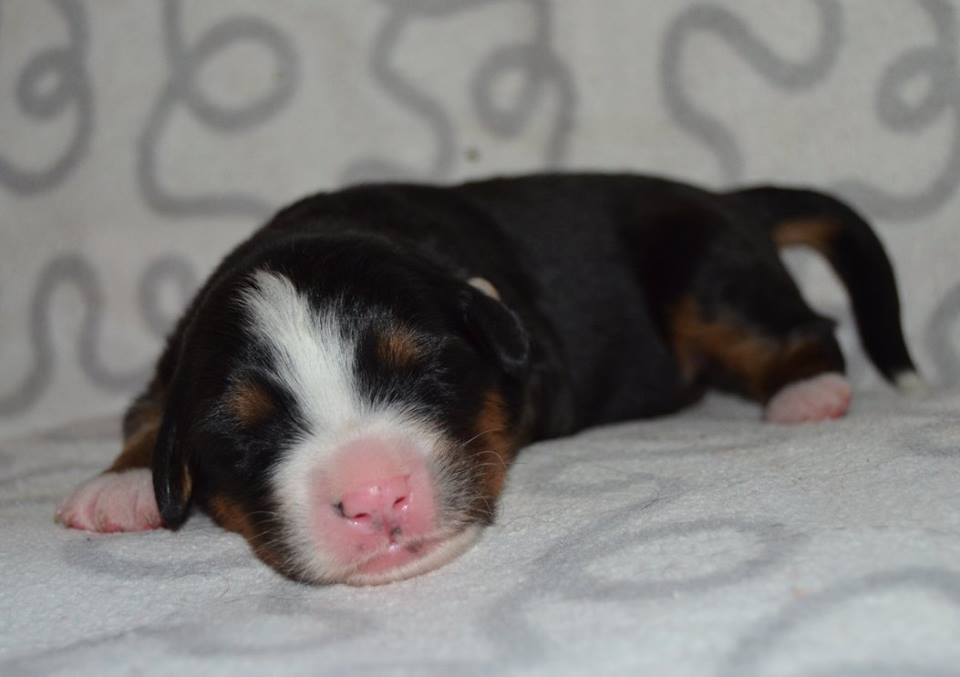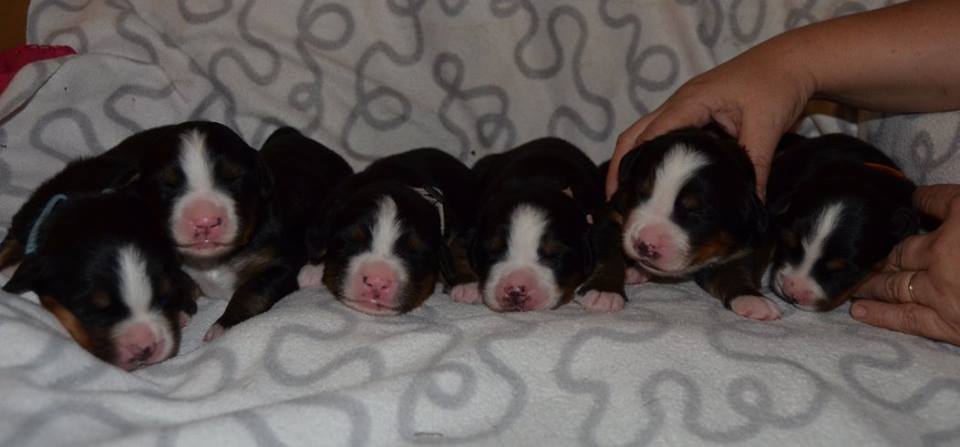 13. 2. 2016 All puppies have already their homes
Than Kelvin found his new loving family too, he left us this Saturday. And our house is empty, runs for a dog abandoned babies, everywhere unusual calm. All 24 puppies are in new families, not one of them left with us this time. Maybe for us it will not be too long silence :-) This dependence is simply wrong heals :-)

We wish all our canine kids long life, full of health and joy!

11. 2. 2016 Last puppy male
King Lerry
left us with his new beloved owner, our friend, Keene is already the main part of family in Atlanta and is preparing for his future very important canistherapeutical work with ill children, Jack will fly to Salt Lake City to his new owner and we hope he will fill all expectation and can be use for breeding in the future, our beloved Jessica left us today with her new owner to Germany to start again his breeding programm. Than only one, who is looking for new loving family, is Kelvin. Kelvin is very kind and happy puppy, very cuddle.
.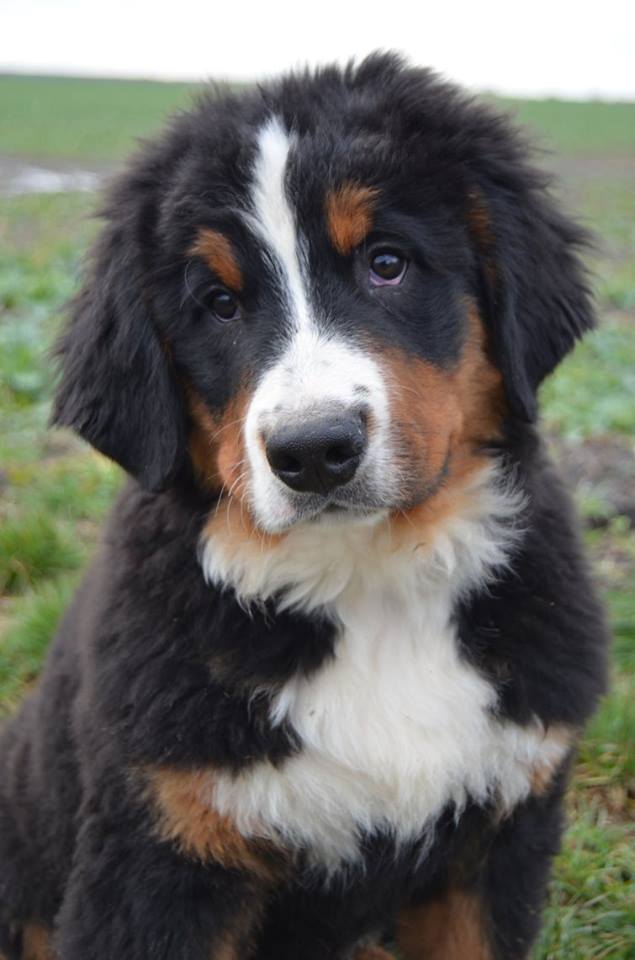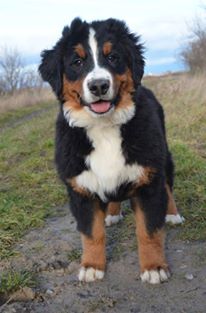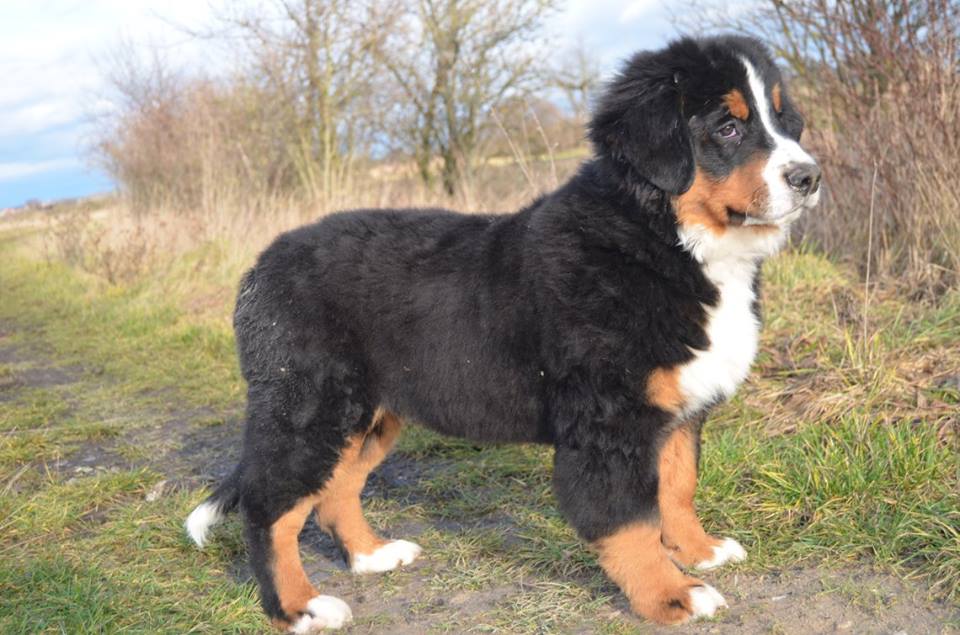 25. 1. 2016 Available puppies
These puppies are still looking for some lovely family. They have very interesting pedigree, are suitable for breeding and shows but mainly as dog friend full of love how berners can do it. Puppies had 3 months, they are full vaccinated, dewormed, chipped, they have PetPassport and FCI pedigree of course too.
More information you can find in "Litters" - "J" and "K" litters.
males: Keene
King Lerry
Kelvin

21. 12. 2015 Available puppy boys
Some of the puppies are already by their new owners. Our 5 puppy males from "K" litter are still looking for their new homes, where they will be the main point of all attention and love. They are really very nice, strong boys with perfect nature. If you are looking for some dog friend, please contact us for more details.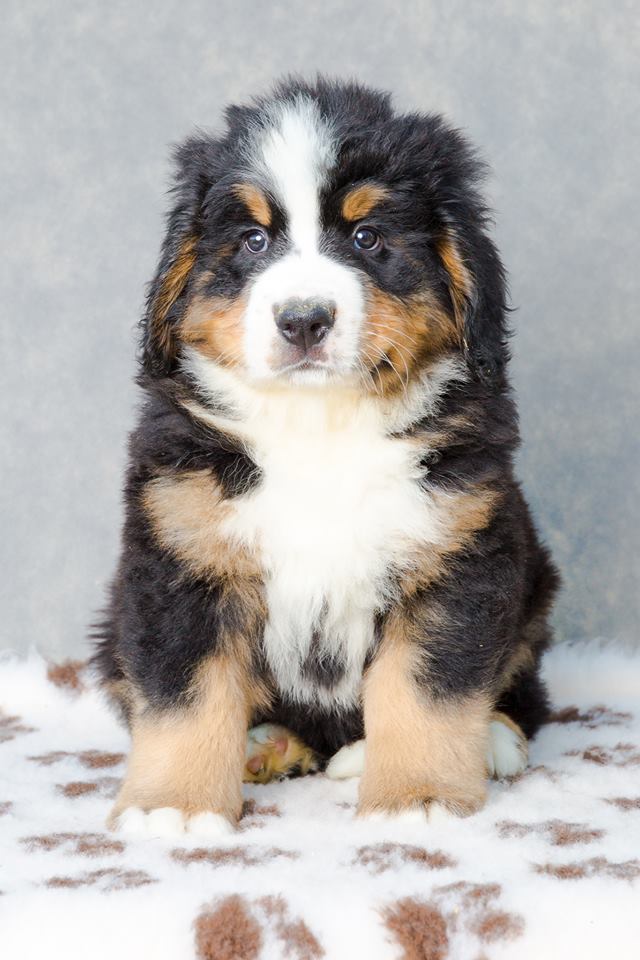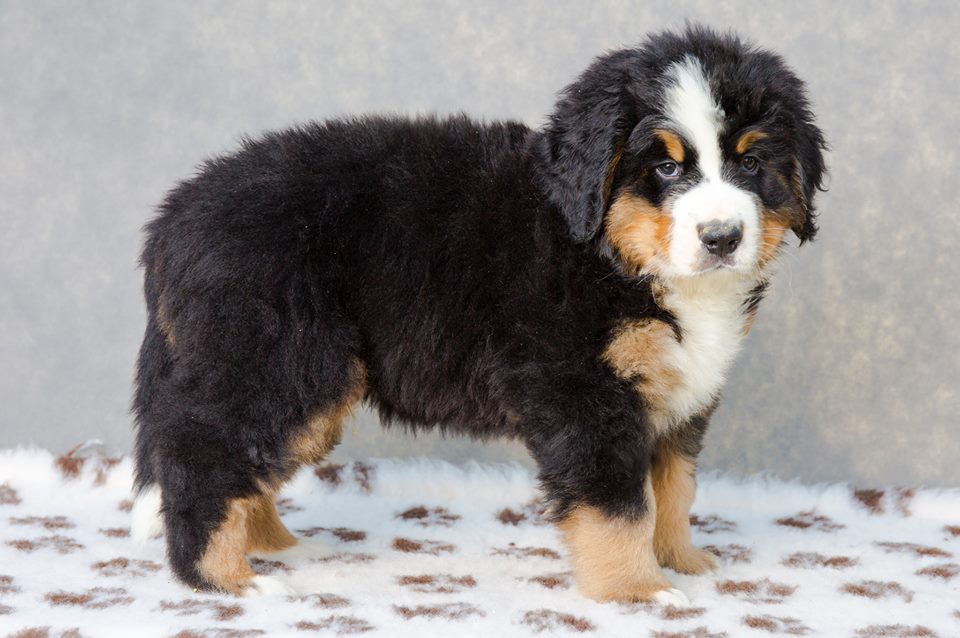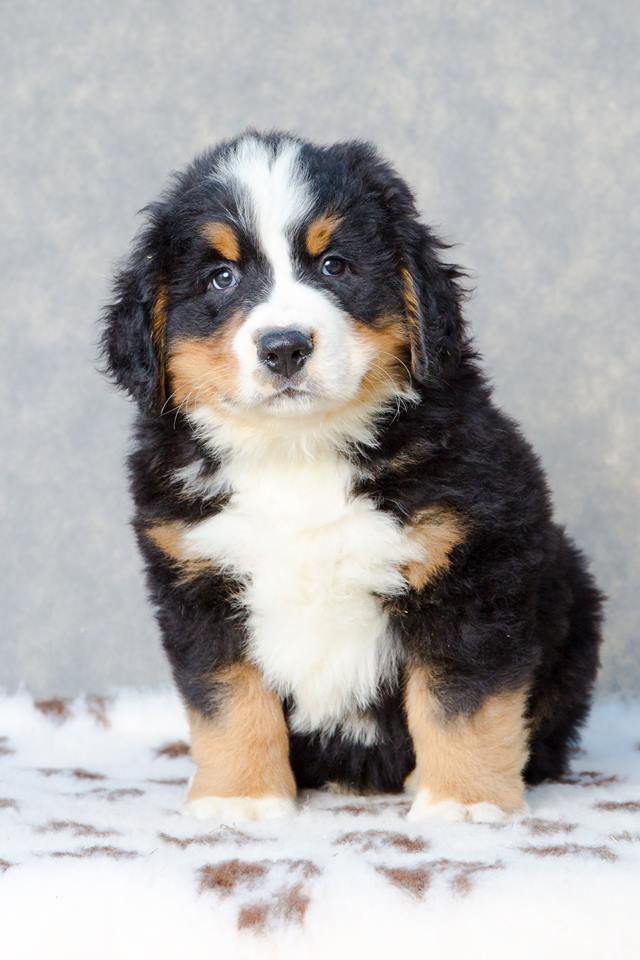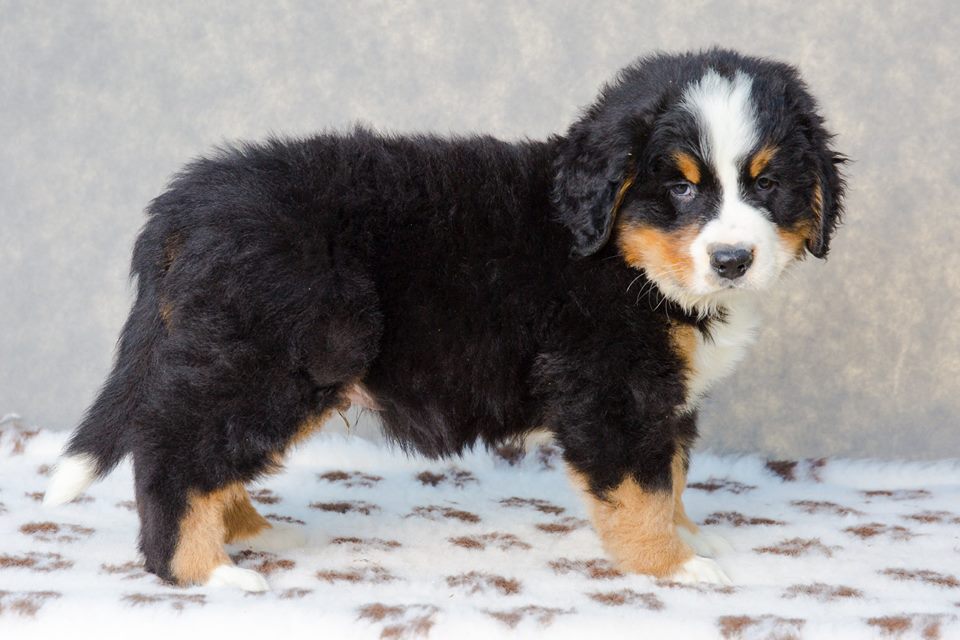 Kentucky Kolton Karmel Kurtis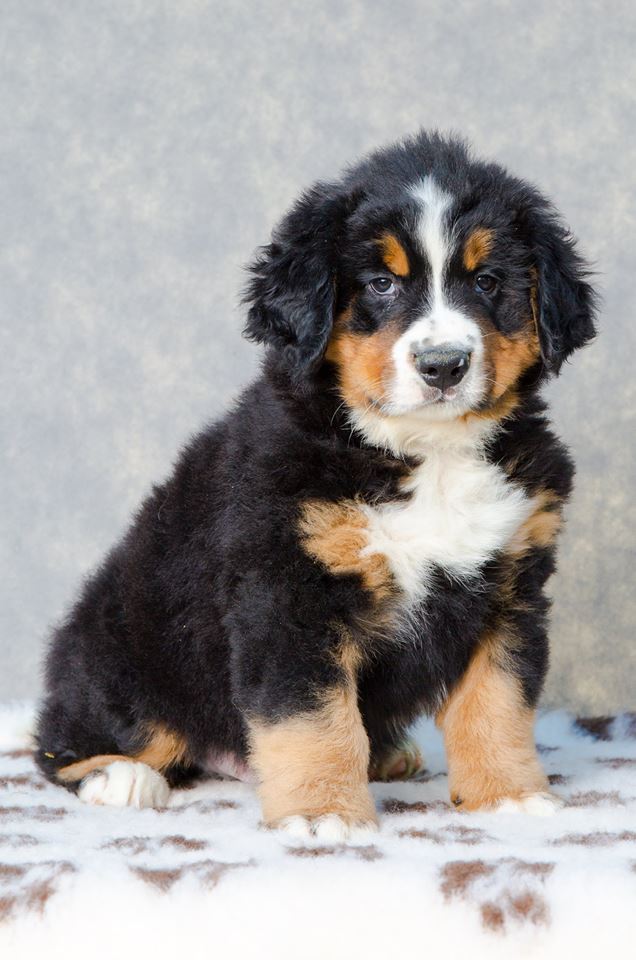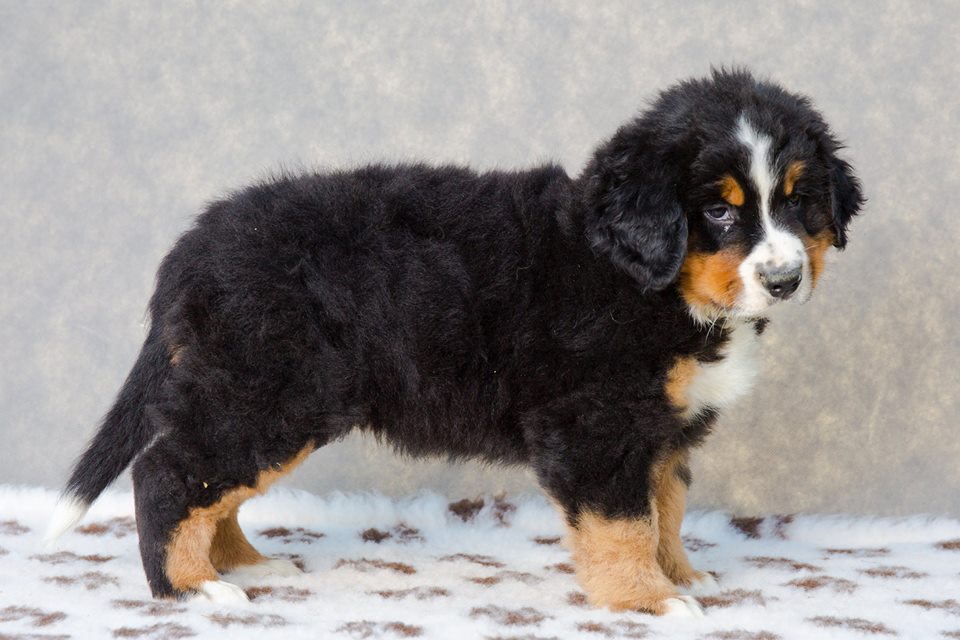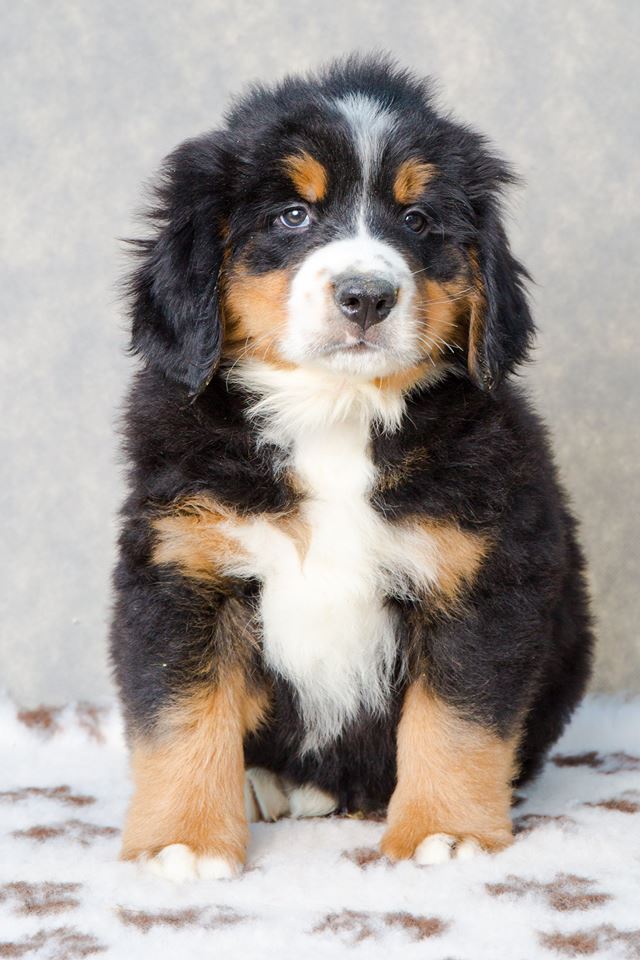 Kelvin Kashmire Keene Kricket

17. 10. 2015 BREEDING TEST and Boss
We were in Mlada Boleslav again to attend breeding test with our 2,5 years old imported male Boss Rojaus Bernas. Despite all the complications that accompanied him to grow (rightward multiple fractures in the distal shaft of the ulna + premature closure of the growth plate of the distal ulna), we managed to pass the "breeding test" and we have new kennel's stud dog again. Due to its absolutely amazing nature, beautiful head and strong bone, we hope that it will be beneficial to our breed.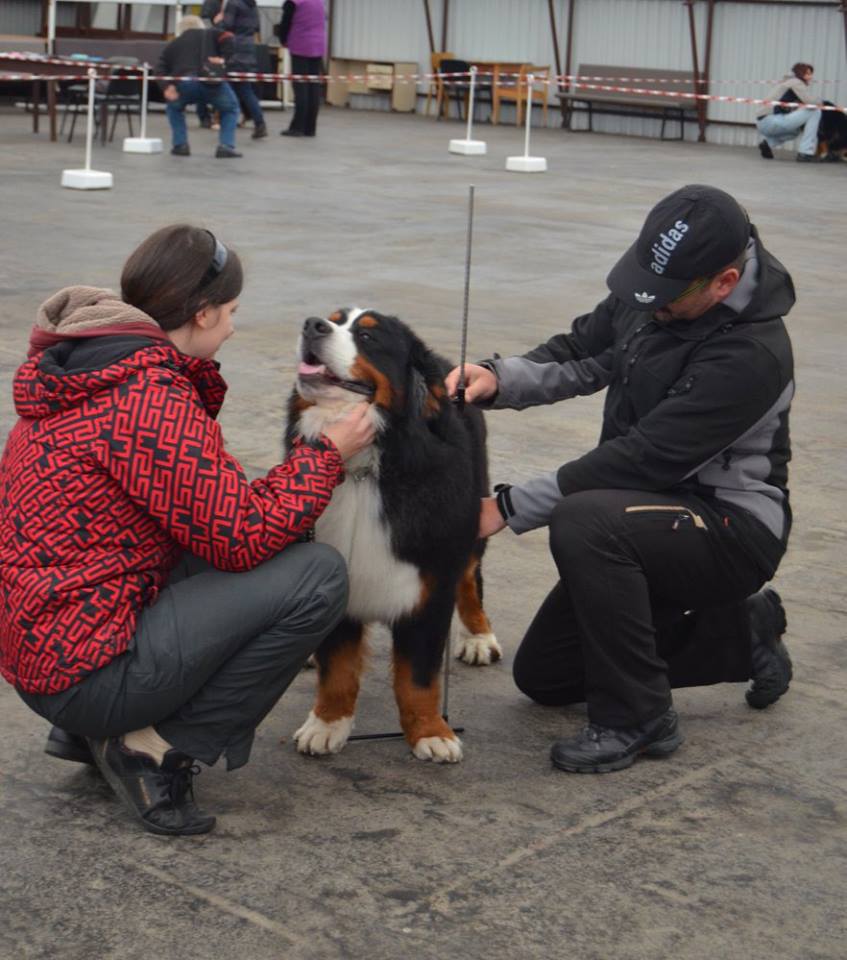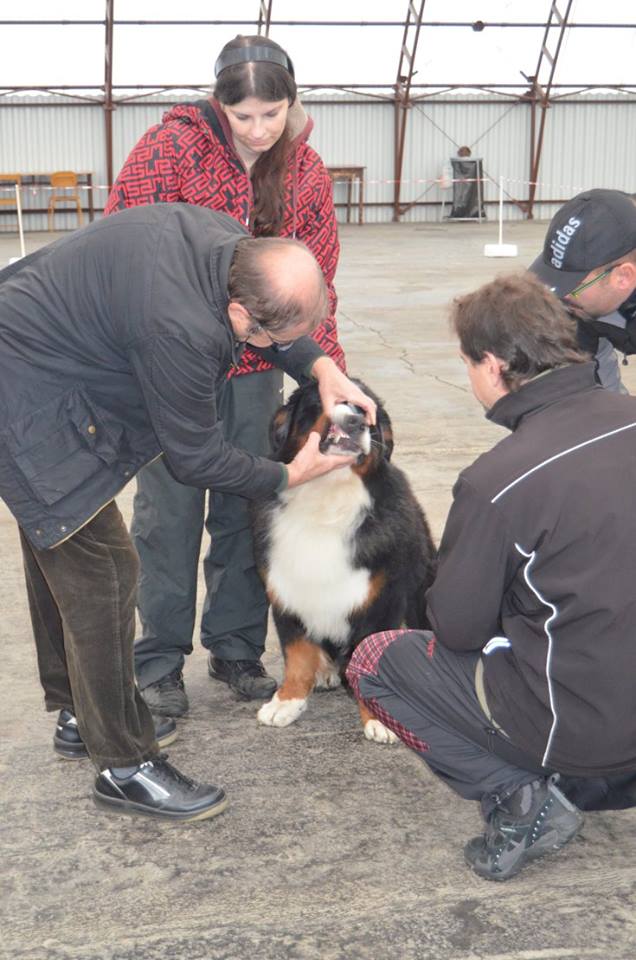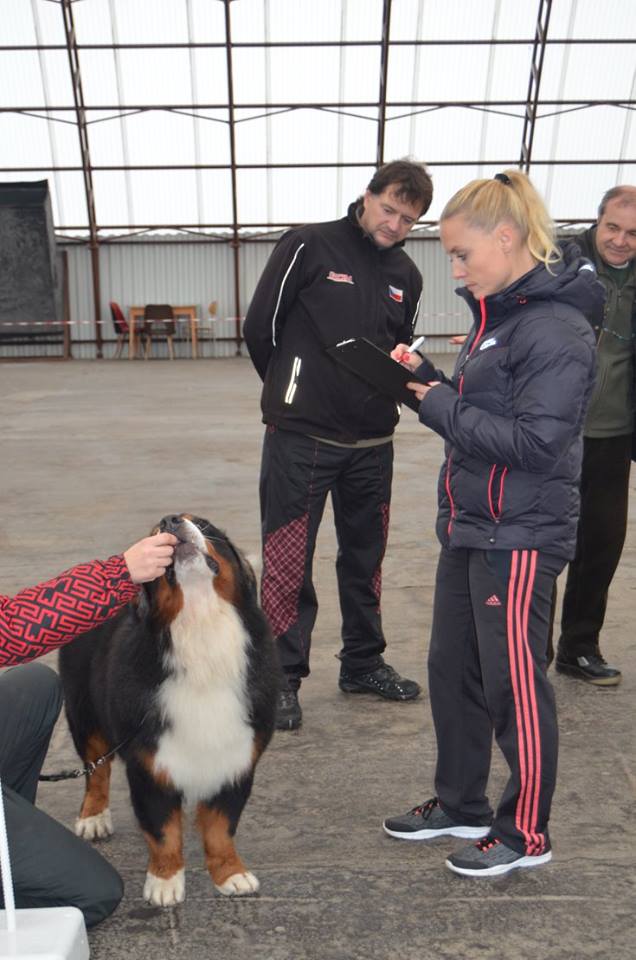 13. 10. 2015 And here they are :-)
Three births, 24 babies.... This is the ultimate state of "dog crops" in our kennel. The doctor at sono was right when he informed us with smile on his face, that there are at least 8 babies at each of our females ... Puppies were three more in the end, but in every litter we have lost one of them. Births challenging, as it happens, but we all managed. We have moms and babies bastion cheerfully trying to carve out their place in it our human world ... It will be difficult, we know, but there is nothing more beautiful than the sight of puppies in the birth box ....

Here they are: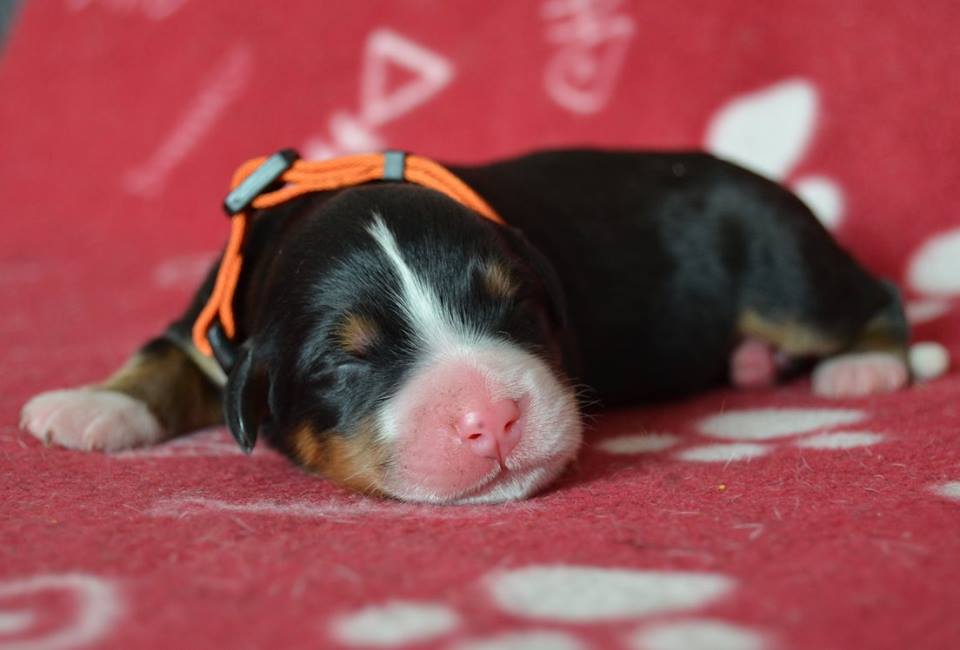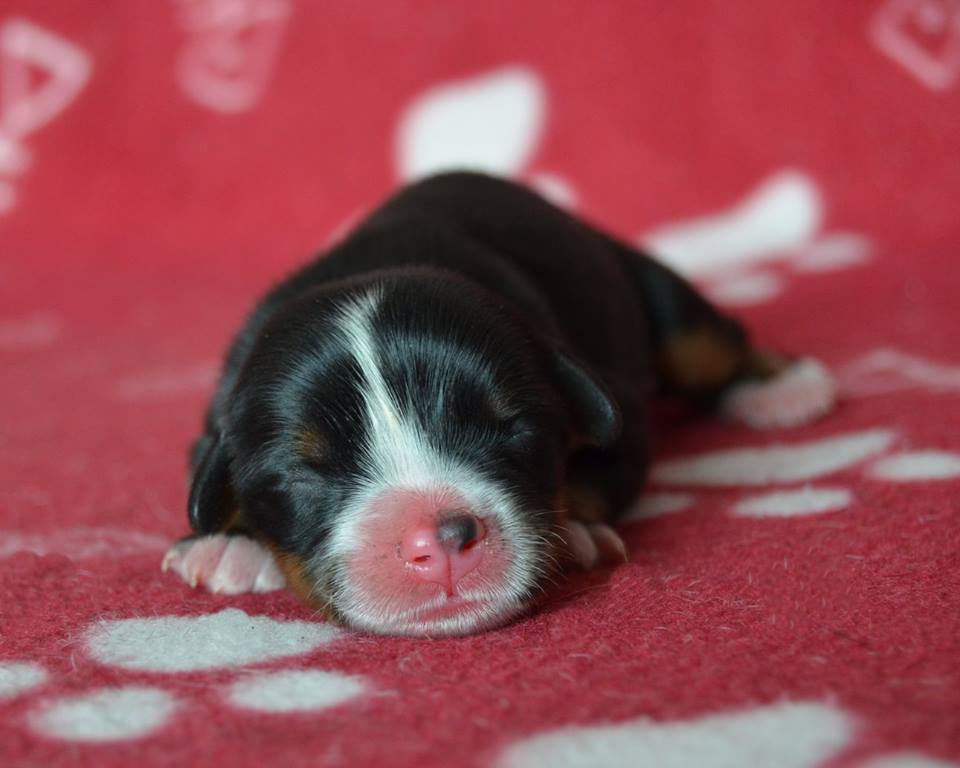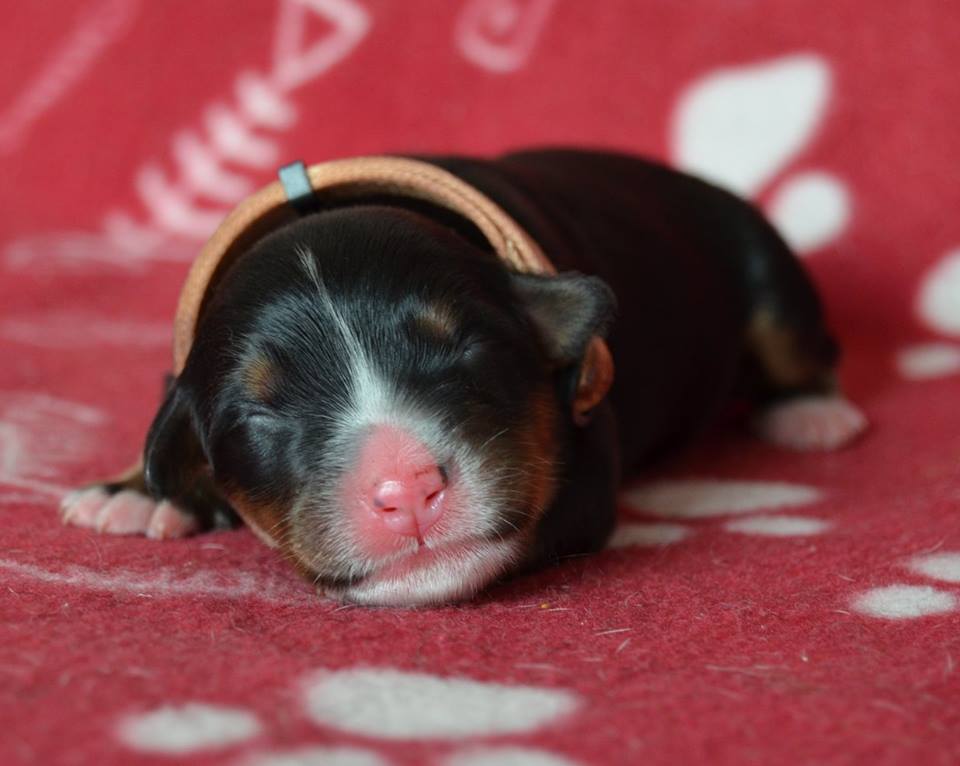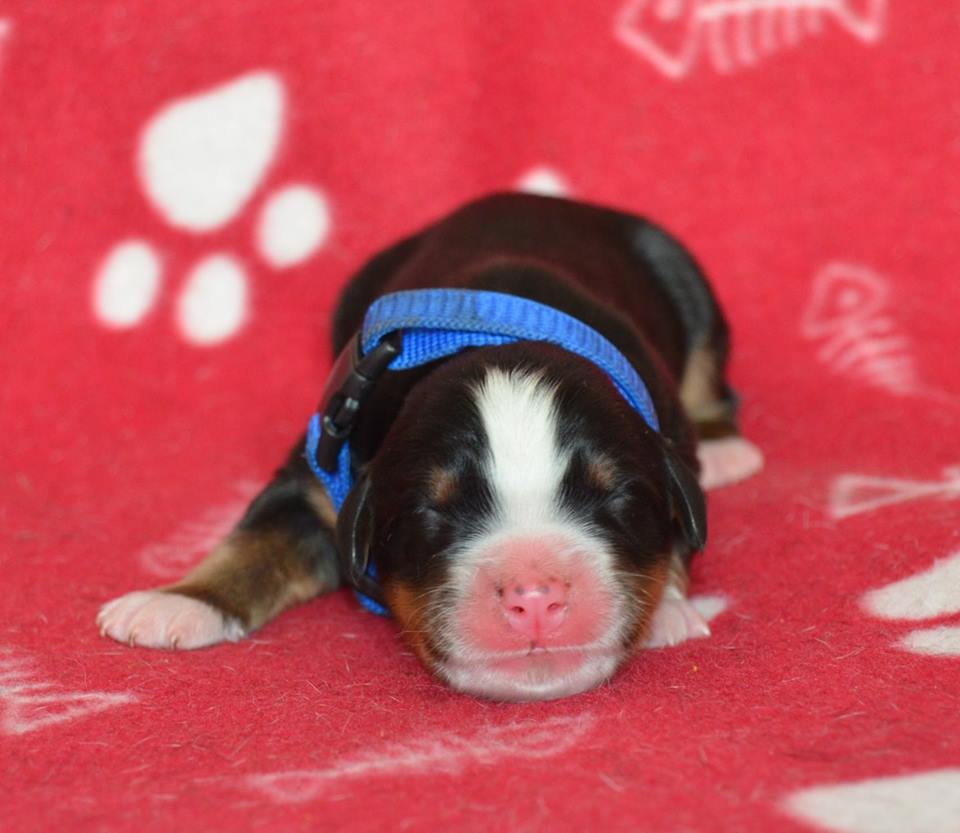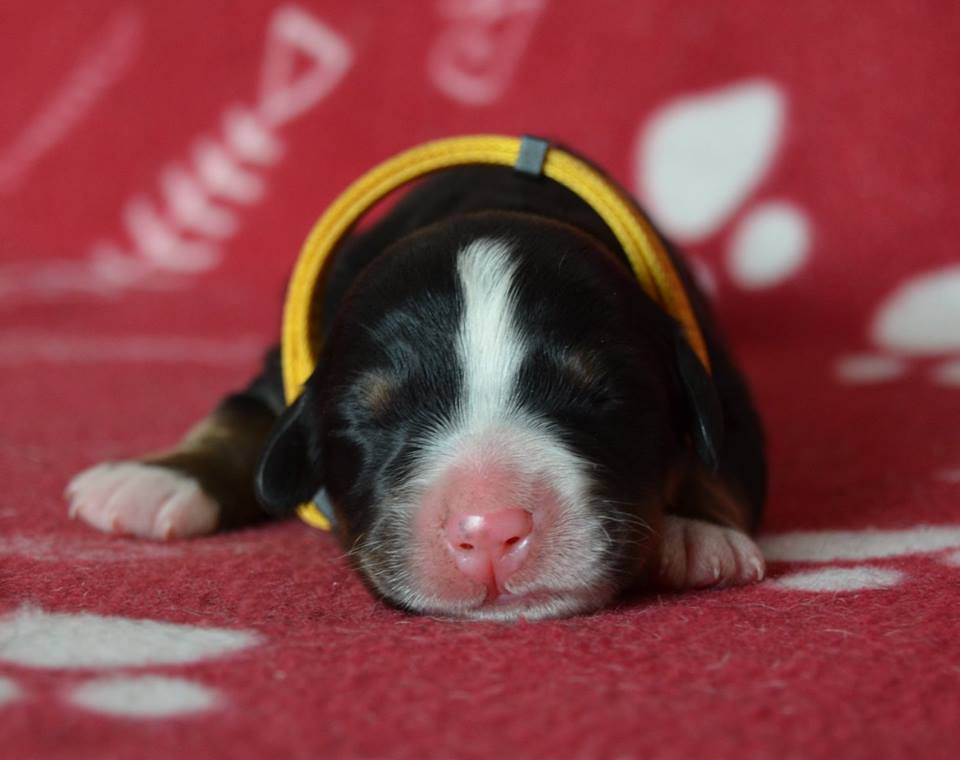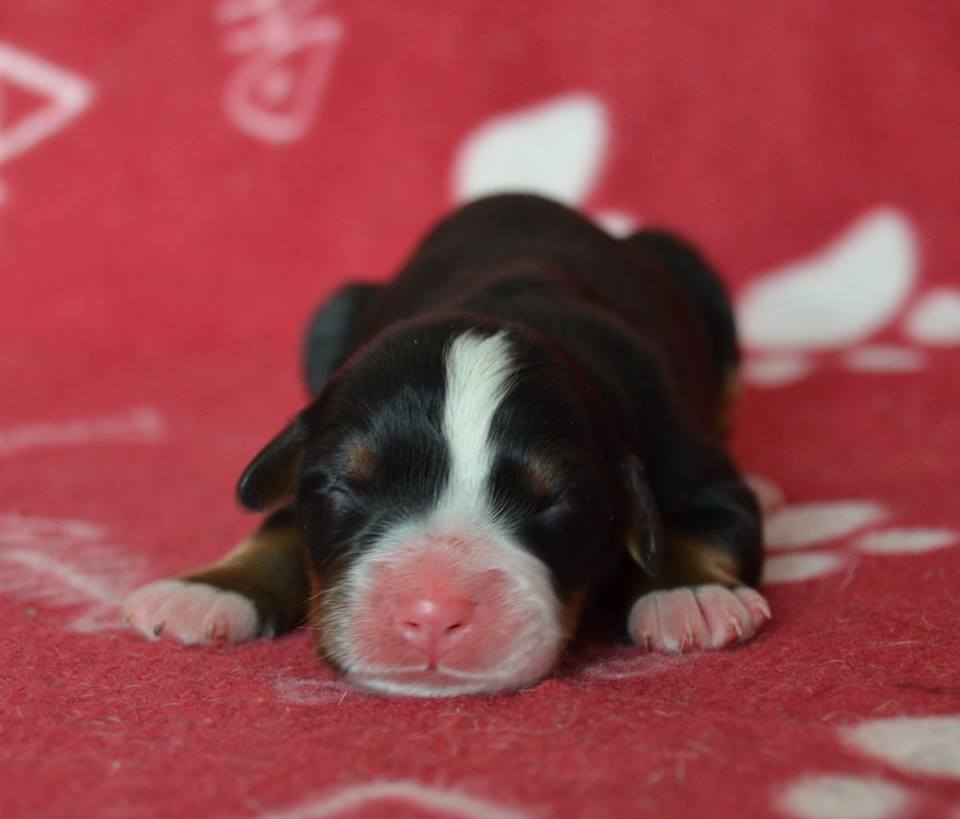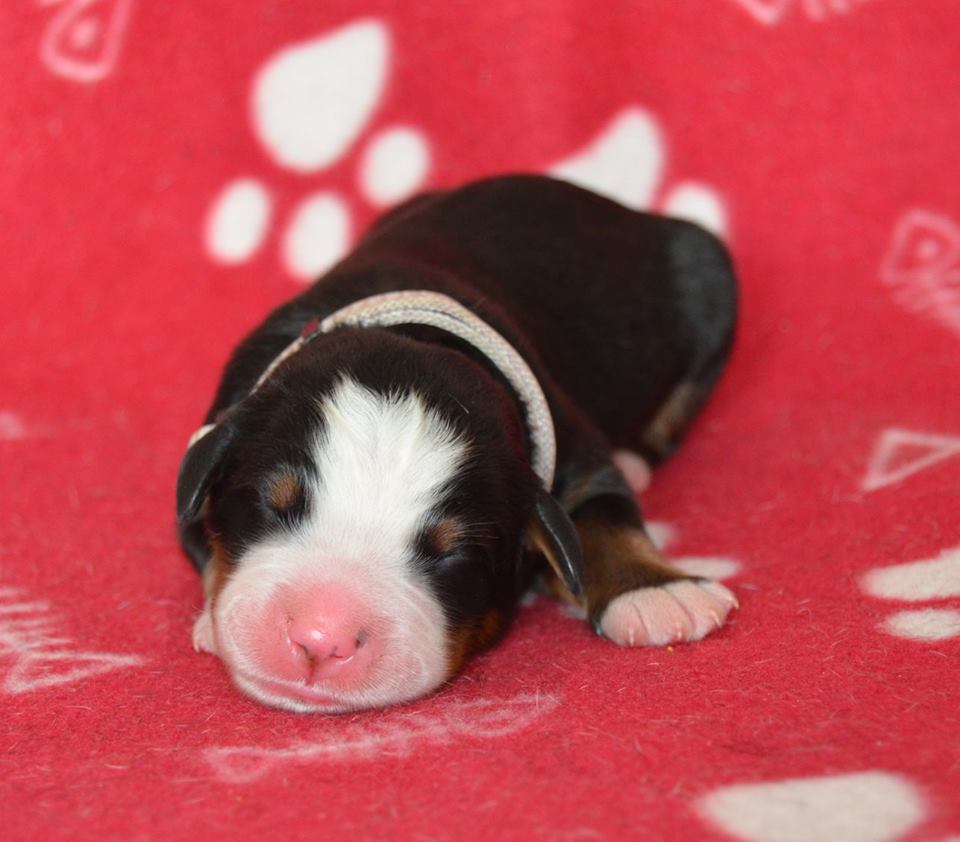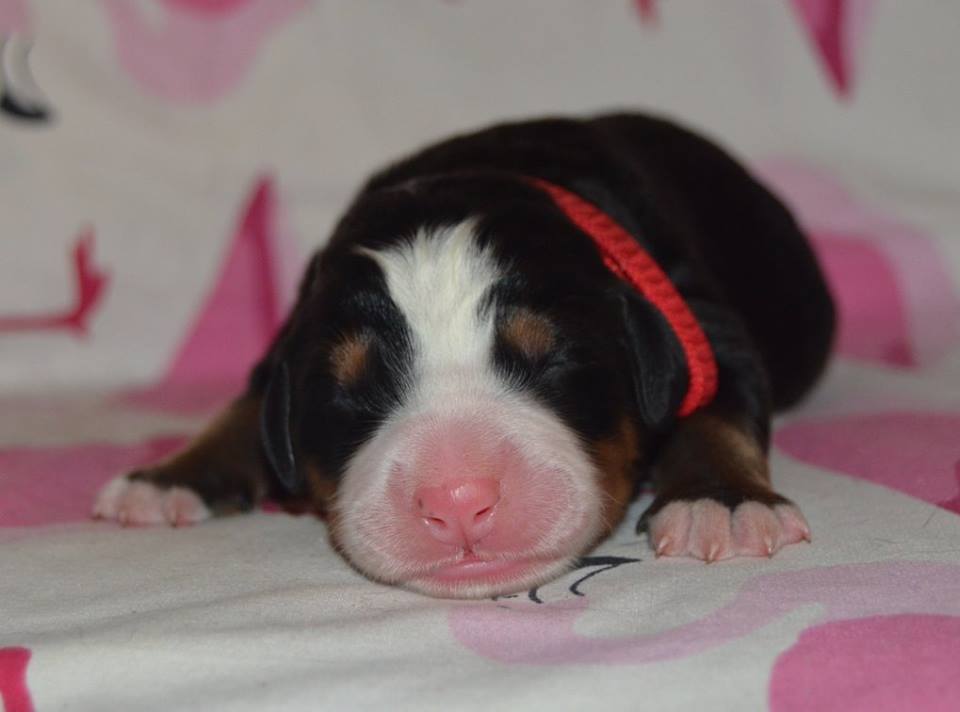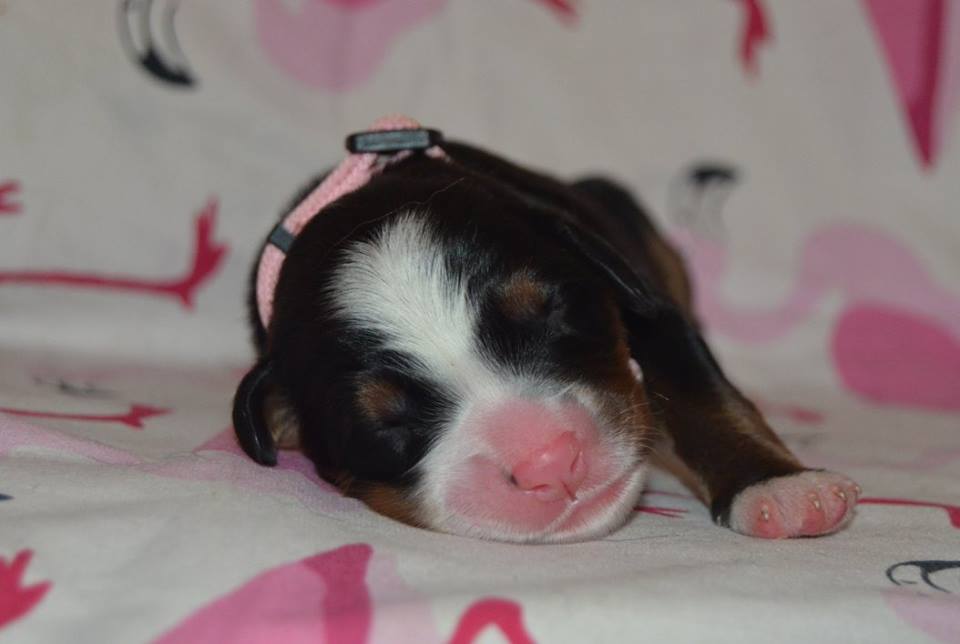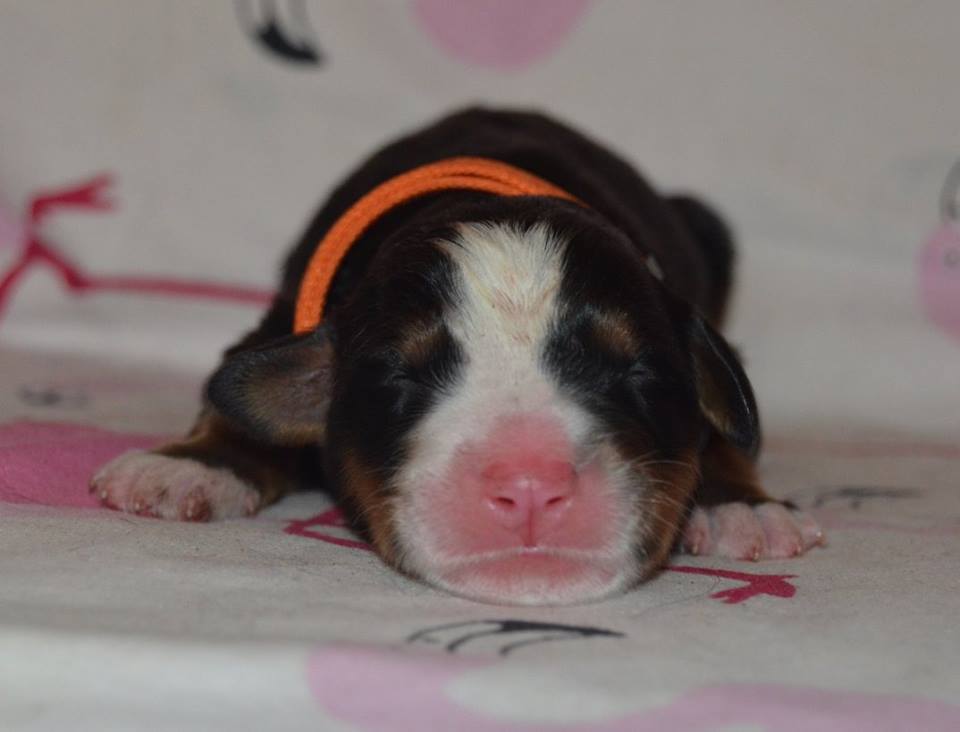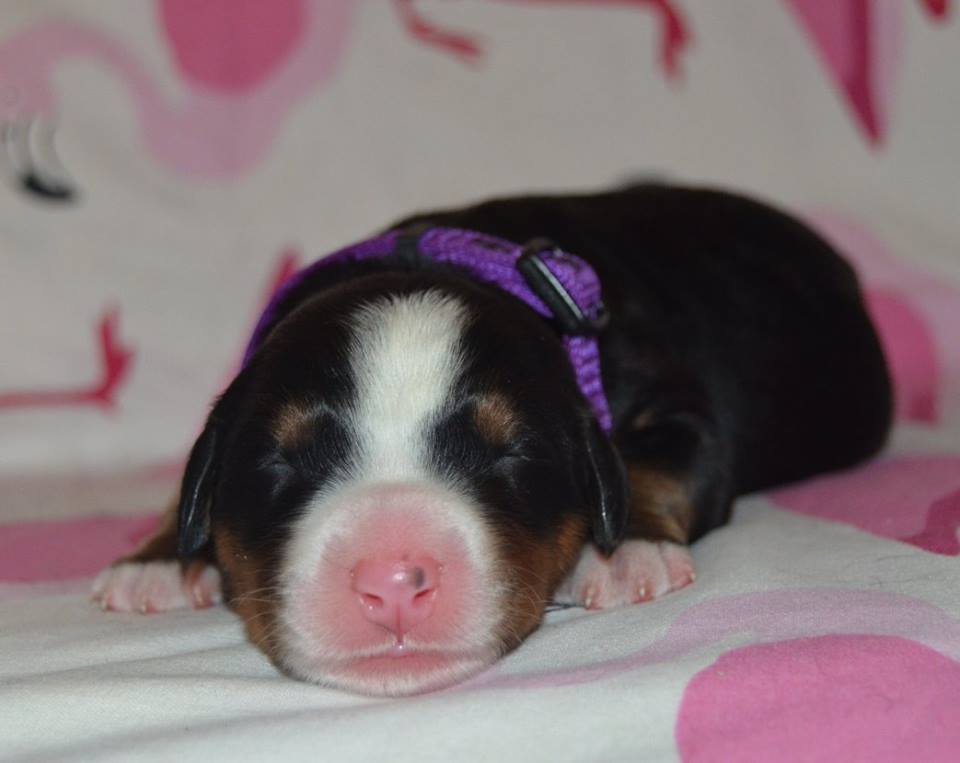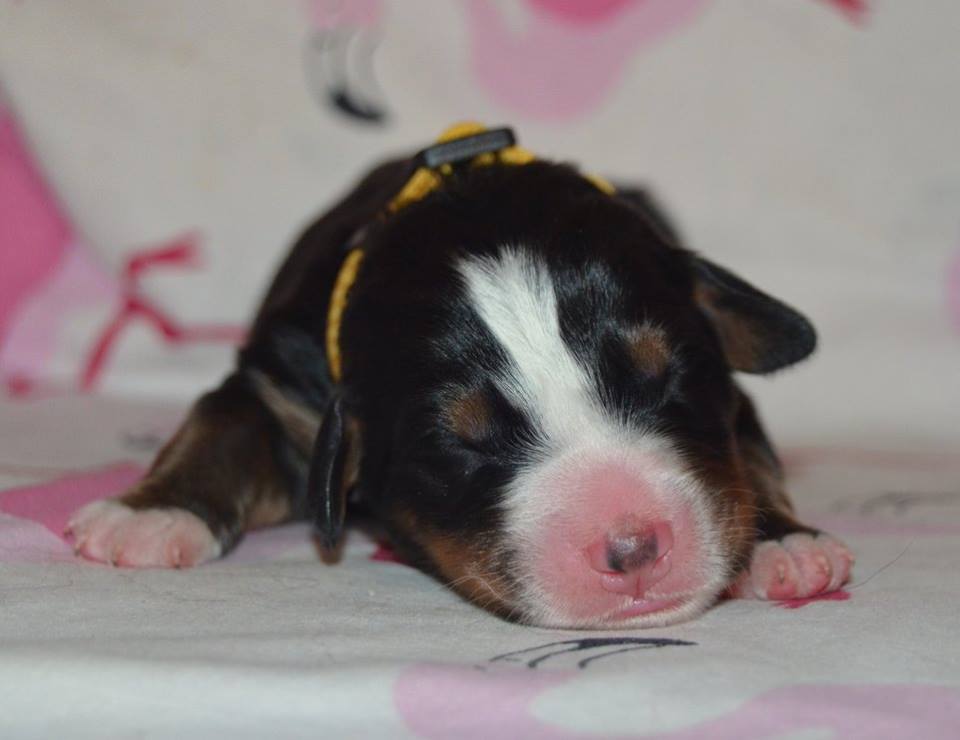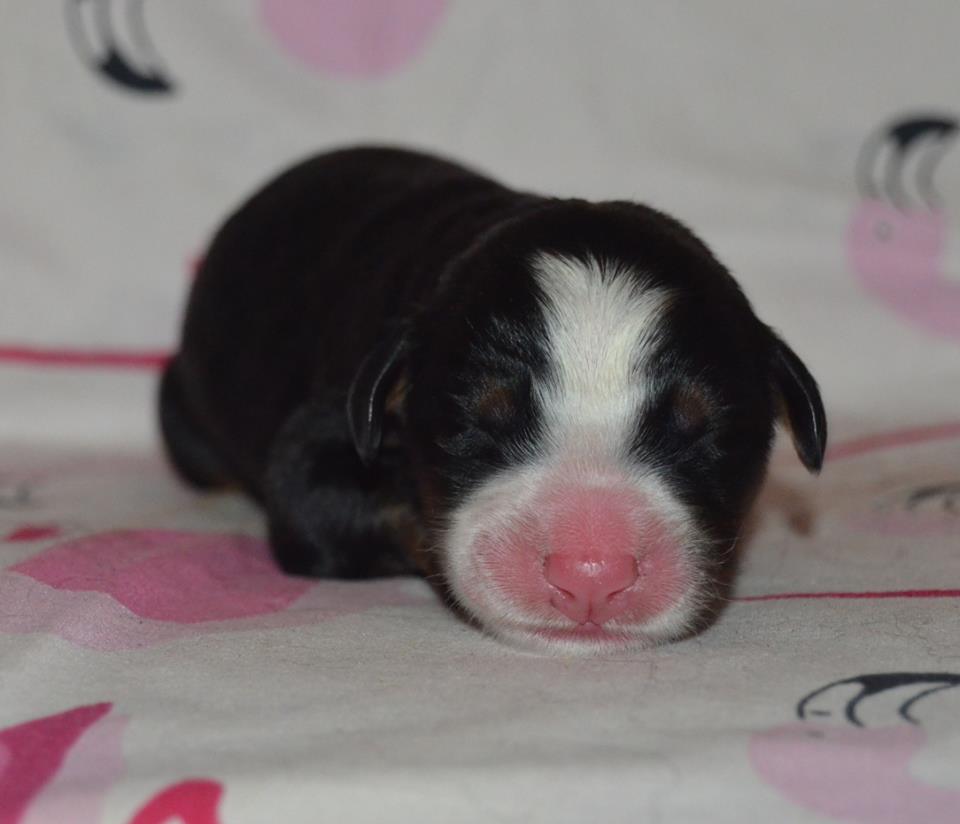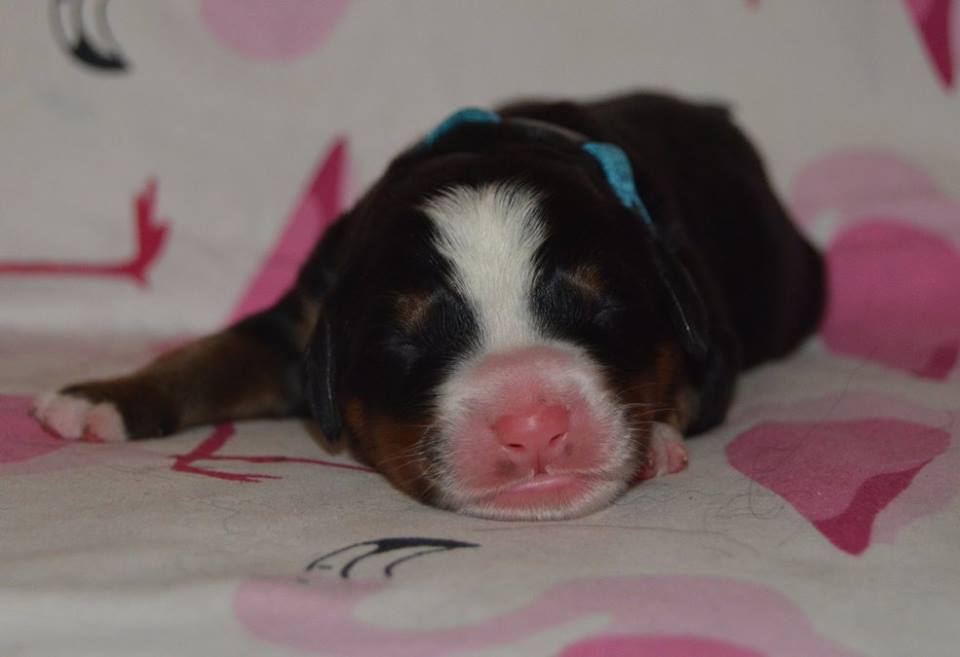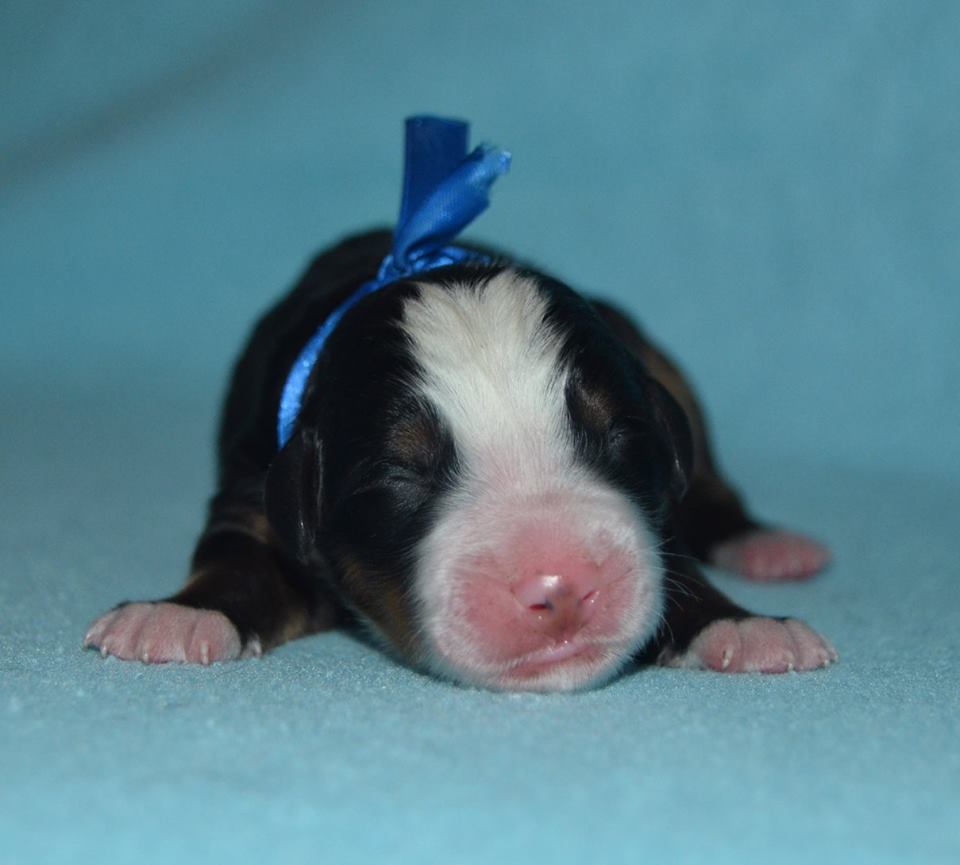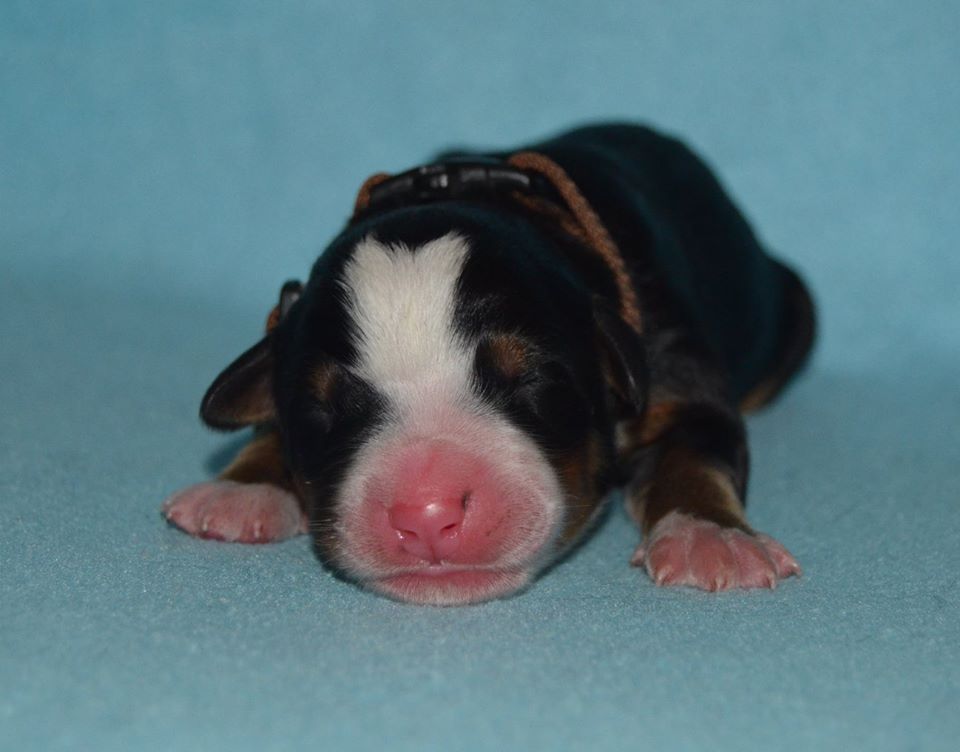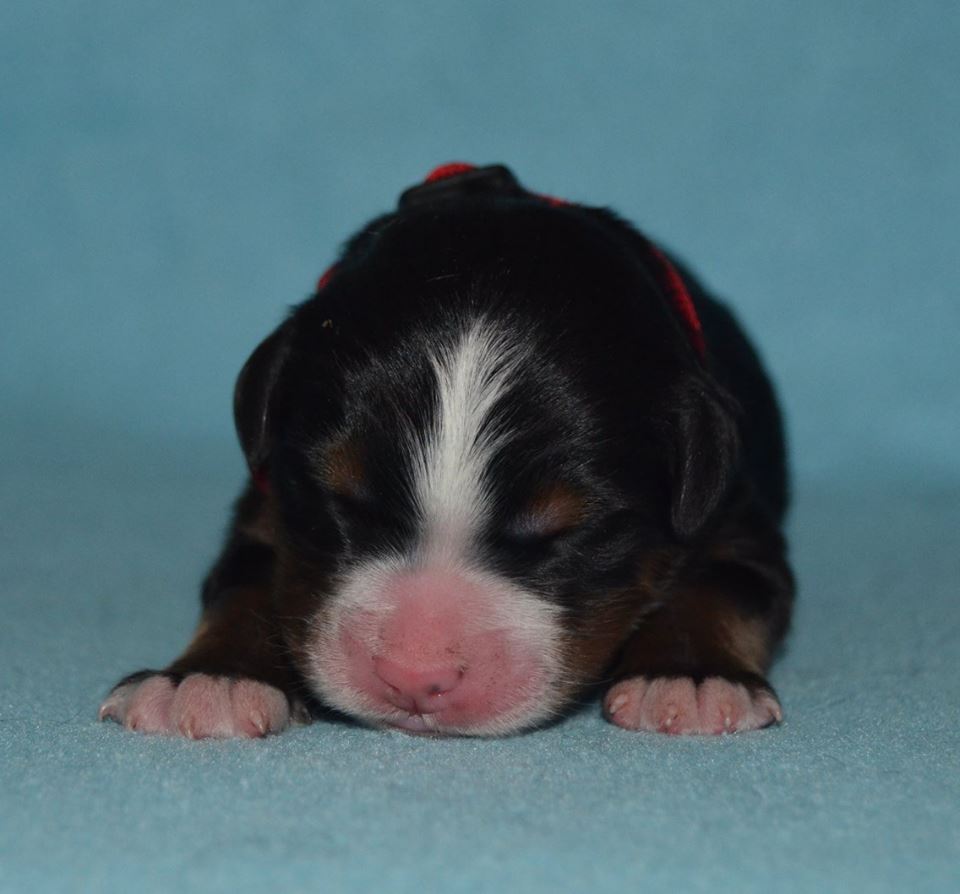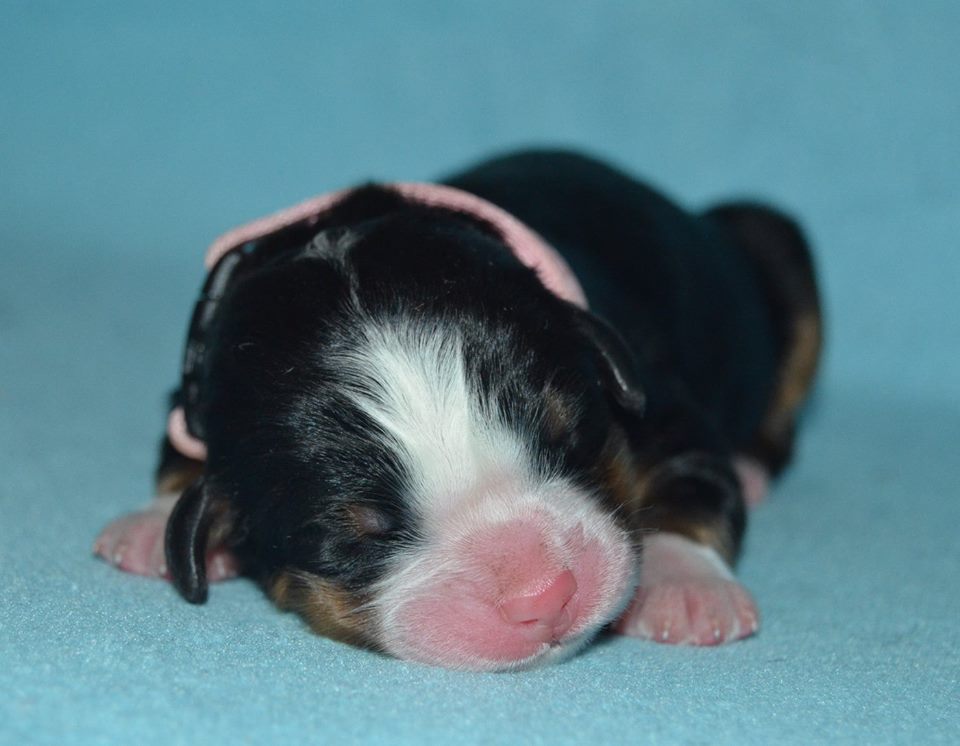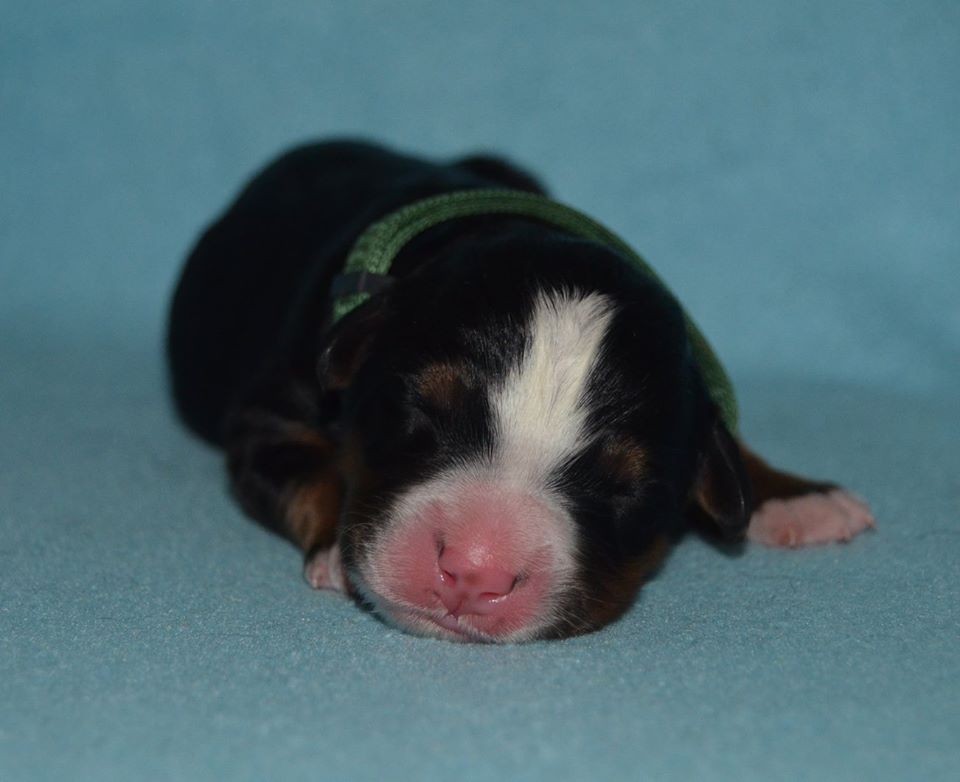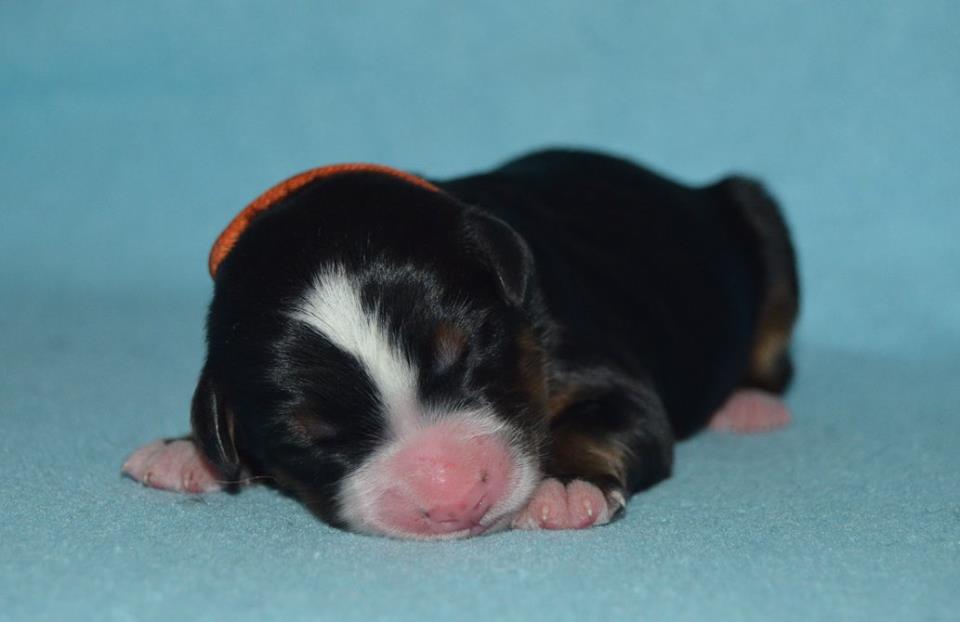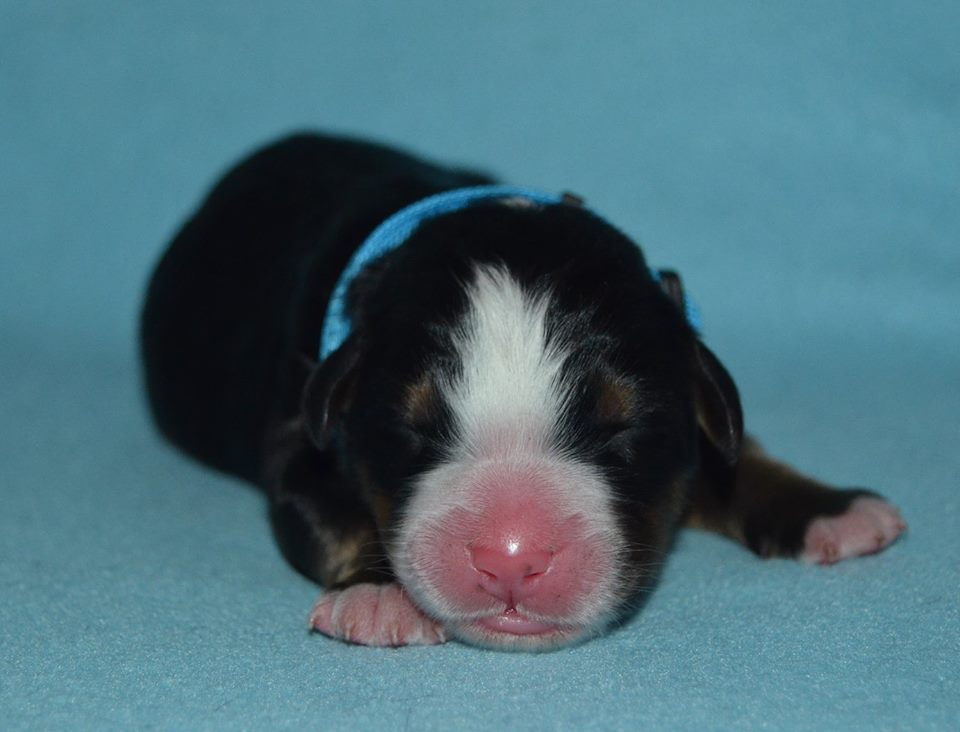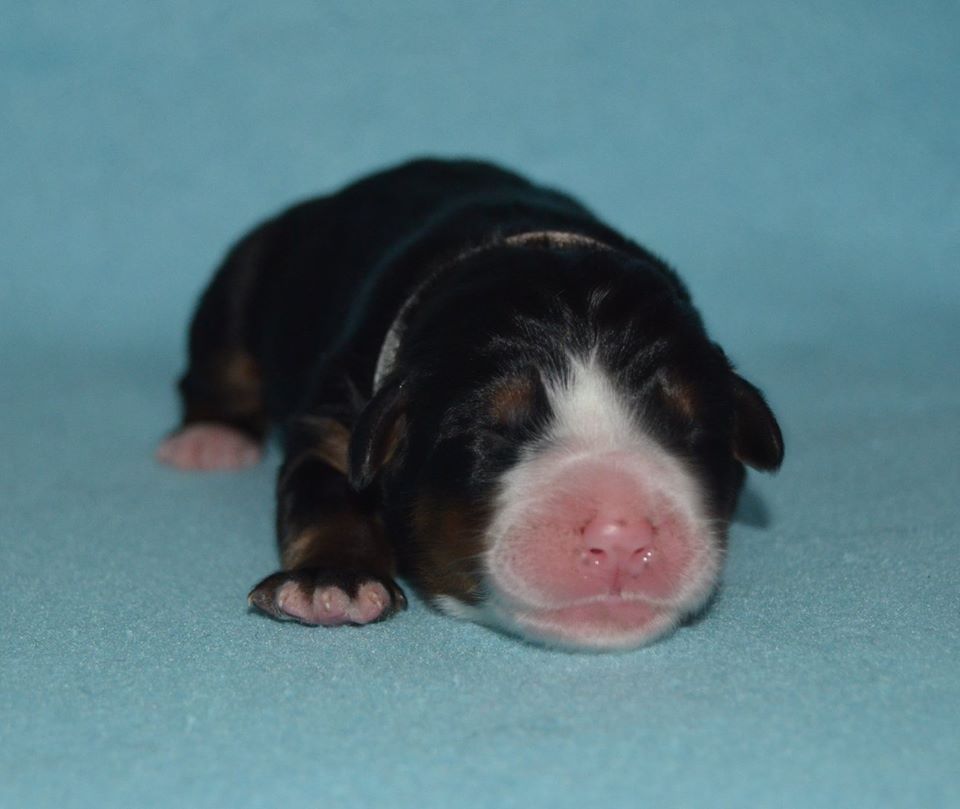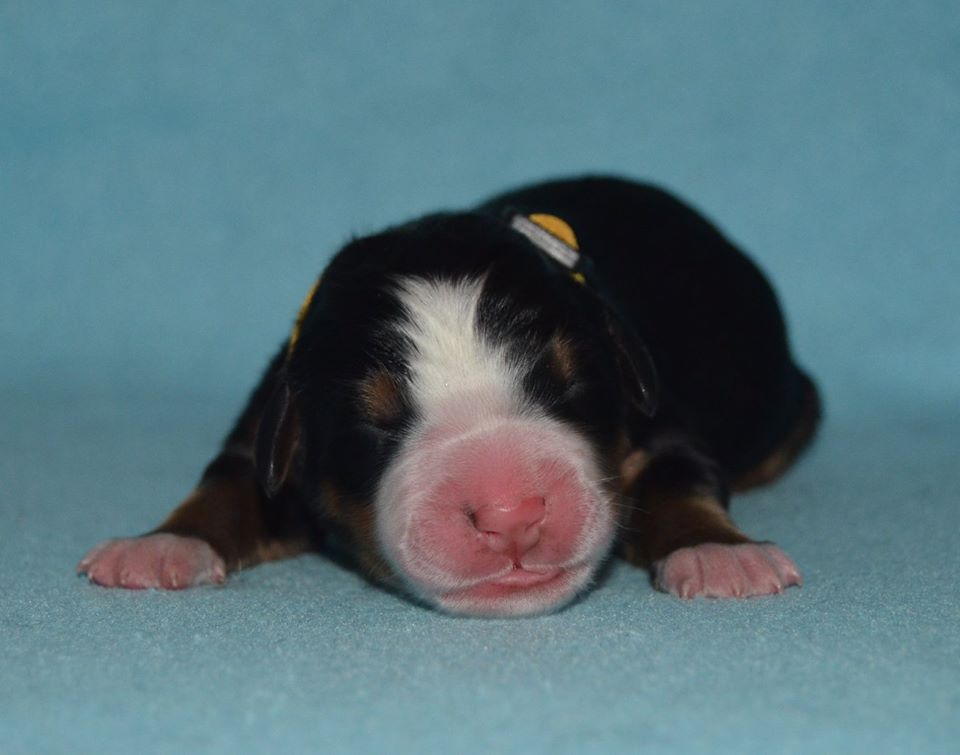 6. 9. 2015 CLUBSHOW IN JEDOVNICE near Brno
Both our males attended our clubshow for the first time. In very strong competetion as always on our clubshow is, they were seen and received very nice judgements:
Boss Rojaus Bernas - open class, Excellent 4
Robinson Ridon Hennet - young class, Excellent 2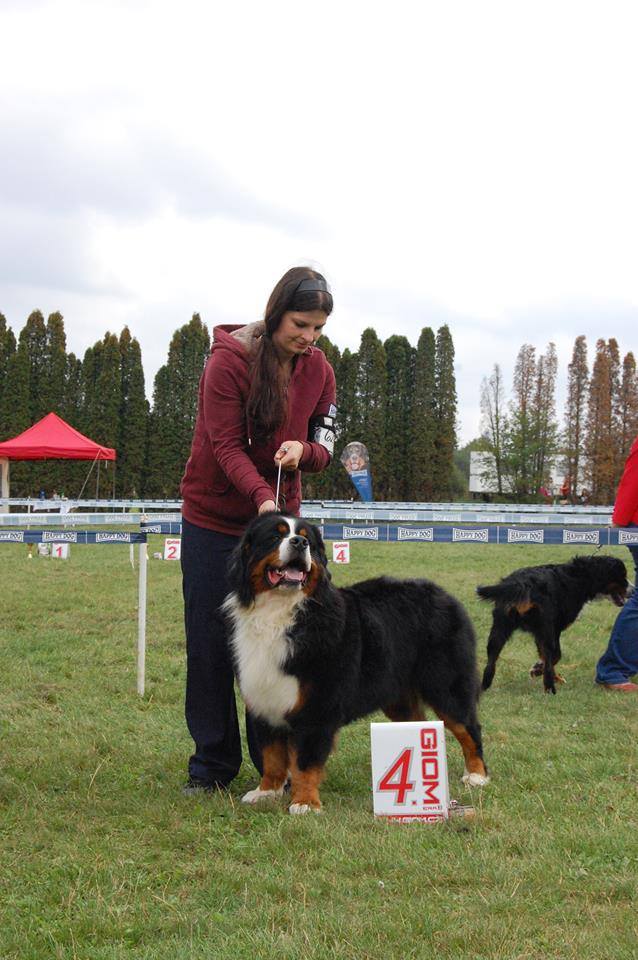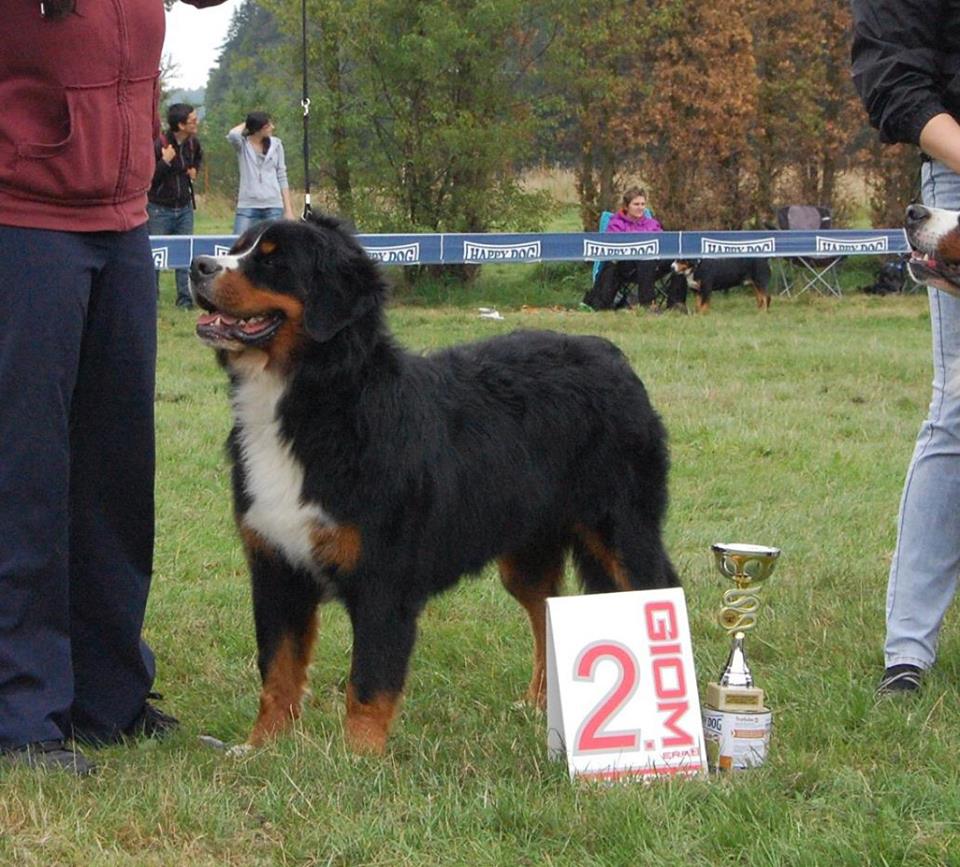 6. 9. 2015
Really very big surprise - all our three females are pregnant. We expect puppies in first two weeks in October.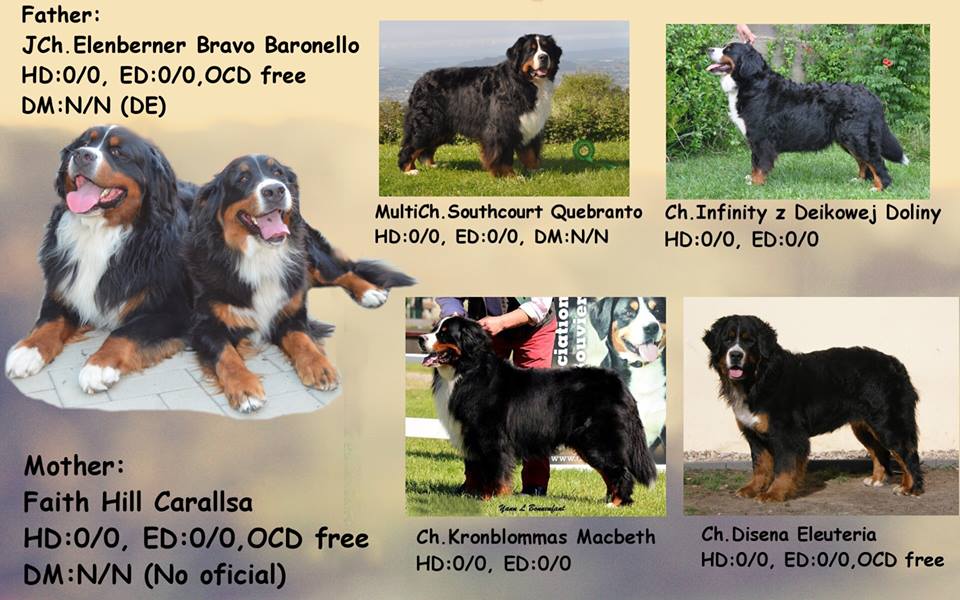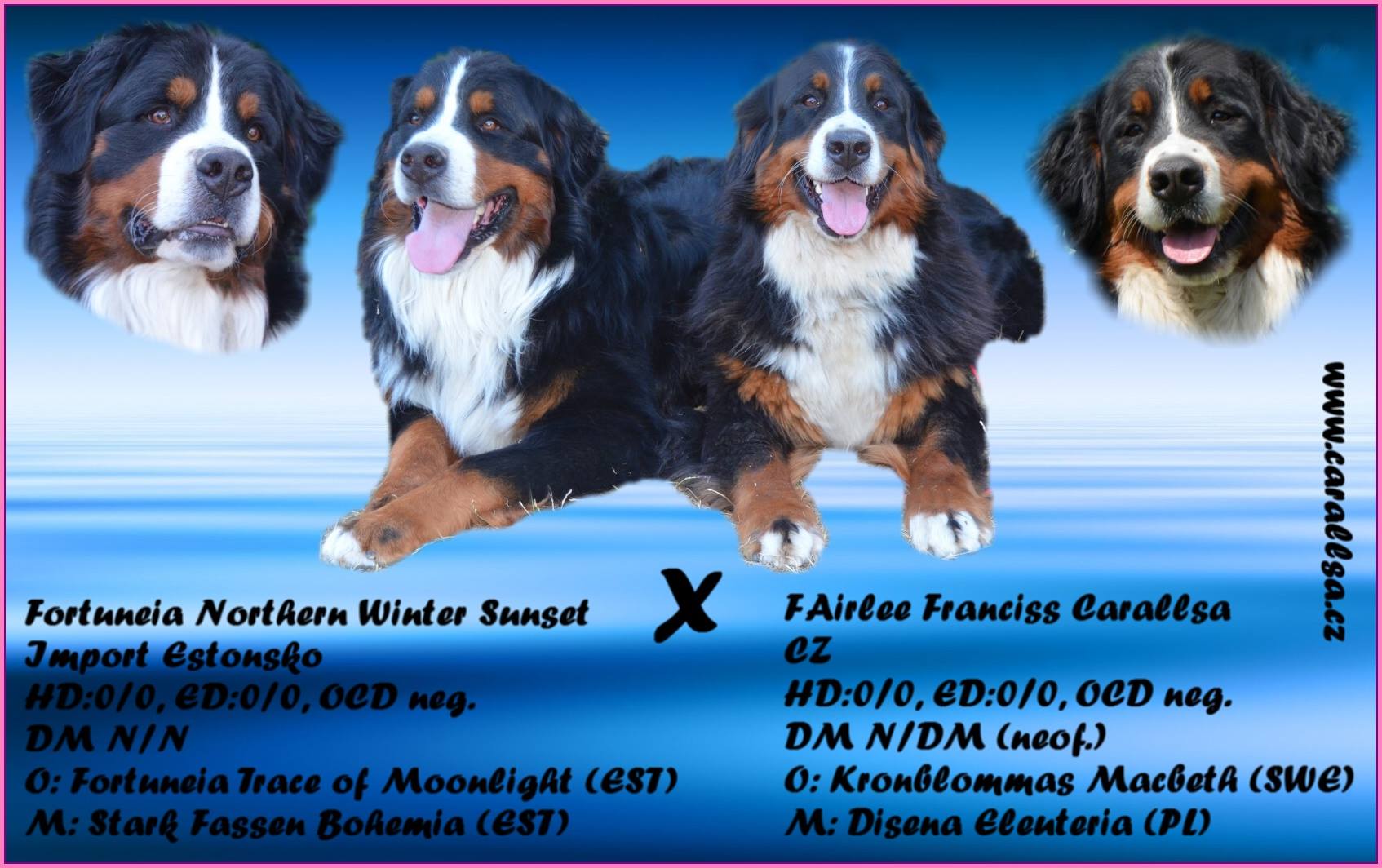 21. 3. 2015
Our Swiss Mountain Dog´s club organized the breeding test in Mlada Boleslav in 21.3. 2015. Our Fairlee Franciss CARALLSA took part on thi test with breeding code: 525 AZ 54 A0negative.

4. 1. 2015
Today we brought home new puppy female to the team. She is a beautiful little Triumphant Ruby U źródeł Wisła. She is the daughter of Ch. RUBI U źródeł Wisla and CIB. GrCH. CH. JrCH. MadeInItaly della Torre d'Ovarda (Mady). This female we have co-owned with owner of Madyho, Hanka Babjarova. Thanks Hana ....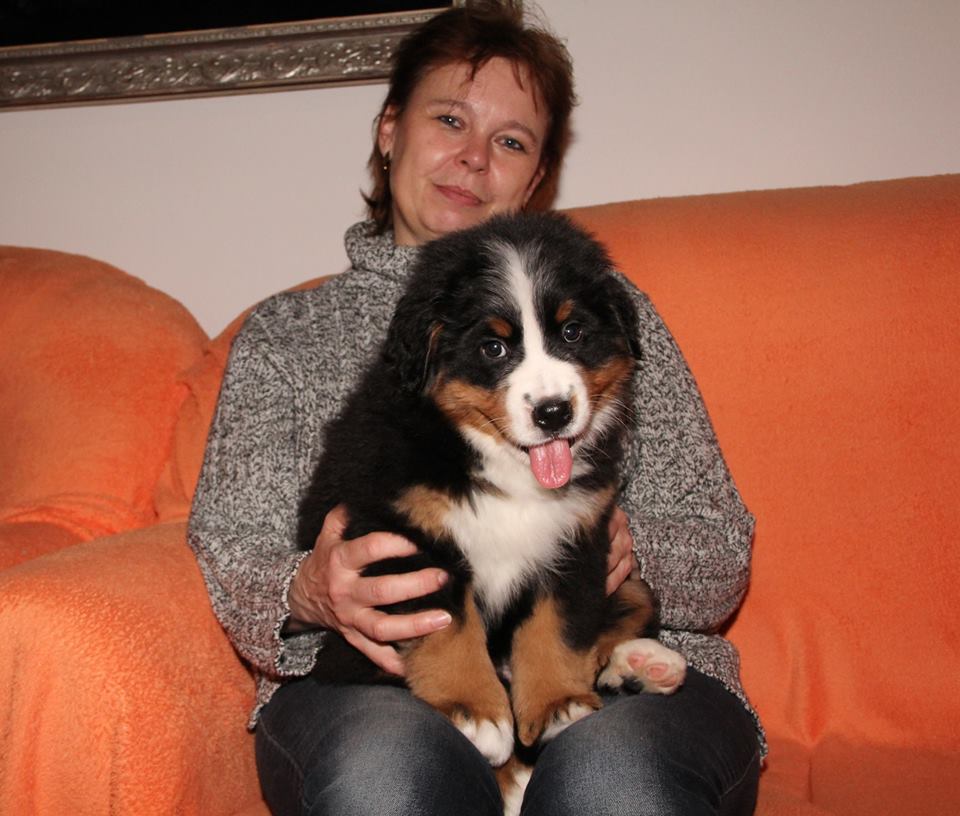 News - year 2014
4. 12. 2014
"6 days before you have ran merrily. Then you began to hurt your neck and would never occur to us that this pain will be fatal to you. If I knew that you're here with us just a short time, so I will never leave you and I spend every minute with you. In my heart you will always be irreplaceable Lord dog .. We'll miss you, Lery .."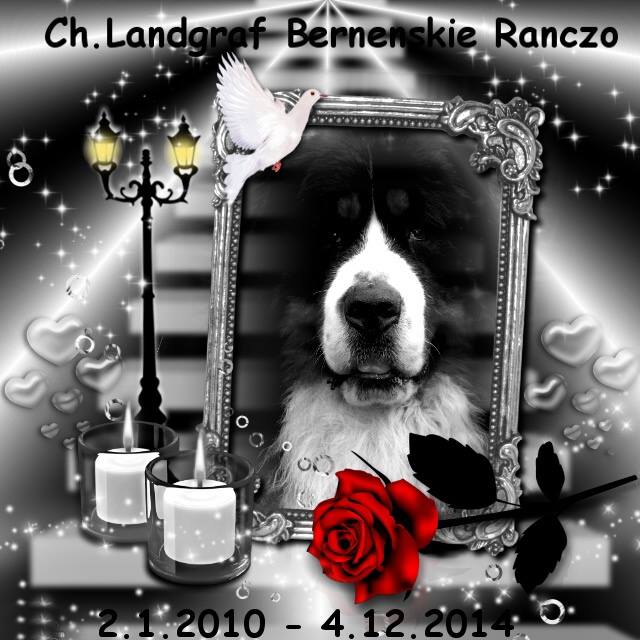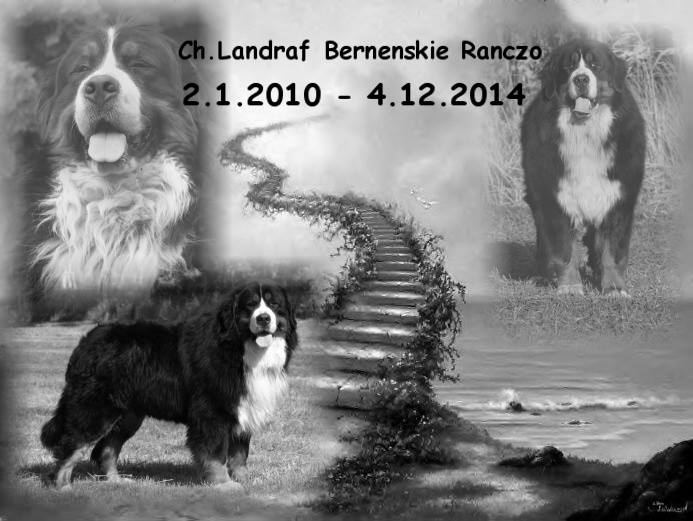 Lerry left us very quickly and unexpectedly. The cause of death was cancer. We did not have a chance to help him, only to relieve him leaving behind a rainbow bridge when he was in pain, unable to move, and nothing helped ... This year was really sad. Within two months left us two of our beloved dog friends. Hopefully the next year will be better.

18. 10. 2014
Today was another important day for us. Our Faith Hill attended the breeding test. Succeeded with beautiful result and thus becane our next breeding female. Small but handy :-)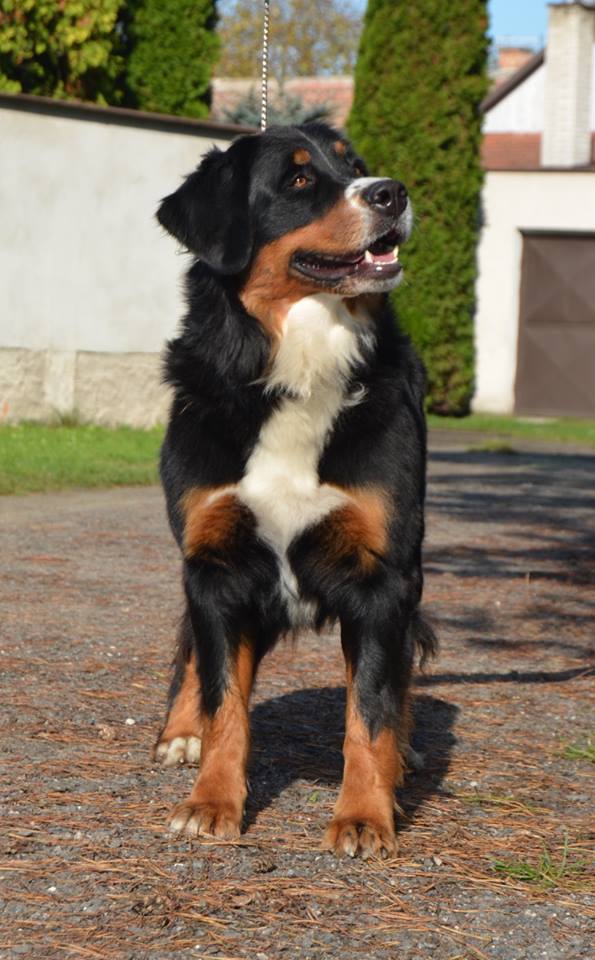 Our small puppy babbies are 11 days old today. They are starting to open their eyes and their bellies are bigger and bigger. Their weights are from 1400 to 1870 g.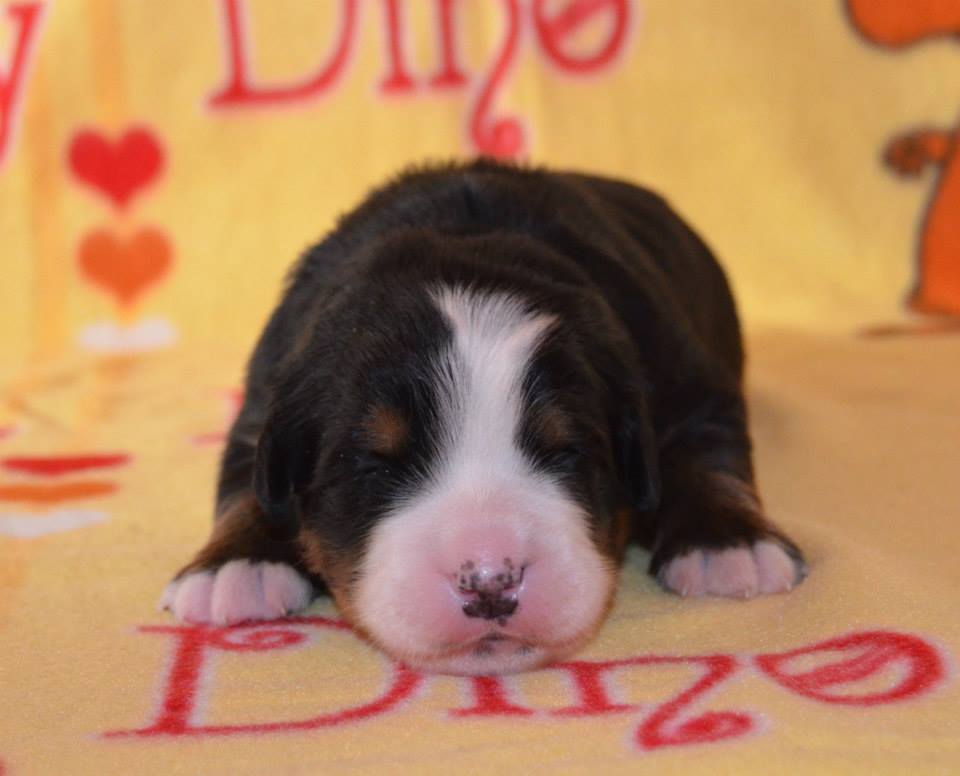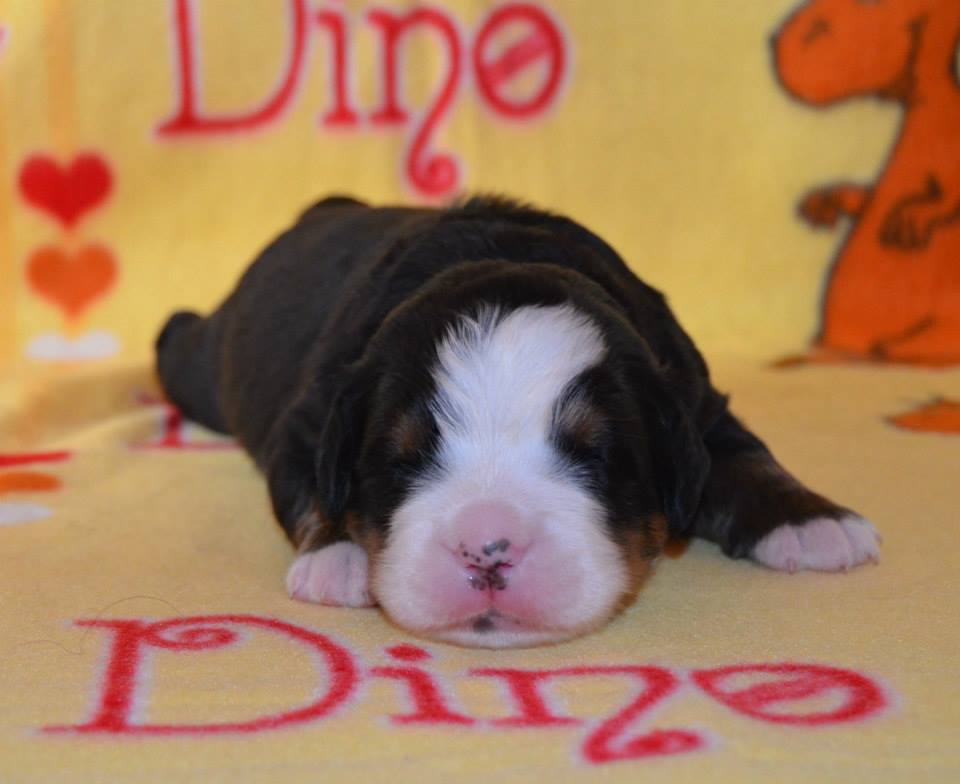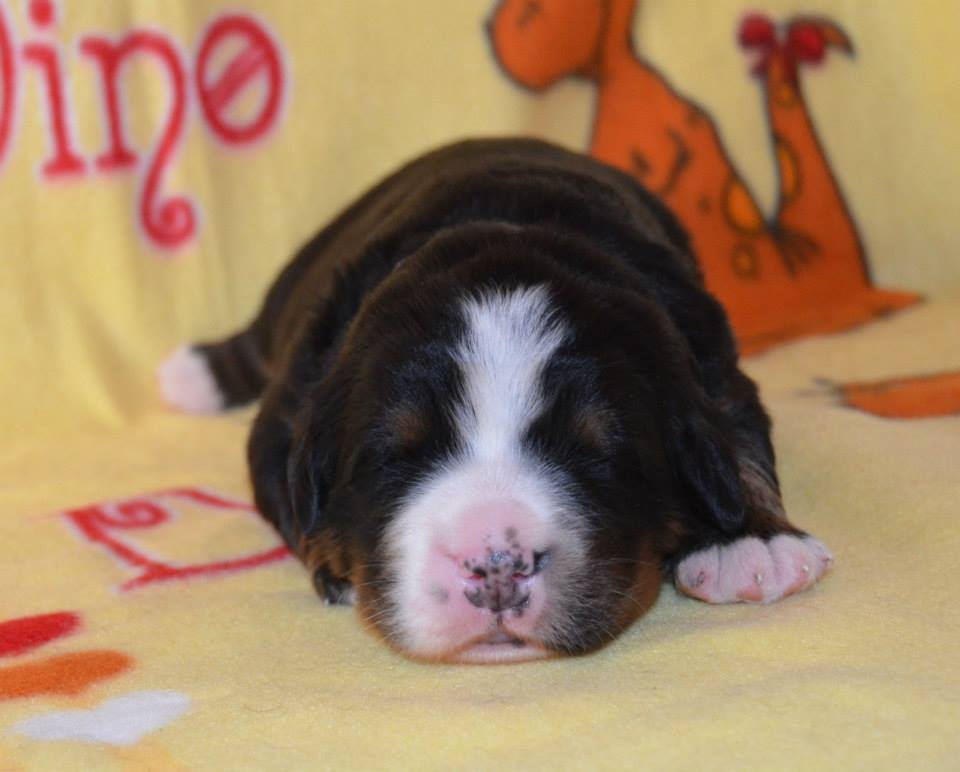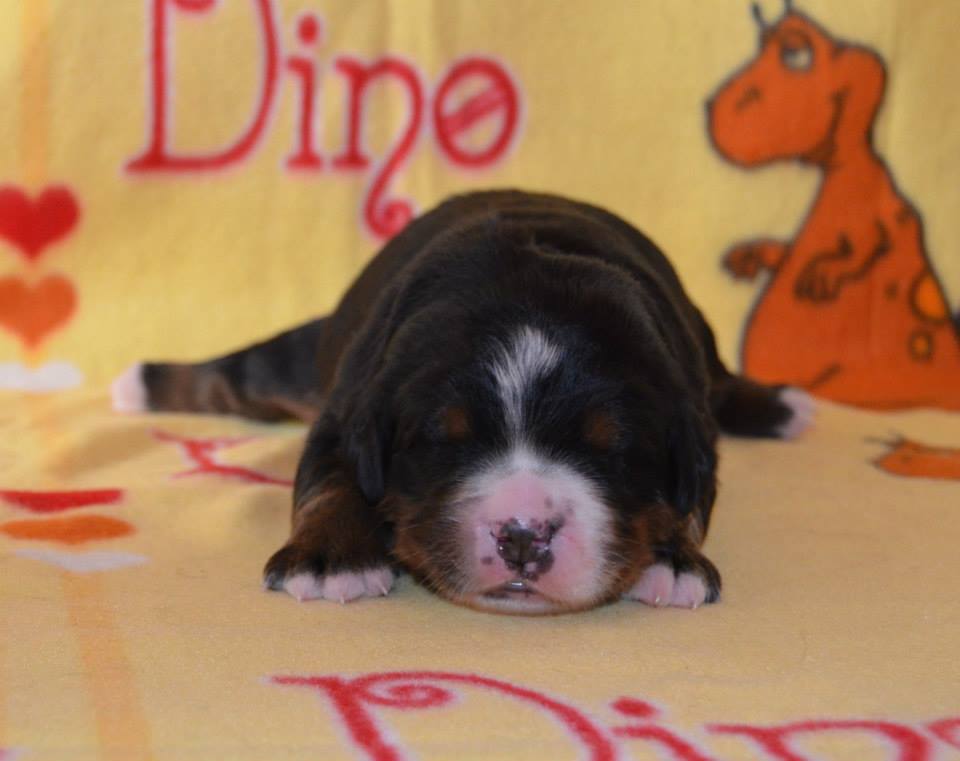 8. 10. 2014
WE HAVE PUPPIES!
Our DISENA ELEUTERIA became mother fourth LT JCH, LT, LV, RUS, BEL CH, Baltic Winer 2014
ALGRAND BERNI VASHINGTON
(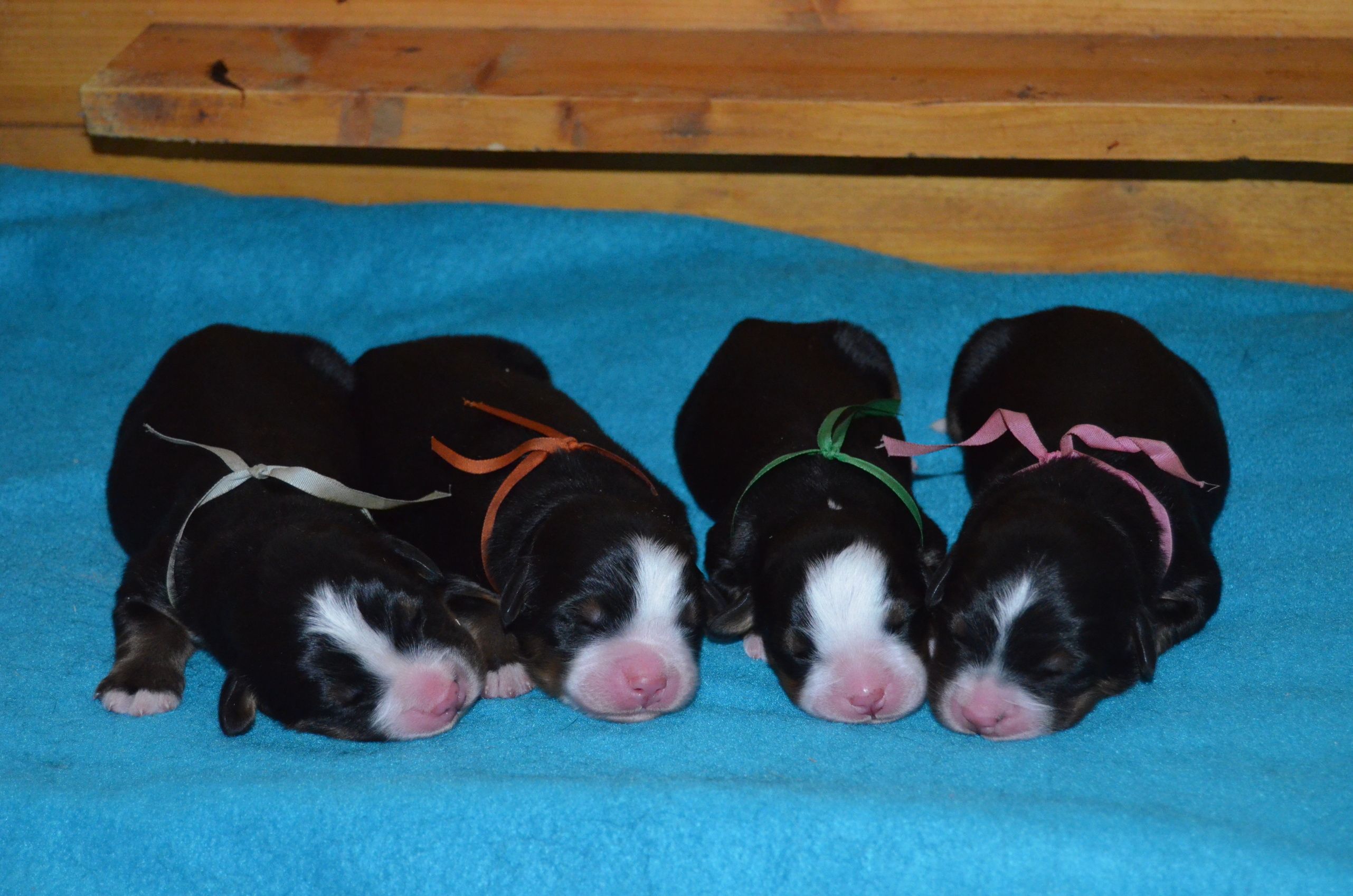 9. 9. 2014
We will never forget you ....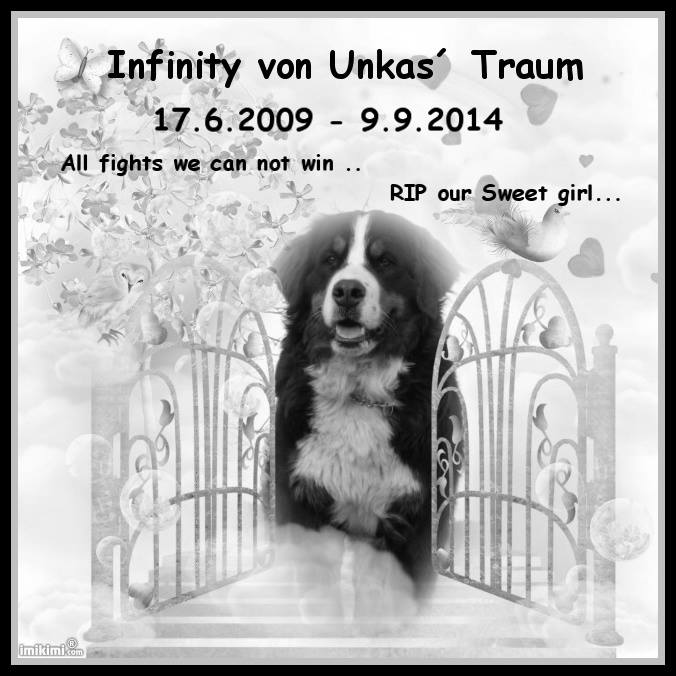 4. 9. 2014
WE ARE EXPECTING PUPPIES! We have pregnancy confirmation!!! Our DISENA ELEUTERIA is expecting her last litter. Father of her future litter will be wonderful male LT JCH, LT, LV, RUS, BEL CH, Baltic Winner 2014 ALGRAND BERNI VASHINGTON (Espahan Maximus van't Rijkenspark x Algrand Berni Adeli Red Star). It is very strong male with strong body, nice head, coat, correct front and back legs, clear x-rays of hips and elbows, super movement and nice nature. If everything will go well our "CH" litter will be born in October 10, 2014.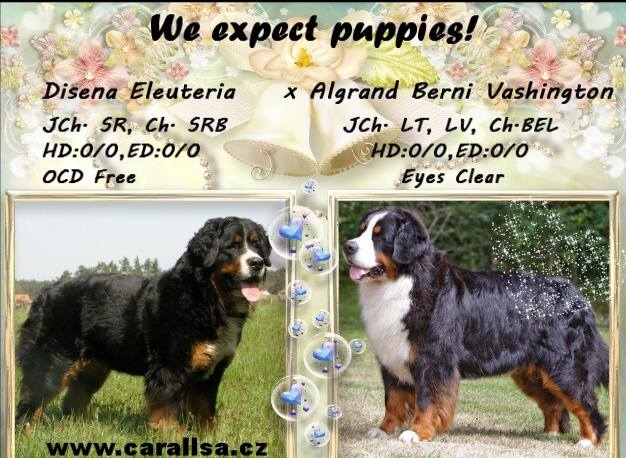 22. 7. 2014
Hugo Boss Carallsa found his new home in Spain. Good luck in your new family, our little boy!

22. 7. 2014
Time is running very quickly and now we have to say goodbye. All puppies which already found their new owners, travelled to new homes, families. Only two boys are staying with us for some time till they will find the best human friends too.
We already passed through club litter control which was made by club advisor Mrs. Ouřadova. Except of Honky Tonk all puppies are standard.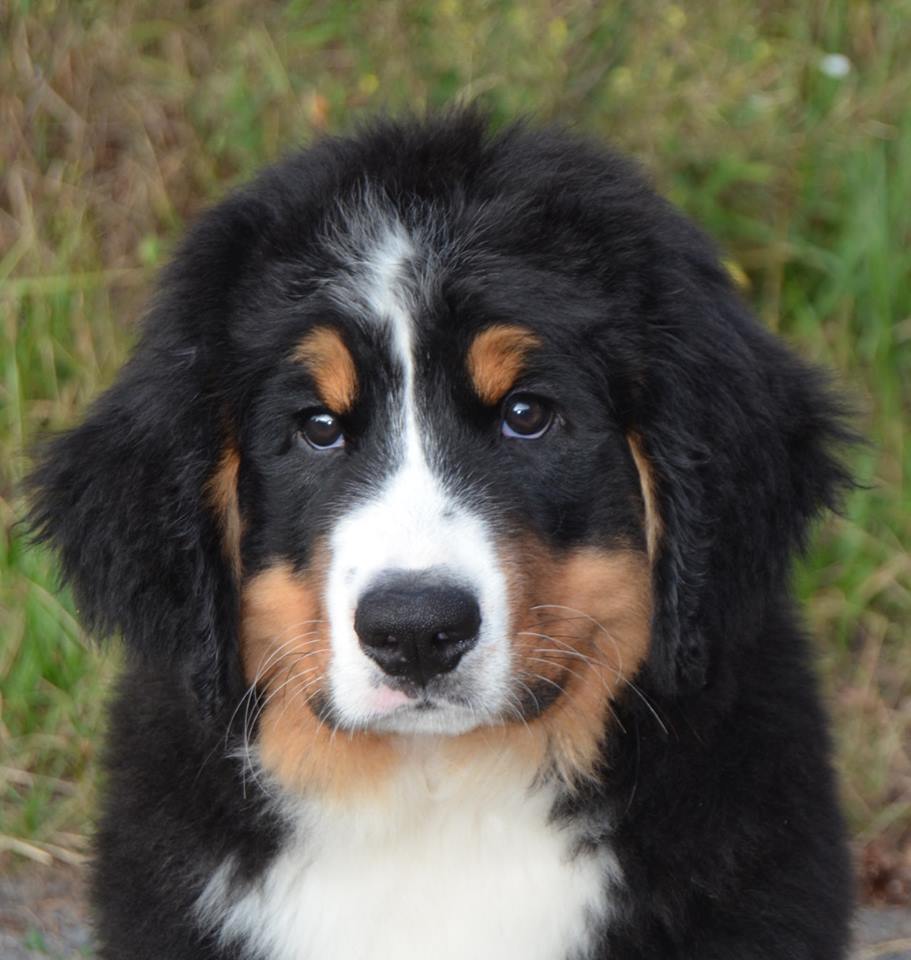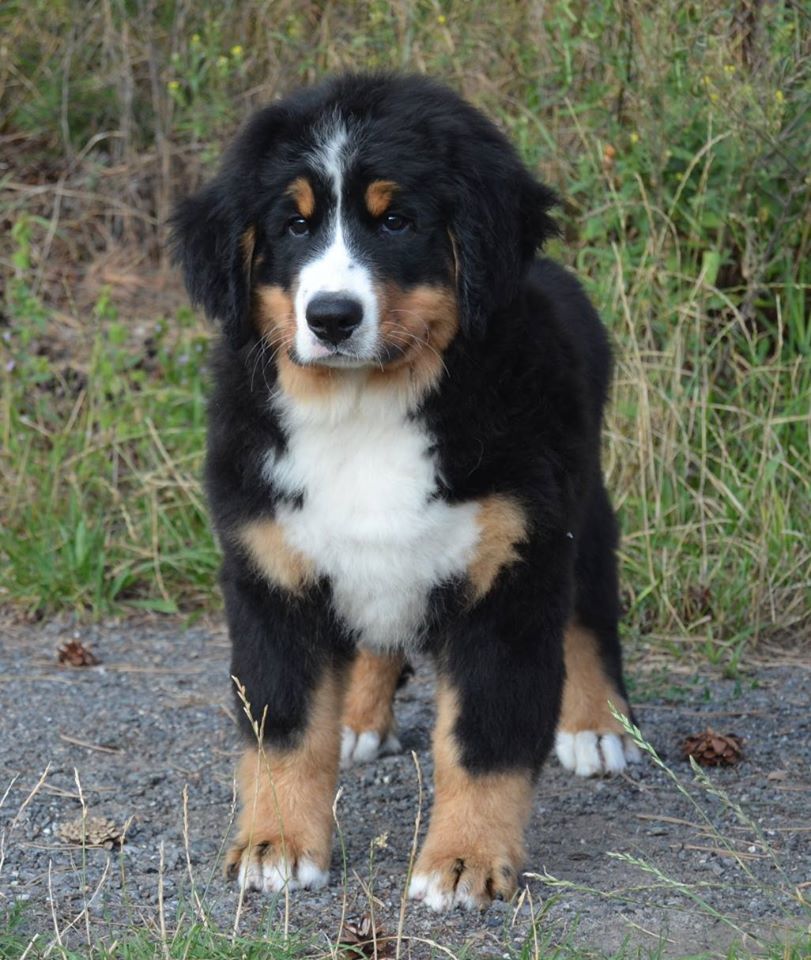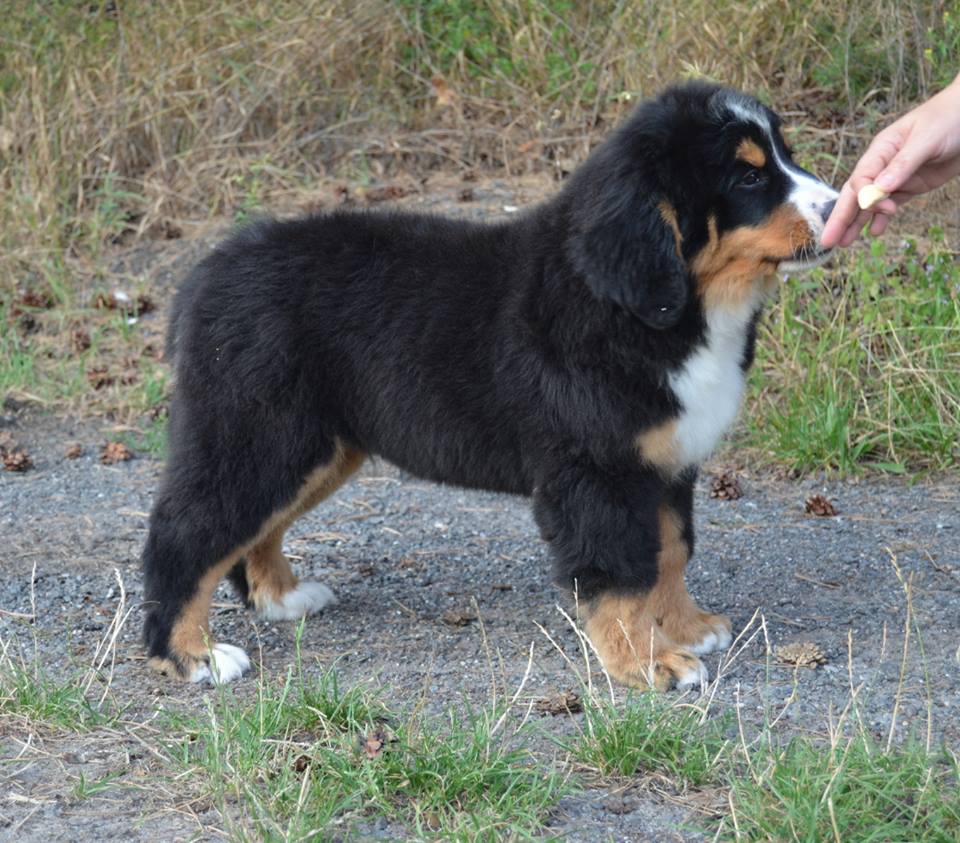 1. 6. 2014
Our puppies are growing so fast. They are 1 month old today. They are more and more hairy and sweet :-) Some of them are still looking for some new lovely family...
V pěti týdnech z leva:

7. 6. 2014
Our females Faith and Franciss were x-rayed and results are more than super:
HD A/A, ED 0/0 and OCD negative. We are very happy. :-)

1. 5. 2014
The are here!!! Our
Diamont Princess gave birth to 7 small puppies - we have 3 females and 3 males. One puppy male was born death, unfortunately. But rest puppies and mother feel well. More details and some photos you can find HERE.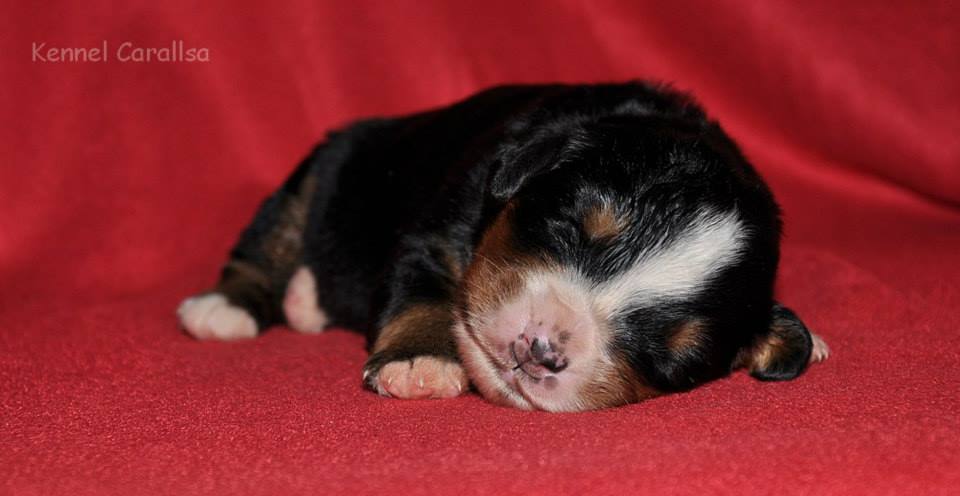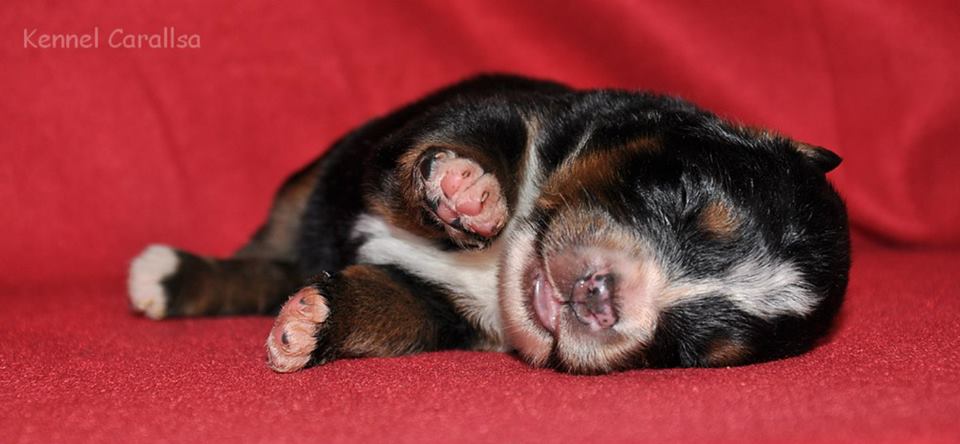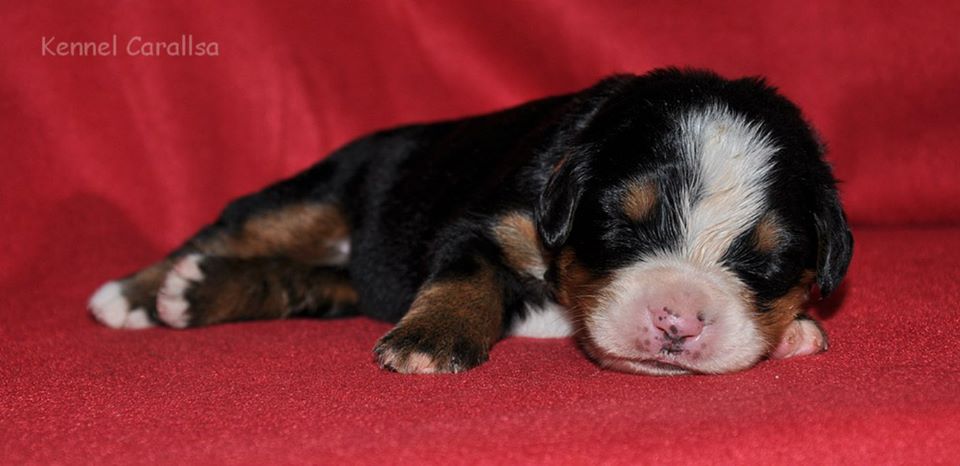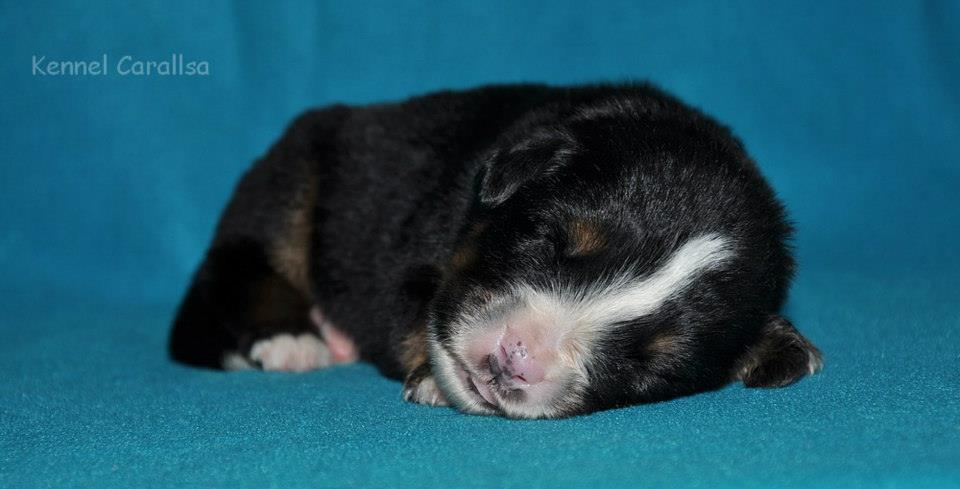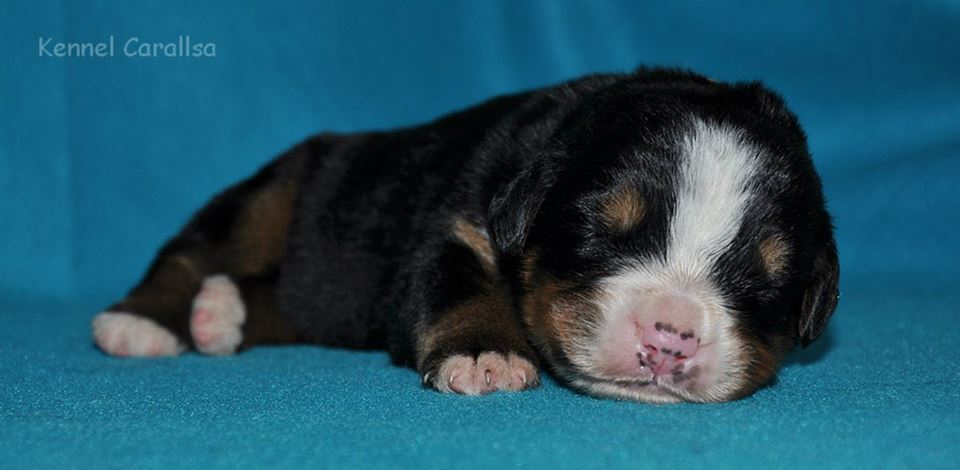 24. 3. 2014
We received perfect new today - our Diamont Princess (HD A/A, ED 0/0, OCD negative) will be mother for the first time. Our trip to Germany to visit nice "bridegroom" Carlo v. Oberholzer Forst (HD A1, ED 0/0 OCD negative) was successful. We have the pregnancy confirmation by ultrasound. If everything will be OK we can expect bigger "H" litter in the end of April. We are really very happy and so looking forward to have sweet puppies again and hope that Princess will be the same perfect mother as her mother Disena is.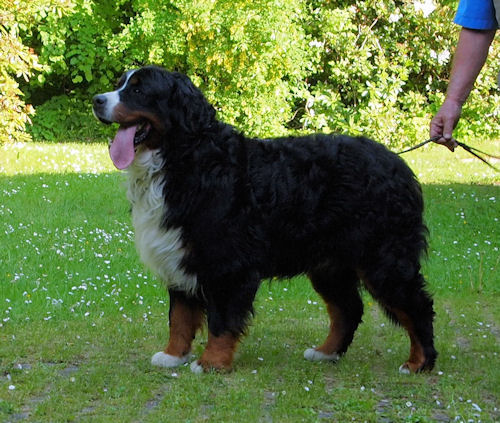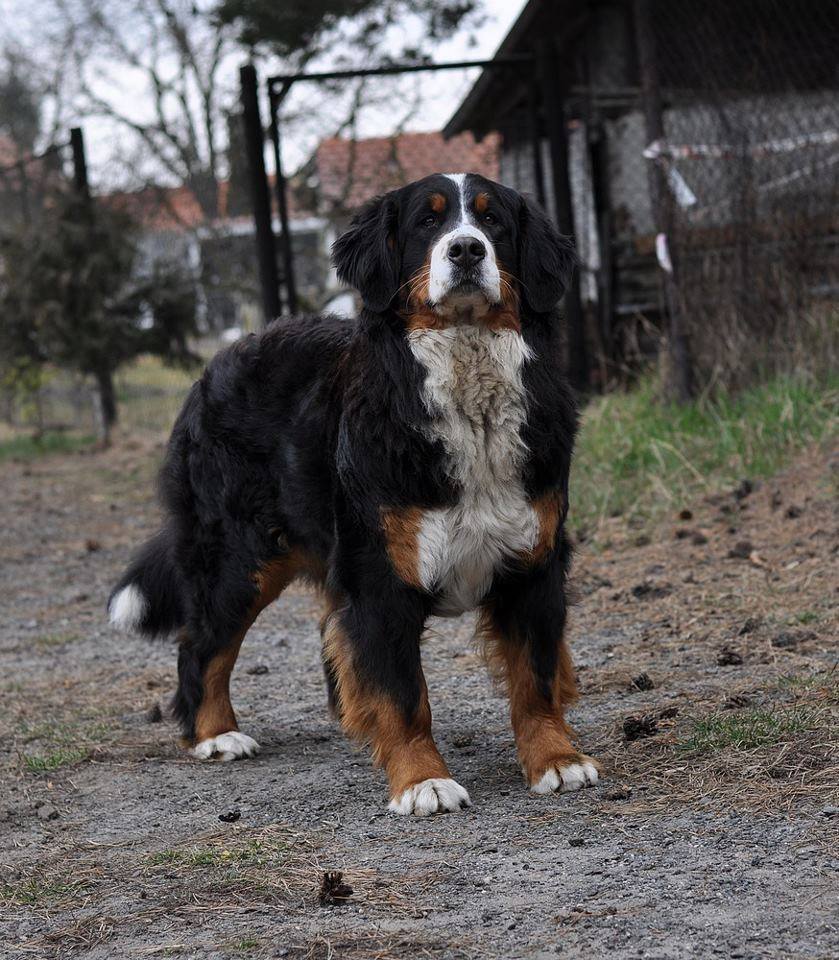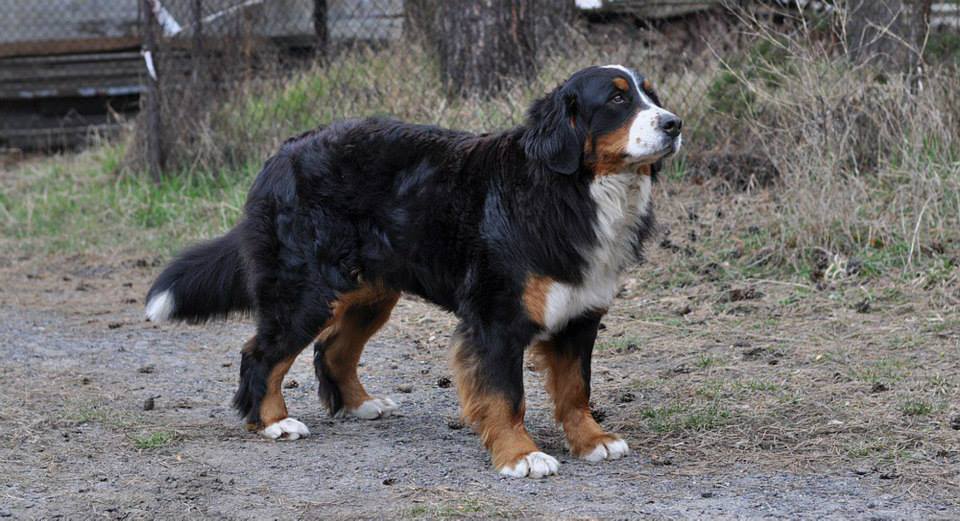 1. 3. 2014
Our puppies from "F" litter celebrate first birthday. They are growing very in nice young females and males. We wish them all the best - love, health and a lots of dog´s shenanigan.